A highway unites as much as it disunites: it communicates what is distant and fractures what is close. The Mexican metropolitan connection axis Autopista Siervo de la Nación is no exception. These 14 kilometers divide the territory of the Mexican capital as much as they contribute to the flow of traffic. Within this framework, architect Erik Jiménez Reyes, in charge of the Taller de Urbanismo MX (TUMX) collective, began to think about how to repair this supposed advance. It is the specialty of his study: accesses, corridors, bridges and spaces that are difficult to see. They are convinced that the enjoyment of a city occurs in the streets. And it is that architecture that measures the quality of life.
Thus, the answer to unite with what disunites was led by the verb integrate: how to improve without harming, how to reunite what is divided. And it came hand in hand with care: taking care of people and taking care of the landscape is, in reality, the same thing, protecting the new infrastructure. The architects of TUMX summarize it like this: the success of a space depends on the degree of identification of its users with it.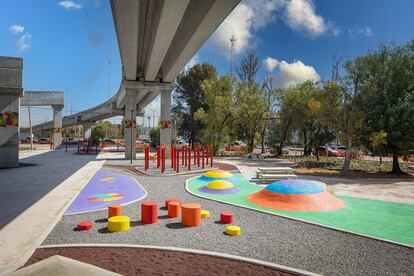 Children's play area. urban planning workshop mx
Thus, the collective started from what was divided. That land was little more than a non-place: an industrial area in which, as a space away from greed, housing colonies had proliferated. There, road infrastructure was added – which took away public space. And… you know: traffic, industry, informality and insecurity go hand in hand with the lack of surveillance, the absence of maintenance and the lack of lighting. More than a place, this was a place of passage. Fast pace.
The architects intervened in that space, the gaps, the remains and, above all, under the basement of the new road. They thought of an urban park capable of connecting, an island of green areas capable of uniting people, a meeting place between inhabitants and nature. That is why urban integration here also involved uniting asphalt with nature.
Bases of the columns converted into slides.Mx urban planning workshop
Thus, thinking about connecting, El Dique park was born with the ambition of being a beginning. It didn't want to be a garden, it was a piece of path: the beginning of a system of parks that would surround the corridor. The park would cushion the presence of the highway with vegetation and space for leisure. And so it has been. Today it is leisure and vegetation that encloses traffic on the perimeter. El Dique is a recreational boulevard designed for all ages, bright, connected and protected that today serves as a promenade, playground and neighborhood garden.
There are soccer and basketball fields, skate areas, an outdoor gym, social gathering areas, illuminated, safe and accessible routes and, perhaps most importantly: space to reimagine what is usually disregarded.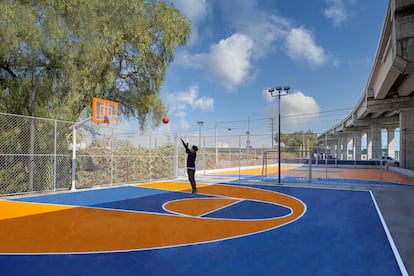 A young man plays basketball on one of the park's courts. urbanism workshop mx
It is built with prefabricated recycled materials and rescued plant species. "Pollinator gardens increase biodiversity and build a protective barrier against canal pollution," explain the architects.
In this way, taking care of it, what was a residual space, seeks to become the center of the neighborhood, the promenade and the town square, a meeting place where the most vulnerable – the elderly, girls, people with reduced mobility – are the most care. Why should it be colored? To advertise? To not let yourself be devoured by standing up to deterioration? To explain, at a single glance, that it is a plural place? They can all be answers. If it works, and it is working, the question is well put.
All the culture that goes with you awaits you here.
Subscribe
Babelia
The literary news analyzed by the best critics in our weekly newsletter
RECEIVE IT
#Public #space #space