We chose five spacious and cheap three-zipper school pencil cases on sale on Amazon.
September has just started and the return to routine entails a series of expenses. Among the essential products that are repeated at the beginning of each course, we find the backpack, textbooks, a practical agenda and, of course, three-zipper pencil cases. The latter are the most special of all school supplies for many children as they are true all-rounders. These cases with three zippers (or more) usually hold all types of pens, pencils and drawing accessories with which to unleash the creativity and enthusiasm of the little ones.
Therefore, it is always good to purchase them with an enviable quality-price ratio, that have resistant materials and, if possible, with solid or reinforced seams. Those that we highlight in this article meet all these requirements and an extra premise: none of them exceeds 20 euros on Amazon
Three-compartment elastic gum case, Oxford
The Oxford brand is a standard when it comes to school supplies. And, of course, it also has three-pocket cases in its catalog. The one we highlight incorporates an interior fabric lining of the same color (sold in four shades) and a zipper. It is made of resistant polyester and its elastic rubber allows it to be attached to notebooks.
Three-compartment pencil case with flap, Grafoplás
To always keep all your belongings safe, there are case models like this one: with a flap closure. Inside, we can also find a compartment with a double function: identification card and schedule. In addition, a ruler of up to 20 cm can be stored on its mesh side. It can be purchased in eight colors.
Case with three compartments and side opening, Coolzon
This case model has a different design from many others because its two side compartments open completely to the sides, making it easier to manipulate. Its central compartment is spacious and, being made of canvas, it is well protected from bumps, scratches and dirt. Sold in seven colors.
Long three-compartment pencil case with prints, Fringoo
School supplies don't always have to be classic or boring. And as a button shows: it is a stylized case with three pockets and a very lively and cheerful exterior design. To the touch it is soft, light and very flexible. And, although it may not seem like it, you can easily store up to 40 writing accessories in each of its compartments. There are six different models.
Large capacity case with three compartments
Another very complete case is this one from Mamowla. It has a large capacity (it can store up to 70 pencils) and is made of durable canvas material. Its main compartment provides a clear overview of everything stored at a glance. On the outside, you can store an extra compass or pen. Sold in five colors.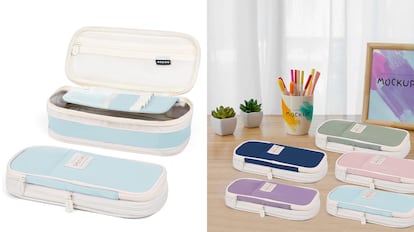 *All purchase prices included in this article are current as of September 4, 2023.
(Remember that if you are an Amazon Prime user, all purchases have free shipping. Amazon offers a free, no-obligation trial period for 30 days.)
You can follow EL PAÍS ESCAPARATE on Facebook and Instagram, or subscribe to our Newsletter here.

#Threecompartment #pencil #cases #desired #children #school