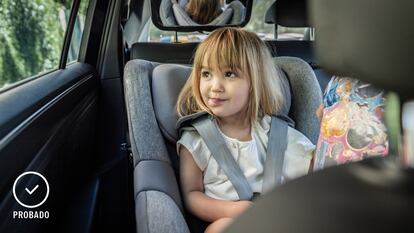 We test and rate the best car seats for children up to twelve years of age.Getty Images
All children until they reach 150 cm in height must travel in the car with a child restraint system adapted to their size that will guarantee their safety in the event of accidents. And choosing one is not a trivial matter: according to the DGT, traffic accidents are the leading cause of death among children under 14 years of age and the use of child seats prevents 90% of injuries.
With this idea in mind, we have chosen some of the best car seats according to each age. To do this, we have consulted the main firms to advise us on which are their best models and, with that information, we have analyzed their characteristics. We have also spoken with different experts to give us their opinion on each of them.
Based on all this, we have selected five chairs that cover from birth to 12 years; Approximate age at which the maximum height of use is reached. We have also maintained a premise: that with all of them it is possible for minors to travel rear facing for as long as possible (normally up to 105 cm in height) and not only up to 15 months; mandatory age. And, according to experts, this characteristic makes the consequences of impacts (especially frontal) much smaller.
What car seats have we selected?
That said, the safety seats we have selected are: Babyauto Revolta (with an average score of 8.75 points); Chicco Kiros Evo I-Size Fast-In (9), Fairgo Corazza I-Size (9), Maxi-Cosi Pearl 360 Pro (9) and Recaro Salia 125 (9).
The aspects to take into account in this comparison of car seats
For its assessment we have taken into account a wide variety of aspects:
· Design. The materials with which it has been manufactured and how perspiration has been solved, its aesthetics and different colors available, etc. Additionally, we have taken into account whether the design is rotatable or not; something that makes placing children much easier.
· Facility. If they are installed with Isofix and with what system, the details of the instructions…
· Security measures. What type of safety systems each chair incorporates. Almost all of them (except the Babyauto model) comply with the ECE R129 (I-Size) regulation, the most recent and safest. The remaining one, for its part, complies with the previous one, R144.
· Adaptability. How, thanks to different accessories such as reducers or adjustable headrests, they adapt to the growth process of children.
· Ergonomics. The space that children have once seated and how comfortable they are in the seat, the possibility of adjusting the inclination…
· Others. Any characteristic not contemplated in the previous points.
For newborns: Chicco Kiros Evo I-Size Fast-In car seat
With the possibility of placing it both with Isofix and with the seat belt and always rear-facing, it is suitable for babies from birth to about 15 months (between 40 and 78 cm in height).
Its safety measures include the use of materials that absorb energy in the event of a crash (especially interesting in the event of a frontal crash), the presence of a three-point harness so that minors cannot get out of the seat or a pressure reducer. indicated seat until they weigh 6 kg and are 60 cm tall, which allows them to have a correct posture of both the body and the head (their head does not fall forward, which could pose a risk to their safety).
A peculiarity is that the headrest adjusts at the same time as the harness and, therefore, the Chicco Kiros car seat is characterized by being very spacious and ergonomic. In addition, the fabric is breathable, does not accumulate much heat and comes with a water-repellent hood and sun protection; It is especially interesting in case it is going to be used with a cart structure.
The best: it is easily installed and comes with reducers to ensure the safety of newborn children. The worst: the Isofix compatible base is purchased separately. Conclusion: an ergonomic chair to carry the baby safely from the moment of birth that adapts perfectly to her growth.
Up to 4 years: Maxi-Cosi Pearl 360 Pro child car seat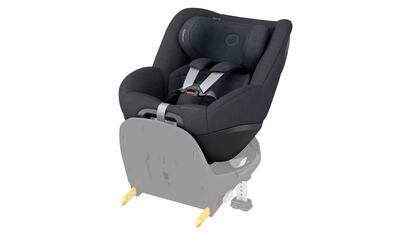 Detail of the Maxi-Cosi Pearl 360 Pro child car seat.
Its system for getting children on and off is, without a doubt, the most comfortable of all those we have tried. And the fact is that, in addition to rotating, the chair is extended a few centimeters out of the car, making the task much easier and avoiding uncomfortable positions or accidental head hits at all times.
To do this, it is essential to use the chair with the FamilyFix 360 Pro base. Although there is a version for newborns (Pebble 360 ​​Pro, suitable from 0 to 15 months), in this case we have tested the model suitable from approximately 3 months (about 60 cm) up to 4 years (105 cm or 17 Kg), although it is possible to purchase a reducer to use it with newborns.
The Maxi-Cosi Pearl 360 Pro car seat is also comfortable during use, as it has up to five different reclining positions – the movement is very fluid, so the child will not wake up if he moves while sleeping -, very ergonomic with its back and its fabrics are breathable. Finally, it should be noted that at a safety level it makes special efforts to protect against side impacts and that it is used rear-facing.
The best: with its seat rotation and sliding out system, it is the most comfortable for placing the child in and out of the car. The worst: the base and the reducer to be able to use it from birth are sold separately. Conclusion: it is the right chair if you are looking for comfort at all levels.
From 0 to 7: Recaro Salia 125 child car seat
View of the Recaro Salia 125 child car seat.
Indicated from birth to 7 years of age, it is used rear-facing until the child measures 105 cm and, from then on, it can be turned around and used facing forward.
It has multiple safety measures: an energy-absorbing casing; a system that secures minors with a single unit composed of shoulder pads, shoulder straps and headrest prevents the harness from twisting and slipping; markings on the strap help ensure correct installation; a height-adjustable headrest; flat side reinforcements…
In terms of comfort, the Recaro Salia 125 car seat rotates 360 degrees and the seat foam adapts to the shape of the body. In addition, it allows four reclining positions that are adjusted very easily and with just one hand.
The best: it is very safe and comfortable and has a long useful life. The worst: nothing remarkable. Conclusion: a very flexible chair that is comfortable for both minors and their families that focuses on safety.
Babyauto Revolta evolutionary child car seat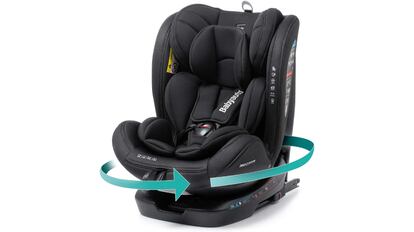 Detail of the Babyauto Revolta evolutionary child car seat.

It is one of the models with a wider age range: from 0 to 12 years. For this reason, it adapts both in installation (rear-facing until approximately 4 years of age and from there forward-facing) and in design, standing more upright and extending the headrest, among others. With a built-in rotating system, it comes with everything you need: from the reducing cushion to the base.
This base is somewhat different from the rest, since it has a backrest that, according to the firm, serves to prevent the chair from tilting in the event of a collision when installed rear-facing.
And its installation is also somewhat different since, although it incorporates an Isofix base, it is complemented by a belt that must be passed behind the seat instead of the more typical support leg and hooked with a type of carabiner (not all vehicles they are compatible).
The installation manual for the Babyauto Revolta evolutionary car seat is very complete and, on its website, it also offers videos detailing all its possibilities.
For the rest, it should be noted that it incorporates a system on both sides that absorbs impacts in the event of a side collision, it has a five-point safety harness that distributes the load between shoulders, hips and pelvis and different reclining options.
The best: it is a very flexible model that has very complete instructions to facilitate its assembly and transformation depending on the size of the child. The worst: the Isofix system with a belt is somewhat more complicated than with a leg. Conclusion: adaptable both rear-facing and forward-facing, it accompanies minors until they no longer need a seat to travel in the car.
Up to 12 years: Fairgo Corazza i-Size child car seat
Detail of the Fairgo Corazza i-Size child car seat.
Indicated from birth until the child reaches a height of 150 cm, when used rear facing (up to 105 cm) it reclines almost completely and very fluidly, which helps to achieve a more comfortable sleeping position.
It has all the essential features both in terms of safety and comfort: deployable side protection system, Isofix type base with support leg, rotating handle, five-point safety harness with shoulder protectors, removable cover for washing in the washing machine…
In addition, the Fairgo Corazza i-Size car seat is available in three different colors and its transformation system depending on the stage is very comfortable and is perfectly explained in the instructions.
The best: it is very complete in terms of both safety and comfort features. The worst: nothing notable. Conclusion: a very versatile model that meets the latest safety standards and focuses on the comfort of the minor who uses it.
*All purchase prices included in this article are current as of September 3, 2023.
You can follow EL PAÍS ESCAPARATE on Facebook and Instagram, or subscribe to our Newsletter here.

#car #seats #children #twelve #years #age