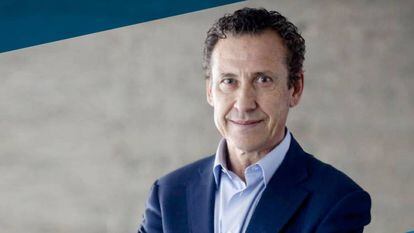 Football, like every game, lives outside of reality. But as a social phenomenon, as popular culture, as a leisure industry and as a representative force, for example, of a country, it is pure and simple reality.
On the other hand, feminism is already a place. Either you come in or you stay out. As for Rubiales: he was socially expelled. The problem is that it is a manager, that managers must guide and that it is impossible to guide if you do not know the beats of your time.
Winning a World Cup at this stage of conquest has a strong impact that is wonderful for women's football. Spain won and these pioneers deserve to be a little happier for the rest of their lives and look to the future with optimism and pride. But a very dark shadow fell over the conquered glory: immediately, the nonsense began.
Grabbing one's balls after a triumph of women's football in a princely box is, to say the least, hardly allegorical. It was just the first testosterone excess that narcissism, accentuated by the excitement of victory, had just committed. Then protocol took Rubiales to that improvised altar where soccer priests reward female athletes. It was there where Rubiales kissed Jenni Hermoso without consent and abusing his authority. And that was when a before and after was inaugurated. Because another of the many things that Rubiales forgot that day is that he is going to worship and sacrifice at the altar.
And since he was out of reality, he settled into it, walking around complacent microphones between applause and laughter. Moving with the ego full of confidence and the authority that his position confers on him, no one had the courage to tell him that he was going against this historical moment. The outrage reached the streets and overwhelmed the media in a scandal that became global.
Politics appeared, the institutions threatened (without giving), the street roared and we naive people thought that the assembly would end that nightmare. But Rubiales took the floor and in a new episode of "cojones y españolía" he doubled the bet under the applause of those who defended their own interests. Since then, those occasional accomplices are retreating to the search for lost dignity. It will cost them. Up there, Rubiales had shown himself to be confident to the point of cockiness, generous like all those who are cornered and using that almost always infallible wild card called victimhood and which he used even his daughters.
The truth is that football, which arrives late to all revolutions, these days is championing the feminist movement. We owe it to the succession of clumsiness of a man who woke up a society that no longer supports the Rubiales. He even brought out of the cave a few protagonists of men's football, always lazy when it came to committing.
Rubiales' mother went on hunger strike and ended up in a hospital without stopping asking for "justice." While her son, in her eagerness to survive, only needs to carry a cross on her shoulder and carry it with the face of a penitent through the streets of Motril.
At this point, the man who does not know what time he lives in does not know that he is already dead. Public opinion condemned him and FIFA sounded the first shot at him, suspending him.
Rubiales became a symbol or, in other words, no one can save him anymore. But since he is very macho, he refuses to go his own way, prolonging the conflict, the controversy, the shame, the opprobrium. Not resigning is the latest stupidity that consecrates him as a new Torrente. Only, this time, it's a documentary.
You can follow EL PAÍS Deportes on Facebook and Twitteror sign up here to receive our weekly newsletter.
Subscribe to continue reading
Read without limits

#Narcissistic #macho #lost