The American filmmaker Ira Sachs (57 years old) is not afraid to give his opinion or break taboos. It is one of the motivations that prompted him to film Passages, his latest film, released in Spanish theaters this Friday. "I wanted to make a horny and erotic film about sex, desire, skin and beauty," he confesses in an interview with EL PAÍS via video call. He has launched into many topics: bisexuality, infidelity, greed and orgasms. Passages has a lot of that.
More information
The most conventional films bore him because sexual relations do not appear: "Superheroes don't have sex, so they don't represent the human experience." He believes that these types of scenes are not included because it is a "dangerous element if you want to create a mass product." But, at the same time, he highlights the capacity of the erotic as a marketing element. For example, with the warnings that the platforms give at the beginning of each film: "They tell you: 'Don't worry, there is going to be sex and drugs in this movie, you are in the right place,'" he says ironically. To invent the plot of Passages, the filmmaker had to delve into old films and directors like Pedro Almodóvar, who supported the idea that showing skin and bodies is okay.
Sachs' stories always revolve around family and relationship issues, told from the inside of the characters and their emotions. They are everyday problems that happen to characters who are not. This is the case of Tomás, a film director who becomes infatuated with a young woman and is unfaithful to her husband. For Sachs, love complicates the world and, along with "family," it is the most difficult word to define. "It's trying to understand how two humans interact together," she explains.
An "action" movie
Passages is not a romantic tragedy – although it is a clear example to differentiate between falling in love and being infatuated – but an "action film." This is how the director defines it, because his characters are looking for something more than a love relationship, they are ambitious. A quality that makes the protagonist more of an antihero than a hero. "The history of drama is full of heroes who are not perfect. Or was Shakespeare's King Lear?," he states. Tomas is a tormented man for whom things get complicated with every step he takes until he is left with nothing. Sachs' goal is that: for the powerful man to end up crawling on the ground. "My motivation is having lived under the Trump Government, he was desperate to take him off his pedestal," he says. And the viewer hopes that the same thing will happen to Tomás.
When talking about power, Sachs uses a much more combative tone, probably as a defense. He has been able to avoid censorship in many countries, but he is scandalized by the recent cases of cancellations of shows in Spain or by the withdrawal from programming of the children's film Lightyear, where a kiss appears between two women. "The far right doesn't care what people do individually, they just want to show their power. And one way to do it is to teach their ability to be violent," he comments.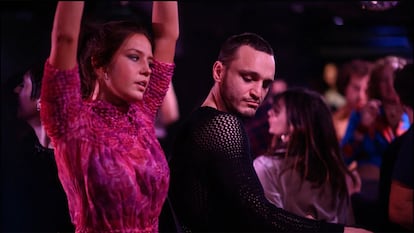 Adèle Exarchopoulos and Franz Rogowski, in 'Passages.'
He also rejects the rating of films by age: Passages has entered the category of not recommended for children under 17 in the US, its possible commercial death. "It is a way of warning other directors not to create this type of imaginary because they are not going to reach the entire public."
He not only gives his opinion on the people who oppose it, but also on those who remain silent. "All the LGBT directors that have existed have survived over time because they have stopped telling gay stories since the industry and culture are not there to support them," she says. In his opinion, plots with this perspective have no place in film competitions. "The festivals have seized on the power of the white man and tell us not to question them," he says when he brings up the attitude of Thierry Frémaux, general delegate of Cannes, when the actress Adèle Haenel published an open letter criticizing the festival for programming films by directors accused of sexual assaults such as Roman Polanski or Woody Allen. "With everything that has been achieved, do we really decide to fight so that these two men have their space of visibility?" She protests. And festivals have been key in his career, especially Sundance, where Passages premiered earlier this year, in addition to some of his previous feature films. The key for him to defend this quote is those responsible for him. "Sundance has, from the beginning, a culture that embraces the different," he says.
Sachs's cinema, and this film more so, plays with silences. It is the director's way of expressing his freedom as an artist. "Within silence there is ambiguity, something that is very precious in the seventh art but is not allowed in the most commercial industry," he defends. But, in addition, blank spaces produce anguish. The film leads the viewer through a state of constant tension.
The son of divorced parents, homosexual and Jewish, Sachs belongs to more than one minority group and has no desire to leave the cinema or to remain silent. His life motto is a declaration of intentions. "If I could give my children any type of training, I think it would be what Martin Scorsese had in 1940 in New York; That is to say: everything is possible," he reflects.
All the culture that goes with you awaits you here.
Subscribe
Babelia
The literary news analyzed by the best critics in our weekly newsletter
RECEIVE IT
Subscribe to continue reading
Read without limits
#Ira #Sachs #filmmaker #delves #taboos #sex #love