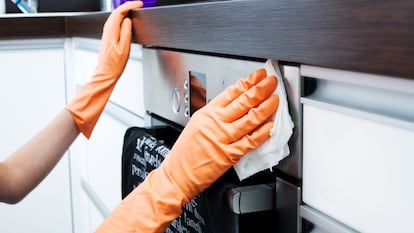 Stainless steel is easy to clean. GETTY IMAGES.
Rust and stains cause appliances, as well as the kitchen or any stainless steel element, to take on a dirty and ugly appearance. However, cleaning stainless steel is relatively easy, so it can be kept in good condition for a long period of time quite easily.
Likewise, it is important to periodically clean the rest of the household items, such as polishing the pots and pans, so that they look like the first day. Furthermore, if you want to do a deep cleaning of the house, there are 'magical' products that will help you remove scratches from the walls or mold in the bathroom.
How to clean stained stainless steel?
As we have mentioned before, stainless steel is easy to clean. It is important not to use abrasive products (such as bleach) or metal scouring pads, as they can scratch and damage the surface.
It is also essential to follow the manufacturer's instructions if we want to clean the inside of a washing machine, grease embedded in the oven or any other type of appliance. Thus, by following these steps we will achieve incredible results.
Some of the basic products that we need to clean the stainless steel of refrigerators, extractor hoods, faucets, countertops, railings… are, in addition to water:
Soap
It is recommended to use a small amount of dish soap mixed with hot water, making small circles with the help of a cloth. This way you will be able to effectively clean the stainless steel.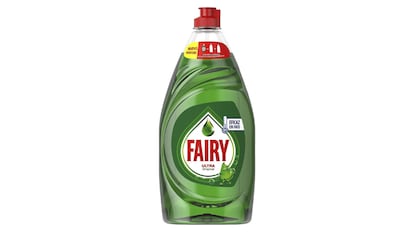 Rich foam with a single drop and easy rinsing.
Microfiber cloths
The microfiber cloth has a very soft surface, so it will not scratch stainless steel. It is ideal for cleaning and drying this type of material.
They can be used on different surfaces.
White vinegar
Use white vinegar diluted in water to clean stainless steel quickly. Remember to mix one part vinegar to three parts water and then dry the entire surface well with a cloth.
This combination is very effective, especially for removing limescale, water stains, and finger and hand marks on refrigerators, extractor hoods, taps, or countertops.
Powerful, high-efficiency anti-limescale.
Multipurpose
These types of multi-purpose products, as well as glass cleaners, are very effective in removing fingerprints from stainless steel. You just have to spray the product and then clean and dry with a microfiber cloth to avoid scratching the surfaces.
All-purpose cleaner for deep cleaning.
stainless steel cleaner
This 250 milliliter spray removes all types of grease, fingerprints and stains on any type of stainless steel surface. In addition, it includes a microfiber cloth to better apply the product.
Ideal for use on any type of surface such as a tap or an extractor hood.
Homemade tricks to clean stainless steel
In addition to the tips and ideas we have just seen, there are other home tricks that are also effective in removing stains from stainless steel. One of them is to use baking soda and hot water. The mixture is applied with a cloth and then dried to achieve an optimal result.
6 kilo baking soda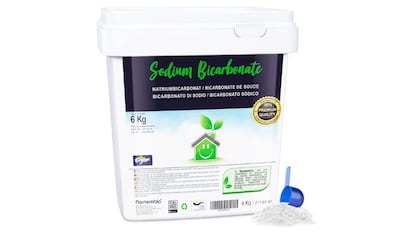 100% of natural origin.
On the other hand, to clean dry stains it is best to use a sponge moistened with a little soap so that the dirt softens little by little. Remember not to rub excessively or use corrosive products.
Scouring pads
The yellow part of this scrubber is sponge-style, so it is recommended to use that area to clean stainless steel more gently.
They can also be used to clean glass.
Gloves size M
Gloves are essential to protect your hands from cleaning products and thus avoid injuries.
Made of nitrile with cotton lining for greater comfort.
How to keep stainless steel clean and shiny?
Regular cleaning helps keep stainless steel clean. And if you also want it to be shiny, you can apply a few drops of oil on a cotton ball.
Olive oil in single doses
You can apply the oil to give it shine following the grain of the stainless steel. However, it is an option that we advise against because although it will leave the surface shiny it will also make it dirty.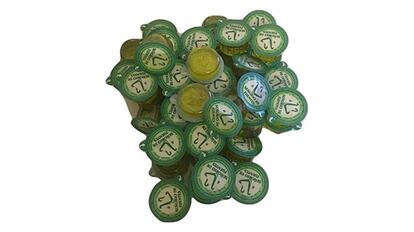 400 single doses of 10 milliliters.
Finally, it is recommended to carry out a small daily dry cleaning of both the kitchen and the different appliances to prevent the accumulation of dust and other types of stains or dirt.
---
*All purchase prices included in this article are current as of August 31, 2023.
(Remember that if you are an Amazon Prime user, all purchases have free shipping. Amazon offers a free, no-obligation trial period for 30 days.)
You can follow EL PAÍS ESCAPARATE on Facebook and Instagram, or subscribe to our Newsletter here.

#clean #stainless #steel