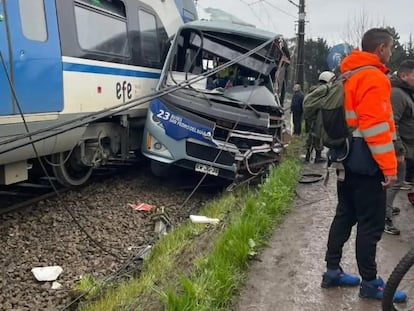 The bus hit by a train in the BioBío region, in an image shared on social networks.
At least six people have died so far in a traffic accident between a bus and a train in the commune of San Pedro de La Paz, in the BioBío region, about 500 kilometers from the capital of Chile.
The crash occurred around eight in the morning this Friday, when a bus from the San Pedro del Mar company crossed while the safety barriers at the La Boca Sur crossing on route 160 were being lowered, hitting a train car. the subsidiary EFE Sur. The police report from Carabineros reads: "A minibus from the San Pedro del Mar bus company, at the moment when the barriers were lowering, crossed in the same way, being collided by the train."
The bus driver, who is injured but conscious, "was left as a defendant," according to Lieutenant Colonel Alejandro Morgenstern. "The preliminary dynamics of what happened is that the barrier was low and the collective transportation vehicle would have accessed the railway track," he added.
From the EFE Sur company, after reviewing the machine's security camera, they reported that the train acted correctly: "The company confirms that the barriers that regulate the Boca Sur crossing were operating normally and closed (below) at the time of the train crossing." Furthermore, he accused the recklessness of the drivers: "EFE Sur has reiterated and permanently denounced the reckless and irresponsible behavior of drivers who daily do not respect the barriers that confine the railway when passenger or cargo trains arrive."
The six fatalities, one man and five women, correspond to passengers of the bus, which was transporting a total of 14 people. Five of the deceased died instantly, while the other died while on the way to a healthcare center. All of them were of legal age. The EFE Sur company reported that none of the train's passengers or crew members suffered serious injuries.
A public health official, Juan San Martín, criticized the poor functioning of the ambulance network in the commune of San Pedro de La Paz: "We have been without ambulances for more than 60 days, without having a way to transport patients to the hospital. We have no way to attend to emergencies in San Pedro de la Paz," he assured local media.
The Public Ministry ordered that specialized personnel from the Traffic Accident Investigation Section (SIAT) of Carabineros be in charge of the investigation into the causes of the fatal accident in the BioBío region.
Subscribe here to the EL PAÍS America newsletter and receive all the latest news from the region
#dead #traffic #accident #bus #train #Chilean #region #BioBío