It was necessary to copy it to France. And without sparing any praise on the splendid cheese tables that Gallic restaurants look like, it is recognized. The compliment goes to Abel Valverde, director of the Desde 1911 restaurant in Madrid, with one of the best cheese carts in Spain, with more than 70 pastas on display among the 300 references with which he works. He assures that his first contact with these tables was when he worked at the luxury hotel Hambelton Hall, in the middle of the English countryside. There he began his interest in French cheeses. On his return to Spain, in 1996, in the now-defunct Can Fabes restaurant, Santi Santamaría was already betting on them. "At that time they were cut in the kitchen and served cold from the fridge," he recalls. There was not yet a great cheese culture in Spain. It was time to start changing customs.
At the beginning of this century, Santamaría commissioned Valverde to make the best cheese board that Spain has ever seen in the Santceloni restaurant in Madrid. Throughout two decades, he made diners who came to try Óscar Velasco's menu round off the meal with a selection of cheeses. "Many habits had to be changed. Here the customs were different from those of other countries, it was more associated with the appetizer, while in France, for example, it is taken as a main course or as a dessert. It was risky, but the mentality had to be changed", acknowledges Valverde, who points to the opening of the Poncelet store in 2004, and in whose beginnings he participated, as one of the turning points in this approach of the ordinary citizen to the world of cheese. .
More information
Valverde comes up when he talks about his great passion, and in that eagerness to give everything he decided to raise the stakes and add, to those he already had, "spectacular fine-tuned cheeses of up to 20 kilos." Or a half wheel from Comté, a provolone from the Puglia region, or a nearly five kilo cake from Castuera. For this new category, he designed a new car, the second that circulates through the restaurant room, which belongs to Pescaderías Coruñesas. He affirms that he does not marry anyone, and he chooses from each producer the best of each one. He looks for the craft. He gives a hint of what he likes: the Smokey Oregon Blue, from Rogue Creamery in Oregon, brought to Spain by Mantequerías Arias, "is the best blue cheese that has been made in the last 10 years." In Desde 1911 cheeses are included in the different menus they offer, starting at 175 euros.
Toni Gerez poses with his brand new cheese table in the room of the Castell de Peralada, in an image provided by the restaurant.
One of the pioneers in the field, a cheese scholar, is Toni Gerez, old-fashioned master of ceremonies, whose work at the Castell de Peralada restaurant, in Peralada (Girona), was recognized by Michelin in this edition with the first prize for room service awarded by the French guide in its history in Spain. He assures that since he was little he went crazy for a wedge of cheese. And there he continues, now refining, pampering, maturing and even making his own elaborations. He justifies the hobby due to his origin: "I am from Llança, and being close to the border with France, we used to go to buy food that could not be found in Spain, due to the variety of cheeses they have, and we always bought magnificent camemberts or bries ".
His work in the hospitality industry also had a lot to do with it. First at elBulli, where he recalls that in 1983, with two Michelin stars, they already had two dessert carts and a third cheese cart with nearly 40 varieties, almost all French. From that time he remembers going almost every week to Perpignan to look for them, coming directly from the Fromagerie Xavier, in Toulouse.
Now he displays all his knowledge, together with chef Javier Martínez, at the Castell de Peralada, with one Michelin star, where he works with 300 different cheeses, from which he selects a range of between 60 and 70 different varieties every day. "We give priority to local cheeses, and at the same time French, Swiss or Italian classics cannot be missing", explains Toni Gerez, who has just published 300 cheeses and a Michelin star (Editorial Efados), which can be considered the bible of the cheese makers
Little by little there are more names that bet on having cheeses in their letters. "There is no need to be afraid and bet on having regional cheeses, from artisans who defend the product, because behind each one of them there is always a story. That allows those of us in the dining room to have the possibility of telling it. Because a cheese is a project, a passion", transmits Gerez. Among his favourites, "because of its softness and lightness" stands out a soft paste with a moldy rind, Fermió La Balda, from the La Balda cheese factory, in Granollers de Rocacorba (Girona). The assortment offered on the tasting menu is on the menu at a price of 48 euros.
Álvaro Ocaña belongs to a new batch of fromeliers, who has been in charge of the cheese cart for 10 months at the Michelin-starred Saddle restaurant in Madrid, and which he joined a year ago. He values ​​responsibility, since "it's complicated, cheese is a living product that evolves very quickly, and in a matter of weeks both the feel and the flavor change. It is not like wine that goes slower". The bet of the restaurant, opened in October 2019, comes with the idea of ​​giving value to Madrid after-dinner meals. "It's something that was being lost, and we want diners to be able to enjoy spirits, cocktails or cheese without rushing," says Ocaña. He works with 350 references, which he keeps in a conservation chamber where they keep the soft, hard and blue pastes at different humidity and temperatures "They are enough. We don't want to cover more, because it deteriorates very quickly".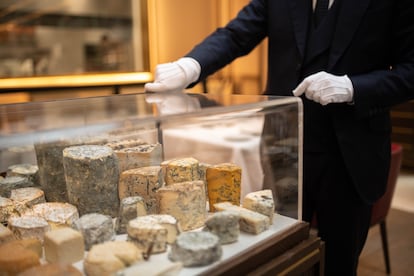 Cheese table at the Saddle restaurant in Madrid.
In the room, he exhibits barely four dozen of them, prioritizing temporality. "They are all handcrafted and at their best. When the cow is eating green grass, the cheese is more yellow, due to the cow's carotene", adds this expert, who laments the lack of training in this discipline. "In wine there are many training schools and many books, but in this subject it is more complicated, in cheese you have to be self-taught." He was lucky because the restaurant sent him to study the Cheese Master of the Madrid Chamber of Commerce, which he continues to complete with readings, visiting stores and tasting a lot. He confesses that he is lucky because fortunately better cheeses are being made in Spain every time, "there is a great future in the sector, but also the client knows more and more about cheeses". Hence the requirement. At Saddle they offer two portion options: a table with three portions, 20 grams each, for 21 euros; and one of six portions, at 36 euros.
Another of the temples for cheese makers is the Magoga restaurant, in Cartagena (Murcia), with a Michelin star. Adrián de Marcos, a cook who eight years ago decided to go out into the dining room, takes care of the dairy product. He wanted to follow the example of his teacher, Abel Valverde, whom he met in Santceloni, and who helped him shape the gastronomic project that he has directed since 2014 with María Gómez. "We started in 2016 with five or six cheeses and with the ambition of having the best cheese board in Spain, now we work with some 230 references, while we mature and refine, in addition to making our own elaborations with different cheeses and fermented from alcohols," he explains. It usually has about 140 landlines and the rest varies depending on the area. 50% is national cheese, "because there is a new generation of cheese makers that is doing very well in our country", and the rest is from other European countries, also from Turkey and the United States. 99% is from raw milk, "which is safe in terms of health issues and there is nothing to fear from it. It is quite satisfying to take it at the end of a meal, since as an aperitif it can cancel out other dishes".
Adrián de Marcos, with the table of cheeses that he serves in Magoga, in Cartagena (Murcia).
In the restaurant, they offer half a cheese board for 25 euros and the full board for 45 euros. He is clear about what he likes about a cheese, "that moves him", and he finds that in the small defects, "which are what make you remember things". In his memory he keeps a very special one, a blue cheese, Savel, made in Chantada (Galicia). "It seems to me one of the best preparations that have been made in Spain," he explains. Because if something contains a cheese under its packaging, it is a story, the one that the cheesemaker wanted to tell. And they in the restaurant are the ones who dress the story for the client.
#restaurants #cheese #tables #Spain