UNSPLASH
The mobile camera has become one of the most important purchase criteria for consumers. And although the high-end devices are those that incorporate the most advanced camera and with the best results, the reality is that many cannot buy a terminal at that price. In the following comparison we test and rate the smartphones with the best camera based on the users' budget.
What 'smartphones' with the best camera have we chosen?
The selected models are Google Pixel 7a (9.25), Huawei P60 Pro (8.75), OnePlus Nord 3 (8.75), Samsung Galaxy S23 (9.5) and Xiaomi Redmi Note 12 Pro 5G (8.25 ). When analyzing and evaluating them, these are the aspects that have been taken into account:
Design: how is its construction quality, but also its ergonomics and grip. Screen: since they all incorporate large surfaces, how is the quality of the panel of each of them? And its level of interpretation of colors, brightness and detail? Above all, because this quality determines a better (or worse) experience when it comes to consuming multimedia content and playing games. Performance: if the configuration that it integrates allows you to perform well on a day-to-day basis and multitask comfortably. Likewise, this criterion has been transferred to their batteries and recharging times. Camera: taking into account the price range in which each of these phones moves, their cameras have been put to the test in different situations to verify their quality and how its different sensors perform, especially those located in the rear, both for capturing still images and recording videos. Others: connectivity options, operation of its biometric systems, sound section…
Comparison of the best 'smartphones' with the best camera: this is how we have tested them
As usual in mobile phone comparisons, each of these devices has become our regular phone for several days. Although the tests have focused above all on getting the most out of the cameras they incorporate to see how they behave both during the day and at night, they have also focused on other aspects such as their performance, autonomy and experience with the screen.
'Smartphone' with the best camera up to 300 euros: Xiaomi Redmi Note 12 Pro 5G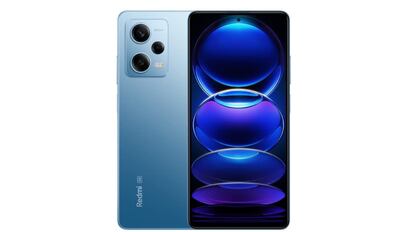 It is equipped with a rear camera module that includes three sensors. The main sensor takes center stage (due to its good results in broad daylight): it is the Sony IMX66 model. By default, it shoots 12-megapixel resolution photos, but it has a specific mode that allows you to capture 50-megapixel images.
We liked the interpretation of the colors, the dynamic range, the detail or the sharpness a lot. Also the results of its Portrait mode, especially since it has an option to adjust the degree of bokeh depending on the user's preferences. Meanwhile, the Night mode behaves quite correctly.
At the video level, although it records at 4K at 30 fps, it achieves the best results with a resolution of 1,080p. This main sensor is accompanied by an 8-megapixel wide angle with a 119º field of view and a 2-megapixel macro that is testimonial. And how about the camera for selfies? With a 16-megapixel sensor, it provides a good crop.
As for the rest of the features, it incorporates a 6.67-inch AMOLED screen (protected by Corning Gorilla Glass 5) with a resolution of 2,400 x 1,080 pixels with a maximum brightness of 900 nits, recommended for consuming multimedia content thanks to its Dolby Vision support. In just over 50 minutes, its 67W charger powers the 5000 mAh battery.
The best: your experience when consuming multimedia content and main camera. The worst: its MIUI 14 customization layer is based on Android 12 and not on version 13. Conclusions: without spending a large amount of money, the user can enjoy a balanced terminal and very good value for money.
'Smartphone' with the best camera between 300 and 500 euros Google Pixel 7a

The brightness of the scene, the interpretation of the colors, the sharpness or the level of detail provided by its photographic section make it the mid-range mobile phone with the most advanced camera of the moment. Also when shooting video in 4K at 60 fps: the naturalness of the scene and the stability achieve great results. To do this, it incorporates a module on the back made up of two sensors: a main one with 64-megapixel resolution and another ultra-wide-angle of 13-megapixels and a 120º field of view.
For its part, the selfie camera has a 13-megapixel sensor and is compatible with 4K recording at 30 fps. The camera application is also very good and offers some interesting options such as Magic Erase, which allows the user to make those elements that they do not want to be displayed disappear, or the function that improves blurred shots.
Made of aluminium, glass and plastic, it has received the IP67 certification that recognizes its resistance to dust, scratches and water. In addition, its 6.1-inch OLED screen is reinforced with Corning Gorilla Glass. It comes with the same processor as the Pixel 7 and Pixel 7 Pro smartphones: it is the Google Tensor G2 chipset that ensures great performance.
The best: IPX37 protection, performance and photography. The worst: fast charging of only 18 W and, in addition, it does not come with a charger. Conclusions: At a photographic level, it has no rival in its price range. In addition, it offers high power, has a very compact size and is compatible with wireless charging.
'Smartphone' with the best camera between 500 and 800 euros OnePlus Nord 3 5G
Android 13, 80 W fast charging (the charger is included), a processor that stands out for its high power (MediaTek Dimensity 9000), 256 GB RAM, double stereo speaker… These are some of the features of the OnePlus Nord 3 5G , a large terminal weighing 193.5 grams that incorporates a 6.74-inch AMOLED screen, 2,772 x 1,240 pixel resolution and flat edges that makes incredibly good use of the margins that surround it.
Above the on and off button is the Alert Slider: this button is one of the hallmarks of the manufacturer and when it slides the smartphone automatically goes into silent mode. The controls for the volume are located on the left side.
Its rear camera module is committed to a configuration that includes a 50-megapixel main sensor, an 8-megapixel wide angle, and a 2-megapixel macro. The one that is truly worth it and with which one enjoys is the first of them. This is the stabilized sensor Sony IMX890. The experience is fantastic and little (or nothing) can be objected to when analyzing the detail it collects, the way it interprets the colors and the luminosity.
At night, the terminal performs better than expected, but it is advisable to use the Night mode to improve the result thanks to the possibility of increasing the exposure time. Users who like to take a lot of selfies will make the most of the options offered by its 16-megapixel front camera.
The best: processor power, main camera performance and 'Alert Slider' button. The worst: compared to the excellent results of its main camera, the wide angle can be improved. Conclusions: without being prohibitively priced, it is a mobile phone that guarantees a fantastic experience thanks to its performance and main sensor.
'Smartphone' with the best camera between 800 and 1,000 euros Samsung Galaxy S23
On paper, the specifications of its camera module leave us with the following characteristics: a 12-megapixel selfie camera with f/2.2 aperture, and a set of rear cameras made up of a 50-megapixel main sensor with optical stabilization of image and f / 1.8, a telephoto (also stabilized) equipped with a 10 megapixel sensor, magnification of 3x and f / 2.4, and a wide angle of 12 megapixels and f / 2.2.
Put into practice, this module solves the different situations quite well and achieves good results when analyzing the level of detail or the processing of the images.
When night falls, the points of light are controlled better than expected and when it comes to taking a selfie, the result does not disappoint when analyzing aspects such as cropping or white balance. As a strong point, the good stabilization of the videos also stands out, but with a quality of 1,080p or 4K, because despite the fact that it is possible to record in 8K at 30 fps, the final result is not what is desired.
Its app offers, among other options, a tool to delete objects and a way to photograph stars. It should be noted, on the other hand, that it weighs little (168 grams) and that it incorporates a 6.1-inch AMOLED screen that reaches peaks of 1,750 nits, so it looks great in bright open spaces.
The best: excellent performance, high screen brightness. The worst: its battery only offers an amperage of 3900 mAh. Conclusions: it borders on perfection, it is a phone that not only stands out for its comfortable handling but also for its power, screen and photographic capacity both during the day and at night.
'Smartphone' with the best camera over 1,000 euros: Huawei P60 Pro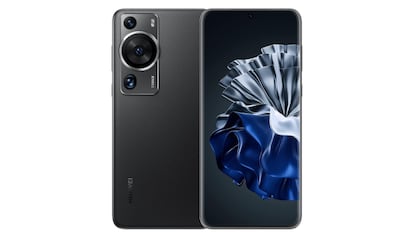 With an app that is very complete, it guarantees one of the best experiences that a mobile phone can currently offer in terms of photography. Specifically, it combines a 48-megapixel resolution main sensor with a variable aperture between f1.4 and f4.0; an ultra wide angle of 13 megapixels and f2.2; and a 48-megapixel telephoto lens, f/2.1 aperture, and optical image stabilization.
In practice, the combination of these elements provides excellent performance not only during the day, but also when light conditions are more adverse. Images are colorful and highly detailed
It runs smoothly, but tends to get hot, and as a processor it uses last year's Qualcomm Snapdragon 8+ Gen 1 model. Meanwhile, what is most striking about its 6.67-inch OLED screen is that it comes very well calibrated from the factory. This image is complemented by stereo audio that is up to the task and, even at high volumes, achieves imperceptible distortion.
Other data of interest to take into account are the following: IP68 resistance to dust and water, and a fast charge of 88 W thanks to which it is enough to invest 20 minutes to fill its 4,815 mAh.
The best: photographic experience, exquisite design and very fast loading. The worst: it does not have Google services. Conclusions: except that it does not come with Google services, it is a high-end terminal that perfectly covers the needs of the target audience.
*All purchase prices included in this article are current as of August 21, 2023.
(Remember that if you are an Amazon Prime user, all purchases have free shipping costs. Amazon offers a free and no-obligation trial period for 30 days.)
You can follow EL PAÍS ESCAPARATE on Facebook and Instagram, or subscribe here to our Newsletter.

#phones #camera #type #budget