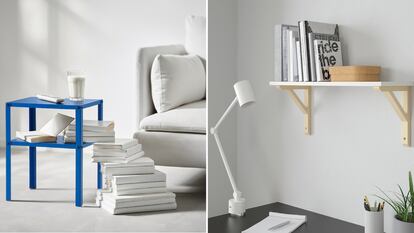 Sometimes supporting actors in a movie are everything to complement a quality cast. Well, the same thing also happens in the auxiliary furniture for the house: elements that add character to any room, decorate without making much noise, fit in numerous corners and offer much more than it seems at an exceptional price. Like the ones we have found on the Ikea website for less than 20 euros: best sellers and for all kinds of needs.
From practical stackable stools, to modern-style bedside tables, minimalist shelving or folding and versatile shoe racks. Do you already know which one you need for your home? Below, we show you the best-selling auxiliary furniture from the Swedish firm at a bargain price.
Stackable birch wood stool, Kyrre
The perfect size to store anywhere and use when surprise guests show up or need extra space to place books, coffee cups or other accessories. This is this stackable stool from Ikea, a product that thanks to its three legs never wobbles. It is sold in four very elegant colors.
Square and minimalist side table, Lack
With a very minimalist design, the Lack side table is a beauty to the naked eye. It will cover different household needs and will be one of the auxiliary furniture that best combines with rooms such as the living room or the living room. In addition, the waffle-fill construction adds strength without adding weight. It only measures 35 x 35 cm.
Wall shelf with bracket included, Burhult
Another of the best sellers in the auxiliary category at Ikea is this featured product in the image: a simple shelf that will withstand up to ten kilograms of weight without a problem. Its neutral tone in white makes it combine very well in most rooms.
Bedside table with storage, Knarrevick
For sale in a bright color or in a duller tone, it doesn't matter; This bedside table will delight anyone given its elegant and lightweight design, also ideal for placing it in small spaces. In short, an auxiliary piece of furniture that goes very well with the sofa or bed. Its structure facilitates assembly by dispensing with welded joints.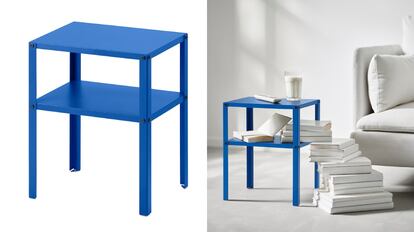 Cube-shaped cupboard, Eket
Because displaying or storing things in an attractive way is not at odds with design if we use a product like this: the Ikea Eket wardrobe is ideal when we lack space and want to take advantage of every last centimeter. Being cube-shaped, it can go both on the ground and mounted on the wall. Sold in eight colors.
Large clothes rack
Its measurements are ideal for placing it in any corner of the hall or in the gap between the chest of drawers and the door of the main room. We are referring to a coat rack with simple and modern lines whose clothes rail can be fixed in six different positions. It can hold up to 35 kg of weight and four pairs of shoes fit on its lower shelf.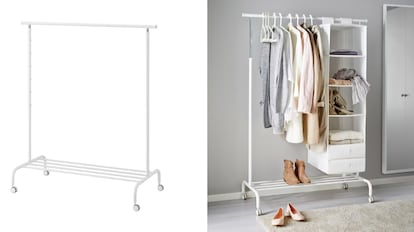 folding shoe rack
Made of steel, this shoe rack is as practical in the hall as a wardrobe or chest of drawers can be. Up to three pairs of shoes fit comfortably in it and several of them can be mounted one on top of the other. In addition, being foldable makes it easy to transport. It does not reach a kilo of weight.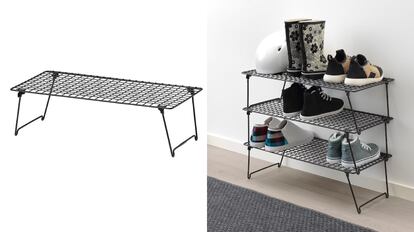 Vertical drawer unit with rear wheels
One of the most versatile auxiliaries that we propose to close this selection. It is a chest of drawers with three transparent drawers included that make it easy to know what things we have stored at all times and without having to open them. In white, it matches any room in the home.
*All purchase prices included in this article are current as of August 21, 2023.
You can follow EL PAÍS ESCAPARATE on Facebook and Instagram, or subscribe here to our Newsletter.

#auxiliary #furniture #bestsellers #Ikea #euros