They are Borja Santamaría, Raúl Santamaría and Bruno Vila, aged 29, 25 and 22 respectively, better known as the Mozos de Arousa. Since it began on May 25 in Reaction in chain, the trio from Vilagarcía de Arousa —Borja and Raúl are brothers and Bruno is a friend— has already had more than 50 afternoons in the contest that Telecinco broadcasts from Monday to Friday in one of the most complicated hours of the day, 8:00 p.m., facing the almighty Pasapalabra. With their charisma and their victories —they have earned more than 300,000 euros— they have managed to turn a program that seemed on the verge of imminent death into the most competitive space in the evenings on the chain. Now, Telecinco is preparing special broadcasts in prime time in which the Mozos will face other well-known contestants of the format.
"We didn't expect to stay that long. I remember a conversation with Bruno on the street about whether we would make it through the first program. Bruno's goal was to get 10,000 euros per head, but we never even imagined reaching the number of programs we have today, it's a little scary", says Raúl on the other end of the phone. The Mozos de Arousa attend EL PAÍS on Friday, August 11, from the house of Raúl and Borja's parents (or Borjamina, as he is known in networks and in the program with a combination of his real name and that of the dog that his family had), where the trio often meet to practice for the show.
More information
Bruno's idea was to sign up to participate when the contest had not even started its broadcasts. He saw how the format worked in the Italian version. "It didn't seem like a very difficult contest to me like the Rosco de Pasapalabra, which you have to study the dictionary and requires a lot of preparation, but with the general culture that we can have and complementing each other we could manage well. It also gives you the opportunity to show your personality, it's not like Knowing and Winning, which is more about being serious. And I liked the presenter (Ion Aramendi), who we had already met on The Hunter", recalls Bruno.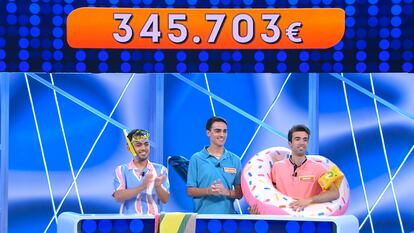 Los Mozos de Arousa, in one of the August programs of 'Reacción en cadena'.
When they were called to participate, they got to work. The show's essential test, which decides who stays and who goes, is Winning Complicity, in which two team members have to alternately phrase a question for the third to guess a word. A month and a half before starting to record, they practiced this test for at least an hour every day, and they still continue to practice it in the breaks between recordings. "In the beginning we used an application with a battery of more than 4,000 words that appear randomly. But now many of them come out repeated and we take the dictionary to look for rarer words ", explains Raúl.
Ask. What does each one bring to the team?
Borgia. We have three very marked and at the same time very different personalities. There is a balance: Bruno is the most spontaneous, Raúl the most serious and I am between the two and I am the one who provides peace and a bit of sanity. In knowledge, Bruno has a more classical culture, of monarchies and history, Raúl more current affairs and street sayings, I of cinema…
Q. On social networks, television contests are lived with great passion and there are usually complaints about alleged favoritism. Do they put easier words than rivals?
Raul. No, we don't think they are easier, but we have been practicing for a long time and many words seem easy because we make them easy. As we know each other a lot, we know where to focus them. But if you take the word list of each team, you will see that it is quite balanced. The difficulty is seen when you try to do it, and we encourage everyone to try it at home and tell us, because things change a lot when you try it.
We don't think our words are easier, but some of them seem easy because we make them easy.
Raul Santamaria
Q. Television is enormously popular. How do they get fame? Are they overwhelmed by being recognized or have they gotten the hang of it?
Bruno. According to the moment. The other day I went to the beach with my parents and it is a moment that you do not want to be recognized. But we are very grateful to the people and we understand that we must be kind and attentive to the people who watch us, because if it were not for them, there would be no show and we could not have made the amount of money that we have. And the recognition, because the prize for the program is monetary, but there is another prize that is to have a good reputation and prestige here where we are from.
The three contestants, with the presenter, Ion Aramendi, in the 'Winning Complicity' test of 'Chain Reaction'.
Raul. We were invited to parties in Vilagarcía and surrounding councils. This weekend we have the mussel and cockle, next week the clam, we are going to make a floral offering in San Roque in Vilagarcía… And the repercussion in networks, we are surprised that people with as many followers as Dulceida or Laura Scans have shared videos of the program.
Borja has a degree in Business Administration and Management and works coordinating and training young people in European projects. Raúl has a degree in Teaching and is studying for a teacher's exam. Bruno studies Law. The three met at the Arousa Moza youth association. With the money they win in the contest they want to get a new place for the association, although in view of the prize they have already accumulated, they will be able to distribute some money for each of them.
The program prize is monetary, but there is another prize that is to have a good reputation and prestige
Bruno Vila
Chain reaction is not the first contest in which they have participated. Borjamina remained 32 programs in Now I fall. The three of them, together with another friend, repeated 19 days in Blocked by the wall, Raúl spent three days in High tension; Borja also went to La roulette de la suerte, in addition to Galician television contests. That was precisely where Borjamina began his journey when he was just 18 years old, when a high school teacher encouraged him to apply for Cifras y letras. Now they prefer not to think about other formats to appear in the future, although Raúl and Bruno do not close the door to continue trying their luck.
From the left, Ion Aramendi, Raúl, Borjamina and Bruno, about to solve 'The Last Word' in one of the 'Chain Reaction' programmes.
Ask. Some contestants from other shows have complained about how much they have to pay in taxes with the contest prizes. How do they handle half of what they are earning going to the Treasury?
Bruno. Good, because you have to be a Social Security contributor, and nothing to defraud taxes or things like that. We also use public services, and if we want good public services we have to pay taxes. Then everyone will have their thoughts on whether they have to be taller or shorter. But we are happy, because the more you pay, the more you have earned.
Raul. Totally, and it's something we already knew before we went on the show, not that we're finding out now. Of the prize that we are winning, we are already saying, we are going to have this or that. It is not that they suddenly come to rob us.
What I like most about television is entertaining. If you go to a program thinking that you are only going to earn money and you don't, frustration comes
Borja Santamaria
P. Surely many people watch the program to see how they are doing. Do you feel a special pressure or responsibility due to the fact that the progress of the program depends, in part, on you?
Raul. No, what we do feel is that we have a responsibility because many people follow us. There are people who tell you that they watch it every afternoon for us, other people who would like more change of contestants…
Q. Now that you know more about television, what do you like the most and what you like the least about television?
Borgia. I like to entertain, because if you go to a program thinking that you are only going to earn money and you don't earn it, as happens many times, frustration sets in. When I recorded my first show I was already looking forward to recording the next one. Then you like to see yourself on TV, that people write to you… I like that part. I had done theater and it is somewhat related.
Bruno. And what we like least is losing. That is why every afternoon we give everything so that this does not happen.
You can follow EL PAÍS TELEVISIÓN on Twitter or sign up here to receive our weekly newsletter.
Receive the television newsletter
All the news from channels and platforms, with interviews, news and analysis, as well as recommendations and criticism from our journalists
APUNTATE
#Mozos #Arousa #happy #pay #Treasury #pay #earned