"It's not the craziest idea I've ever had," said Ashton Kutcher (Iowa, 45 years old) on Tuesday, August 15, in his latest Instagram post. It is true that it is not comparable to traveling into space aboard the Virgin Galactic ship, as the actor was determined to do in 2021, an idea that he finally rejected due to the opposition of his wife, also actress Mila Kunis (Chernovtsi, Ukraine). , 40 years). But neither is it usual for one of the most famous actor couples in Hollywood to open the doors of their house to complete strangers, and that is precisely what they have both decided to do. "Stay with us at our beach house and leave like we were old friends!" Continues the text of Kutcher's post, which has already accumulated more than 332,000 likes.
The text is accompanied by a short video in which the couple is very happy and summery in front of their house in Santa Barbara, California, next to the beach, a house that since this Wednesday is open for reservations on the rental platform Airbnb homes – a company in which Kutcher is an investor. The clip shows Kunis's reaction when her husband explains her crazy proposal. "He's dumber than my mustache, I promise," the actor jokes between laughs, to which she responds with a smile: "I'm sure. What is this idea? "I think we should have complete strangers come and stay with us on the beach. This site is so nice," he continues.
More information
To guarantee that things are serious, the interpreter of The Butterfly Effect, Jobs or American Playboy has shared in his Instagram biography, where he has 5.2 million followers, the link that leads to the website of the platform home rental, showing the property, christened Ashton & Mila's Oceanfront Oasis. Reservations for the couple's guest house will be open from ten in the morning US time – at 7:00 p.m. in Spain – this Wednesday, with the requirement that it be a minimum stay of one night and a maximum of four guests.
"Our Santa Barbara County beach house is our home away from home, especially when we need a little R&R. A few steps from the beach, and with beautiful views of the Santa Ynez mountains, you do not lack places of interest and many activities to enjoy an unforgettable summer stay ", the couple has written to describe the accommodation. According to Airbnb, the house has two bedrooms, a bed and a bathroom. But Kutcher and Kunis offer much more: "You can sink your toes in the sand while enjoying a cup of coffee on the beach; walk on nearby trails and enjoy beautiful panoramic views; enjoy local bites and shops just steps from the shoreline, and soak up the summer rays! In addition, we will capture some content together to commemorate your stay", proposes the couple.
Exterior view of the house of Ashton Kutcher and Mila Kunis in Santa Barbara (California). Airbnb
The hosts, who got married in 2015 and have two children together, also guarantee that they will be the ones in charge of receiving the guests upon their arrival at the accommodation and will make sure to provide everything they need to "enjoy a fun-filled stay." ". "Meals and snacks will be provided, so please let us know if there are any allergies or dietary restrictions we need to be aware of," they warn in the house description.
The living room of the house that the couple has opened for reservations on Airbnb.Airbnb
"As actors, entrepreneurs, and parents, we know how important it is to unplug and recharge, and we can't wait to become Airbnb hosts to share our breath with you," they introduce themselves on the platform, along with a photo of both smiling on the beach. That facet as an entrepreneur, in fact, is one of the reasons why this news has not caught everyone by surprise, since Airbnb is precisely one of the companies in which Kutcher has been an investor for years. In 2016, he joined Madonna's representative, Guy Oseary, to open an investment fund and together they have supported the promotion of companies such as Uber, Skype, Pinterest or Spotify.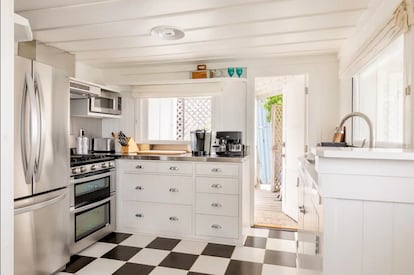 The kitchen of the house of the couple of actors. Airbnb
Nor have they been the first to devise something like this, since the announcement by Kutcher and Kunis – who has shared her husband's publication on their Instagram stories assuring that it adds to the idea – has occurred just two weeks after Gwyneth Paltrow also announced an exclusive stay for September 9 at her Montecito (California) guest house through Airbnb. "Loneliness is a human condition, but in recent years, increased isolation and our lack of community have made our lives even more fragmented. Airbnb had the brilliant idea to do something to make the world a little less lonely, so I invite you to come stay at my Montecito guest house for one night," explained the Oscar-winning actress and businesswoman on her Instagram account, along with to a video showing the stay. Paltrow offered relaxing poolside time, hikes and, of course, a bath filled with products from Goop, the lifestyle company she created in 2008.

#Ashton #Kutcher #Mila #Kunis #open #doors #Santa #Barbara #home #Airbnb