Awards, nominations, glamor on the red carpet, interesting projects, her footprints on the Walk of Fame… Jessica Chastain is the epitome of a Hollywood star. The Californian actress (Sacramento, 46 ​​years old) has been working for 20 years and has achieved worldwide fame and recognition thanks to fifty titles. But before that, who today tops the list of the most praised, hard-working and elegant women in the world of cinema went through a much more complicated stage: that of high school. This same week, the Oscar winner in 2022 for playing the televangelist in Los ojos de Tammy Faye has announced that in that always difficult school phase she considered herself the weirdo among her classmates, the nerd, as the lesser people are known. popular. And that made her deal with them in unorthodox ways.
In a talk on the WTF with Marc Maron podcast, where he talks about his life and his career —but which was recorded in mid-June, before the actors' strike, since it prevents the performers from carrying out any type of promotion— , Chastain explains that she was not a very diligent student. And that she didn't have too many friends either, so she used a method, for her infallible, to get the attention of her classmates. "I remember sitting in the cafeteria and eating orange peels and banana skins because that would make people notice me. The other kids were like, 'Oh my gosh, look at her.' I know, it's terrible. I just wanted people to notice me for being a weirdo, to see that I was there, something." "At least it existed, it was something," she says.
More information
The actress recalls her difficulties in overcoming the school year. "She wasn't her, that's true, the valedictorian. She was a little, quite, unpleasant, "she recounted, with a tone closer to the humor that she probably used 30 years ago, when all that happened. "She was kind of a nerd. Once I did a perm and it looked like Annie (the fictional character from the movie of the same name, with very curly red hair), and then they cut it off. She had very short, red hair. Now I look back and say: 'Oh, what a sweet little person she is, so ignorant'.
Chastain's childhood was not easy. His mother, Jerri Hastey, raised her three children alone, she, her brother Will and the youngest, Juliet, a singer and poet, who in 2004, at the age of 23, committed suicide due to mental health problems and drug addiction. the drugs. She has said that her childhood was not easy or what many can expect from a Hollywood star. "We stole food from stores because we had no money," she recounted in an interview with ES Magazine in 2017. "People knew about it but they didn't tell her anything," she said, referring to his mother. "Everywhere there is goodness." In the podcast with Marc Maron, he also remembers that it was thanks to a play by Sam Shepard—turned into a film in 1994—, Curse of the Starving Class (On the other side of paradise, in its Spanish translation), that he opened his eyes before the difficulties of his mother to feed the three boys. In it, a character frequently opens the fridge and looks inside, although, as he already knows, there is nothing. For her, the scene was a revelation. "That was the first time it hit me, and I was like: oh my god!"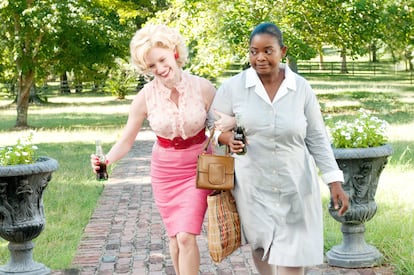 Jessica Chastain and Octavia Spencer as Celia and Minny in a still from the 2011 film 'Maids and Ladies.'Dale Robinette (©Walt Disney Co./courtesy Everett / Everett Collection /Cordon Press)
Chastain managed to succeed thanks to a scholarship at the New York Juilliard School, one of the most prestigious academies in the world of acting. A scholarship that he got thanks to some funds provided by the late actor Robin Williams. Al Pacino welcomed her from the first moment, seeing her talent, signing her for his theatrical production of Salomé in 2006. Five years later, the film The Tree of Life launched her into the arms of critics, and that same year the Popular success thanks to Maids and Ladies, for which he earned his first Oscar nomination.
She has also spoken this week on another podcast, Awardist, about that film that launched her to fame, this time from the media specialized in film and television Entertainment Weekly. "You know who I think about all the time, and who I would love to play again? To Celia Foote", she recounted in reference to her character, a wealthy white woman who, in racist Mississippi in the 1960s, tries to befriend her maid, a lower-class black woman, Minny, played by Octavia Spencer, who won the Oscar for best supporting actress. "I would like to do something with Celia and Minny, see what happened. Knowing that they ended up living together and raising the baby together, that they were best friends. How awesome would that movie be? I adored her (Celia)".
The interpreter assures that she was "very happy" playing that southern woman from the sixties. "With a lot of my characters I feel like I've had to go through a lot. With Celia it was a very deep dive ", she acknowledges, and she affirms:" she is a character that I would like to revisit ".
#Jessica #Chastain #confesses #ate #orange #peels #high #school #attention #classmates