The next time we go to a restaurant for dinner, Marco Rebora (Belgium, 54 years old) wants us to not only pay attention to what is on the plate, but also to what is around it. "We probably know the name of the chef in the kitchen, maybe it's Gordon Ramsay or Adrià," says Rebora. "I want people to also know the name of the interior designer."
This Belgian has set out to turn restaurant designers into benchmarks years after a fashionable venue could not be if it did not come with the signature of Philippe Stark or Lázaro Rosa-Violán. In 2008 he founded the Restaurant & Bar Design Awards. Renowned architects regularly appear on its shortlist, such as Zaha Hadid or Norman Foster. In its 15 years of existence, it has gone from only including British designers to 90% of entries coming from outside the UK. The Spanish winners include the projects of the restaurants A Cantina, in Santiago, or Blue Wave, in Barcelona. This summer, the company has released its first short documentary, Dining on Design, with Dani García's Smoked Room restaurant and its designers, Astet Studio, as protagonists. In 2024, for the first time the awards will be held outside of London, in Barcelona.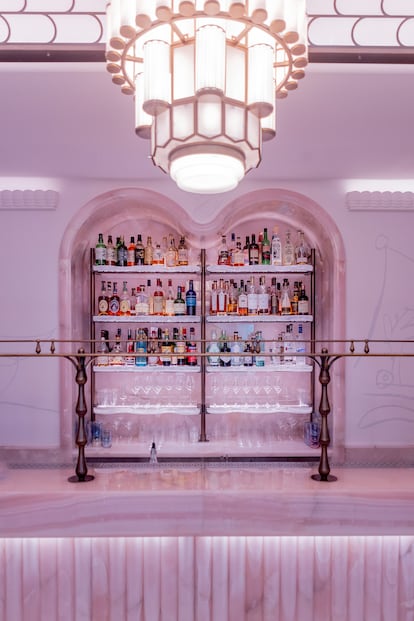 Detail of The Painters Room. Manuel Vazquez
Rebora is polite and courteous while drinking tea and snacking on shortbread in The Painter's Room, the bar at the mythical Claridge's Hotel in London. He chose the location of this interview to value a space that does it well. It was designed by Irishman Barry O'Sullivan, and is an explosion of pastel pink marble, gold chandeliers with shell inlays, and an Art Deco-style stained glass light installation. "The space is amazing. Look at that meticulous detail," he says as he points to the perfectly placed cushions on the leather banquette.
In 2001, Rebora founded the Neon restaurant in Brixton, south London, but it closed six years later. She moved to Wales and coined the concept for her next venture, the Restaurant & Bar Design Awards: a mix of her two passions: food and design. "I had my eureka moment when Tony Chambers, the editor of Wallpaper magazine, responded to my email saying that he agreed to be an awards judge," she recalls.
The awards have grown to become the premier design accolade for the hospitality industry. For Marco Rebora, it's not just about honoring elite establishments: "Whether it's a Wahaca (a British Mexican food chain) or a McDonald's, I think design is about taking care of all the details."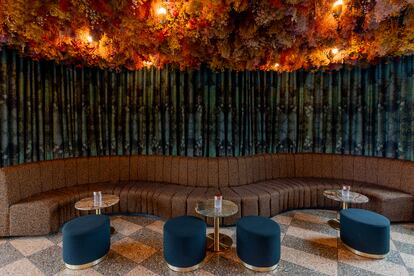 Florattica, where the 2023 Restaurant & Bar Design Awards will be held in October.Manuel Vázquez
Rebora's vision is democratic. She shows the space as common ground for everyone to enjoy other than just eating. "Larry Traxler, global designer for the Hilton chain, pointed out that a restaurant or bar is the most important space in a hotel. It's open to the public, even if you can't afford to pay for one of its rooms."
It is said that you should not judge a book by its cover. Should you do it with a restaurant? "Absolutely", smiles Rebora. "I'm bored talking about food all the time, let's talk about space design."
Subscribe to continue reading
Read without limits
#Awards #making #design #main