It is difficult to find an Afghan man or woman who does not remember where they were and what they were doing on August 15, 2021, when the Taliban entered Kabul after the withdrawal of US and allied troops. Feelings and memories pour out. "They closed the university and we left terrified." "The city was collapsed, there was no transportation and I walked for miles." "Was that really happening? It seemed like a bad dream." It is also practically impossible to find a person from Afghanistan who affirms that his life has not been radically transformed in two years.
"I had a beautiful house and a job that I really liked. She lived with my family, she had friends, and she was pregnant. But I lost my baby, I fled my country without my husband and now I live here alone. I'm safe, but do you think I'm happy? Do you think I can sleep at night knowing how my family is in Afghanistan? Hussnia Bakhtiyari swallows tears of loneliness and anger on a terrace in the center of Madrid, where she has lived for eight months. In Kabul, she was a respected prosecutor dedicated to defending the rights of abused women and children. In Madrid, she lives in a women's shelter, the 50 euros a month she receives for her expenses she sends to her family and aspires, at the most and once her Spanish improves, to work cleaning a restaurant in order to survive when you help them public end.
On August 15, 2021, when the messages about the arrival of the Taliban began to arrive, he rushed home from work. "I spent seven months locked up and scared to death. I lost my baby. She was six months pregnant, she was a girl ", recalls this woman, who belongs to the Hazara community, a Shiite minority that is highly discriminated against and attacked by fundamentalists. Ultimately, she fled with a brother and crossed the border into Pakistan hiding under a burqa. "Women lost their place in society at a stroke. Now they only serve to marry and have children. Because of my job they would have killed me," says Bakhtiyari, almost apologetically. The prosecutor herself spent six months in Islamabad, living in a shack and waiting, just like other compatriots she had met in the city. In January 2023, she was part of a group of prosecutors, judges and lawyers evacuated and welcomed by Spain.
Women lost their place in society at a stroke. Now they only serve to marry and have children
Hussnia Bakhtiyari, Afghan fiscal
The UN High Commissioner for Refugees (UNHCR) estimated that by the end of 2022, there were 5.7 million Afghans forcibly displaced, although the actual number could be much higher. According to the Spanish Commission for Refugee Assistance (CEAR), Spain transferred 2,785 Afghans from Pakistan between August 2021 and August 2022. Last year, 1,581 requests for international protection from this country were registered and the recognition rate stood at 98.7%.
"I can not be happy. I am afraid that they will kidnap my sisters, that they cannot work or study, and that they will kill my brothers. My mother died and my father, who is older, is in charge of everyone. A few days ago, the Taliban came to my house, they searched everything, they beat my brother… It's all because of me. They pay for me, "Bakhtiyari says, distraught, showing a video sent by her family that shows the state of the place after the raid.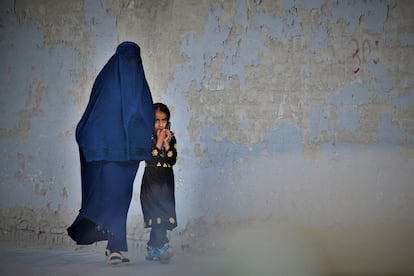 A woman in a burqa and a girl walk through Kabul in May 2022 AHMAD SAHEL ARMAN (AFP)
"Even if it costs my life"
Before starting the WhatsApp conversation, Mohammad (not his real name), a 27-year-old journalist working for a local news agency in Kabul, demands to see his caller's ID and proof of work and insists that nothing be published. who can identify it. "I'm sorry, but I'm harassed by the Taliban," he says.
"Journalists have to submit to their demands and we cannot reflect the truth of what is happening. If we do, we receive death threats, we can be detained and tortured. I work barely without pay, but I am not going to leave my position, I want to continue even if it costs me my life, "he explains, recalling that last week four journalists were arrested in different parts of the country. "I feel stuck here and hopeless. I never thought that the world would forget us so quickly or that Afghanistan would recede so rapidly, "she thinks aloud, recalling, for example," the injustice "that represents the almost total disappearance of her female colleagues in the newsrooms.
Najiba (fictitious name) is one of those absent. For a year now, she has been working undercover from Kabul for the Afghan Times, a medium launched after the return of the Taliban in which several reporters write news about the country's women. The young woman never signs her articles with her name and only her parents and a handful of her friends know what she does. Even if they don't understand it. The fear with which she lives makes her resist making a video call. When the image of her finally appears on the other side, the mistrust and nerves of this twenty-something girl with huge, sad green eyes are more than palpable. "I write about Afghan women. I try to get their stories beyond the borders of Afghanistan, "she explains. In recent months she has recounted the daily lives of writers, fashion designers, and other women struggling to remain who they were two years ago.
Women and girls in Afghanistan experience severe discrimination that can amount to gender-based persecution – a crime against humanity – and gender apartheid
Richard Bennett, UN Special Rapporteur
According to figures from the Afghan Independent Journalists Association, published by local outlet Tolo News, more than 300 media outlets have closed their doors since August 2021 and some 5,000 journalists have lost their jobs, mostly women. Those who remain, like Mohammad and Najiba, suffer a lack of access to information, censorship, violence and economic precariousness.
The Taliban have also forced NGOs to stop employing the more than 50,000 Afghan workers and banned local UN employees, with exceptions for health and education. In addition, since December, women older than 12 years can no longer study. Despite this resounding reversal of rights, the UN has chosen to remain present in Afghanistan and maintain the humanitarian aid on which more than 28 million Afghans depend, that is, two thirds of the population.
"Women and girls in Afghanistan suffer severe discrimination that can amount to gender-based persecution — a crime against humanity — and qualify as gender apartheid," UN Special Rapporteur Richard Bennett charged in July, calling the situation of women in Afghanistan as the "worst" in the world.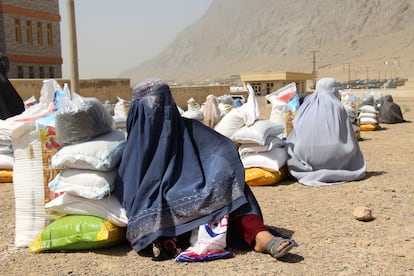 Distribution of food rations in the Afghan city of Kandahar, organized by the British NGO UMMAH Welfare TrustSTRINGER (EFE)
"Until the last moment"
Adela Omid and her family did not see the catastrophe coming. "Or we didn't want to see it, but until the last moment we thought that the Taliban would not reach Kabul," she says, in fluent Spanish, this 24-year-old Afghan from Gijón, where she has lived for two years. The young woman was studying her third year of Journalism in the city of Herat and was doing an internship at a radio station. The family had gone to Kabul to spend a few days and could no longer return home. "And I know I won't be back for a long time," she says. She had relatives who had worked with foreign military and diplomats, and several family members were able to be evacuated. Adela, her mother and her brother ended up in Spain.
The UN has chosen to remain present in Afghanistan and maintain the humanitarian aid on which more than 28 million Afghans depend
"When I arrived I didn't even know how to say 'hello', but I applied because I want to go to university and be a nurse to help the women of my country when I return," she explains. For now, Omid is taking a socio-sanitary technician course and is already doing paid internships in a center for people with disabilities. The monthly financial support they received as refugees ends these days, two years after her arrival in Spain, and the young woman is distraught. Her rent costs 540 euros and she has requested aid that has not yet arrived.
"I am worried about everything: about the course of my country, about my situation, about my brothers who are hiding in Iran, about those who stayed and live in great fear… But the world has practically forgotten Afghanistan. There are people being killed every day, people starving, but it seems that the Taliban ruling has normalized," she adds.
Noorullah Shirzada expresses the same guilt. This 33-year-old man worked for more than a decade as a photographer and cameraman for international media and that was his passport to leave Kabul for France, where he lives with his wife and his five children. The youngest of the family, Darman, was born in his host country. "It's hard. Little by little we are integrating, but I am not calm because my little brothers, whom I raised when my mother died, are still there. And they are threatened because of me, because for the Taliban people like me are spies, "he assures.
Image of Noorullah Shirzada, an Afghan journalist, in March 2020 in Helmand province, in the south of the countryCourtesy of Noorullah Shirzada
The recognition he had in Afghanistan is of no use to him anymore. The photographs of him, published all over the world, neither. Now he struggles for any media to hire him as a cameraman, even if it's an internship. "I was a free journalist and I want to continue being so. I could not practice under the Taliban slogans because I want to tell the reality, not what they want me to show, "he explains sadly.
"Like a bird in a cage"
In March 2023, this newspaper interviewed Marzia A., founder of a clandestine school for girls in Kabul. The center billed itself as a Quran study place for girls, but the Taliban became suspicious and the woman felt increasingly harassed. Weeks later, she learned she was going to be detained and she fled to Iran, where she feels security for Afghans seeking refuge has also deteriorated greatly. "I am like a bird in a cage, but at least the girls' schools have been maintained and have even grown," she says, in a WhatsApp conversation.
Ashraf (not his real name) volunteers at one of these clandestine girls' education centers in Kabul. In a phone call, this 34-year-old father explains that he leads a double life: accounting eight hours a day in a company and supporting these schools in his spare time. "I document everything that is done because, although the girls continue studying, there is no diploma or anything to show their progress. What happens with these girls is a tragedy", he affirms.
The man blames the former Afghan government headed by Ashraf Ghani and the international coalition, which was present in the country for 20 years, for "everything falling apart so quickly." "We have lost everything, including hope for the future. We are living in a country of lies, a country that no longer exists ", he concludes.
You can follow PLANETA FUTURO on TwitterFacebook and Instagram, and subscribe here to our 'newsletter'.

#years #Taliban #yoke #Afghanistan #thought #world #forget #quickly