In the frequent visit to museums and art galleries there is a phenomenon that never ceases to surprise many: the family ties between not a few of the exhibited artists. During the inauguration of the retrospective that the Prado Museum has dedicated this year to Herrera el Mozo, the curator Benito Navarrete had the opportunity to talk about Herrera el Viejo, a notable artist who had a devilish relationship with his son. In the same act, the deputy director of the museum, Andrés Úbeda, was trying to memorize the names of the artists with family ties who are represented in the museum. In general they are fathers and sons or daughters: Lucas Cranach the Elder and Lucas Cranach the Younger; Orazio and Artemisia Gentileschi; Pedro Roldán and his daughter Luisa Ignacia Roldán, La Roldana; Mariano Fortuny Madrazo, son of the painter of the same name and grandson, on his mother's side, of Federico Madrazo, painter and director of the Prado, and Joaquín Sorolla and his daughter, the sculptor Helena Sorolla, among many others.
Among experts in the world of art it is considered an indisputable certainty that there is no gene by which artistic talent is inherited. Paloma Alarcó, head of the Modern Painting Conservation Area at the Thyssen-Bornemisza Museum, categorically assures that she does not believe in the existence of an artistic gene. Another thing is the transmission of knowledge that the artist can instill in those around him, whether they are familiar or not.
That mastery of which Alarcó speaks is present in many other trades linked to culture. In interpretation, for example, the actors of the 16th century could only be trained in brotherhoods that were always monopolized by the families of interpreters. In theory one could freely access these schools, but in practice the access key was provided by the last name. In painting or sculpture, teaching was given in academies or the artists themselves revealed their knowledge in exchange for work in their workshops. One of the most famous cases is Jorge Manuel Theotocópuli, the son of El Greco, who absorbed the essence of the trade in Toledo just as his father handled it.
Another traditional case of teaching is represented by Pablo Picasso. His father, José Ruiz y Blasco, a drawing teacher and painter, very soon invested all his knowledge in little Pablo. Picasso always had words of gratitude towards his father, although on one occasion he came to define him as a "painter of dining rooms", due to the ornamental simplicity of his canvases. No descendant of Picasso has dedicated himself to art, except for Paloma Picasso's jewelry design.
Los Gentileschi
'Birth of Saint John the Baptist' (1635), by Artemisia Gentileschi. Museo del Prado
But for whatever reason, the truth is that numerous families have been the backbone of art history. For example, the Gentileschi. Orazio Gentileschi (Pisa, 1563-London, 1639) was the son of a Florentine goldsmith who soon managed to succeed in Rome, a city where he raised a family that was broken when his wife died. The eldest of his four children was Artemisia, a girl to whom the fate of those times had assigned a convent in which to spend her life. But her father's understanding character made it possible for Artemisia to work and learn the trade in her father's workshop, a building located next to the family home that allowed her to come and go without being seen by a society that did not tolerate women's hands. women leave home. Her self-sacrifice, her talent and courage made her work applauded. First, under the protective signature of her father. Later, the orders of the patrons required her authorship. Her long life is well known. The rape by one of the apprentices in her workshop marked her, but she survived and she did not stop until the rapist was brought to trial.
The Roldáns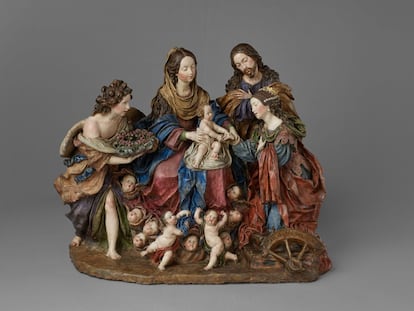 'The mystical betrothal of Saint Catherine' (1692 -1706), by Luisa Roldán, 'La Roldana'.Hispanic Society
Luisa Ignacia Roldán Villavicencio was born in Seville in 1652, the daughter of the sculptor Pedro Roldán. Her father, observing the girl's inclination towards sculpture since she was little, taught her to draw and model. Her father's workshop was a true family business. Four of her children, three sons-in-law and a nephew worked there. She was entrusted with tasks such as gilding the figures, but without waiting for orders she began to design and sculpt using saws, hammers or pointers. She was an outstanding and brilliant student, she soon mastered the techniques of working in wood or stone. As in other cases, what came out of her workshop was considered the work of the father of the family, Pedro Roldán. Over time, Luisa Ignacia Roldán imposed her knowledge and criteria until she became one of the most notable artists of the Spanish Baroque.
The Sorollas
Photography Helena Sorolla works on her sculpture 'Desnudo de mujer'.
Helena Sorolla was the youngest of the three children born to Joaquín Sorolla and Clotilde García. Born in Valencia in 1895, she was a modern and free-thinking woman, trained at the Institución Libre de Enseñanza. Her siblings, María and Joaquín, dedicated themselves to landscape painting, a difficult genre to overcome before a father like his. However, Helena chose to dedicate herself to sculpture, an activity that she made compatible with her dedication to her family. In 2014 a retrospective dedicated to her work was held in Valencia. Critics lamented that she abandoned her vocation too soon to dedicate herself to her family, although sometimes the weight of a great star, like Joaquín Sorolla, can take too much air away from her own creation.
The Fortunys
'Interior of the Orfei Palace' (1940), a pictorial work by Mariano Fortuny y Madrazo. FMCV – Fortuny Museum Archive
Mariano Fortuny Madrazo (Granada, 1871-Venice, 1949) was the son of the painter of the same name and grandson, on his mother's side, of Federico Madrazo, painter and director of the Prado. With those flashy surnames in his family line, Fortuny knew how to understand art as a whole in which all disciplines were equally important. In an anthological exhibition held in his native Granada in 2021, it was recalled that, as a designer, he got Orson Welles to wear his costumes in Othello or that Charles Chaplin bought him more than 30 dresses. Passionate about technology, he invented a system of indirect theatrical lighting that was radically new at the time. He created set designs and invented a dress, the Delphos, in which Lauren Bacall collected the Oscar from her in 1979. And, while doing all of that, he always kept painting a permanent exercise. At the age of 18, he settled in Venice and achieved worldwide fame there, as reflected in the Palazzo Fortuny Museum in Venice, one of the most beautiful in the world.
All the culture that goes with you awaits you here.
subscribe
Babelia
The literary novelties analyzed by the best critics in our weekly bulletin
RECEIVE IT
Subscribe to continue reading
Read without limits
#great #families #art #history #talent #hereditary