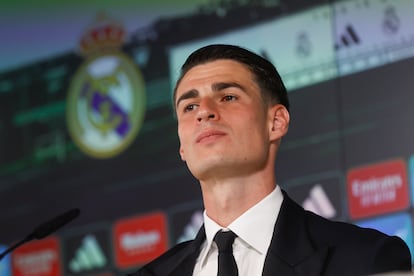 Kepa Arrizabalaga, during his presentation with Real Madrid. JUAN CARLOS HIDALGO (EFE)
Black suit, stretched figure and a bottom smile buckled by tight lips. "Well, dear Kepa, you are already a Real Madrid player," the president, Florentino Pérez, dedicated to him at the institutional act of his presentation. What could not be in the winter of 2018 because Zinedine Zidane did not want to know anything about signing another goalkeeper in the middle of the season, has happened five courses later after the serious injury of Thibaut Courtois.
"I arrive more mature, that's for sure. And I am stronger than that day," the 28-year-old Basque goalkeeper said in the press room, who lands at the Bernabéu on loan from Chelsea, a club where there was everything for him. "Experiences tan you. I have been through all kinds of situations and I have tried to stay with the good. As in life, there are difficult moments, but I try to see the positive, "explained the goalkeeper after five years at Stamford Bridge of ups and downs. Undisputed headline at first, after Roman Abromovich paid 80 million for him to Athletic, and then in the shadow of Edouard Mendy. Now, he assured, he is "in one of the best moments after a great year."
More information
In any case, the arrival of the Spanish Robert Sánchez this summer to the London team pointed to his departure. Munich seemed the most likely destination for him. But late last week, after training with Chelsea, his phone rang and plans changed. The injury to Courtois, with whom he has spoken these days and to whom he wished a speedy recovery (also to Militão and Güler), altered everyone's plans. "From there, everything was very fast. The decision was very easy. When the possibility of Real Madrid came to me, it was clear to me. There were proposals from other big clubs", pointed out Kepa Arrizabalaga. By Saturday, only two days after the fall of the Belgian goal, his arrival in Madrid was already taken for granted. That night, curiously, the white team made its league debut in its place of origin, in San Mamés, its training club.
This festive Tuesday he appeared in Valdebebas on loan until the end of the season, to compete with Andriy Lunin for the position, although in his first appearance he assured that his intention would be to extend his stay. "Hopefully. We will have time, we will see. Hopefully with my effort I can take that step, "he confessed.
Throughout his presentation, the past of 2018 did not stop floating in the environment. So, his arrival in Madrid was taken for granted for 20 million (his renewal of him with Athletic was stuck and the merengue club considered it a market opportunity); however, Zizou stopped her dead. "Now I don't need a goalkeeper," he said. And he stayed in Bilbao before leaving months later for Chelsea in exchange for 80 million. "Football cannot be predicted, it is very changeable. I center myself in each moment. It has been (his arrival at Madrid) when it had to be, and prepared to face it. I will not lack work, commitment and effort", he commented.
During this time, he explained that in the concentrations with the Spanish team he has often held conversations with the Madrid players to talk about the club and, perhaps, about that lost train due to ZZ's refusal in 2018. There it seemed that he was going to die his history with Madrid, until Courtois's misfortune caused an unforeseen turn. He will wear the number 25.
You can follow EL PAÍS Deportes on Facebook and Twitteror sign up here to receive our weekly newsletter.

#Kepa #presentation #Real #Madrid #arrive #mature #stronger