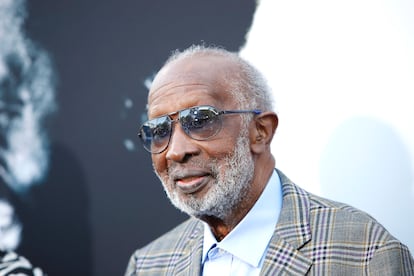 Clarence Avant, in a June 2019 image. NINA PROMMER (EFE)
The world knew him as The Black Godfather. Clarence Avant had earned the nickname from him thanks to his power in the music world in America. Avant built his influence over several decades, but it was never limited solely to the world of entertainment, but also to sports and politics, where he played a leading role in defending the rights of the African-American community and helped bring Jimmy Carter, Bill Clinton and Barack Obama to the White House. The executive died on Sunday at his residence in Los Angeles, his family reported in a statement. He was 92 years old.
Avant's death brings to a close the story of one of America's most prominent black music executives. Known for a straight-to-the-point style, peppered with a generous amount of profanity, according to people who knew him, he was a key player in unlocking problems, closing deals, and launching careers that would prove meteoric, like that of Bill Withers, a 40-year-old Army mechanic who found international fame with hits like Ain't no Sunshine and Lovely Day.
The keys to Avant's success are contained in the Netflix documentary The Black Godfather, produced by Ted Sarandos, the streaming company's CEO. Sarandos is Avant's son-in-law. He is married to the businessman's daughter, Nicole Avant. Alex, Clarence's other son, followed in his father's footsteps and became a music manager.
Avant was born in North Carolina in 1931, at a time of segregation where the Ku Klux Klan caused terror among the black community. He was the eldest of eight children in a family marked by absolute poverty. He didn't know his father and just finished high school. His life would not have been the same if not for a bitter fight with one of his stepfathers, which led him to leave the Carolinas and move to New Jersey, where an aunt lived. In 1959 he became manager of a jazz bar, Teddy P's Lounge, where he met several musicians. There he met his mentor, Joseph Glaser, who had been a manager for several years for trumpeter Louis Armstrong.
It was Glaser who taught him the ins and outs of the business. One of his lessons was "never reveal how much you know and ask for as much money as possible without hesitation". Avant became a manager for singers Sarah Vaughan and Dinah Washington and for one of the greatest organists in jazz history, Jimmy Smith. He also signed the Argentine pianist Lalo Schifrin, who became known worldwide after having composed the theme for Mission Impossible. With Avant as manager, Schifrin composed themes for hundreds of television shows and movies.
Avant became the owner of radio stations that played black music in the 1970s. He launched two record labels. Sussex gave the world the music of Withers, whom he gave a chance to after he was fired from his job as an aircraft mechanic. Avant put Whithers in contact with Booker T. Jones, who produced Just as I am, the artist's first album, which included Lean on me, which Clarence chose as a single.
Tabu published Jimmy Jam and Terry Lewis, who had been fired by Prince from their group, or guitarist Dennis Coffey, among several others. Sussex did not refer to the city in the United Kingdom, but was a union of two passions of Avant, success (success) and sex (sex). This label also released the music of the enigmatic Sixto Rodríguez, who became an international sensation thanks to the documentary Buscando a Sugarman. Rodríguez passed away last week at the age of 81.
Avant organized Michael Jackson's first solo tour and negotiated the sale to Gulf of the popular Stax record label, dedicated especially to the blues and R&B genres. In the 1990s he made it to the pinnacle label of black music. He became a director of Motown after Berry Gordy, the company's founder, sold it in 1988 to MCA and Boston Ventures, an equity firm, for $61 million. "The world has lost an icon," Gordy said Monday. "Everyone in this business has taken a walk around Clarence's desk, if they're smart," Quincy Jones said in the Netflix documentary.
Several politicians have fired Avant, who was a bridge between the entertainment industry and the campaigns. "He was very skilled, practical, warm and wise. It was impossible not to spend time with him and not walk away with a positive feeling or a desire to follow his lead," said former President Bill Clinton, who was aided by the music impresario in his first presidential election. His wife and former Foreign Secretary, Hillary Clinton, also issued her condolences on the death.
It was impossible to spend time with Clarence Avant and not come away feeling more positive and wanting to follow his example.  Hillary and I just loved him. Our full statement on his passing: pic.twitter.com/qvNx5ncGtk
— Bill Clinton (@BillClinton) August 14, 2023
The Clintons weren't the only ones. The Obamas said goodbye to a friend of decades and gave thanks for decades of "sage advice." "Clarence always exemplified a level of coolness and street smarts that allowed him to move into worlds no one had prepared him for, without him having any doubts that he could figure things out on his own," the couple said on social media. Avant managed to get Obama's speech at the 2004 Democratic National Convention moved to prime time, which was a major endorsement for the politician to become a senator from Illinois the following year. Nicole Avant and Ted Sarandos were in charge of various fundraisers for the Obama campaign. This led to Avant's daughter being appointed US ambassador to the Bahamas during the Democratic Administration.
Artists including rapper Jay-Z, musician and filmmaker Questlove, Reverend Jesse Jackson and Clive Davis, another legendary producer and the man who launched Whitney Houston's career, have taken to social media to say goodbye to their friend. "His death of hers is the enormous loss of someone irreplaceable. Her contributions to music and the barriers she has broken down throughout her career are unmatched," Davis said in a statement.
In December 2021, tragedy knocked on the doors of the Avant family. An armed man entered the Avant mansion in Beverly Hills at dawn. Armed with a rifle, the robber opened fire on Jacqueline Avant, a former model who had been married to Clarence since 1967. The 81-year-old woman died hours later at hospital. The intruder was sentenced last year to 150 years in prison.
All the culture that goes with you awaits you here.
subscribe
Babelia
The literary novelties analyzed by the best critics in our weekly bulletin
RECEIVE IT
#Clarence #Avant #legendary #music #executive #promoter #black #talent #dies