Canadian surgeon Norman Bethune (1890-1939) traveled to Spain to help wounded Republican troops during the Civil War. He designed and financed a mobile blood transfusion unit that seemed impossible at the time. In February 1937 he traveled with her to Andalusia when he learned that more than 100,000 civilians were fleeing from Málaga to Almería while being riddled by the Francoist side by land and sea with the support of German and Italian aviation from the air. He saved hundreds of people, lived through extreme situations that he later recounted in a book, and his collaborators photographed what is considered one of the largest massacres of the war, in which some 5,000 people died. Now, almost a century later, his story is the guiding thread of La Desbandá 1937, a role-playing game designed by Pablo López from Granada that uses this massacre as a historical context to develop the games.
More information
This computer engineer found out what happened thanks to a report he saw on the Andalusian regional television, Canal Sur, a few years ago. The news covered the usual march that takes place every year between the Andalusian capitals so that the tragedy is not forgotten. "I started reading, watching videos, doing in-depth research. It struck me that there were not too many people who knew about these events. And much less young people, "says López. A fan of role-playing since his adolescence, he thought it would be a good vehicle to make visible that hasty and forced escape that ended up being known as La Desbandá. "In addition, I realized that it was an amalgamation of stories, of people with different origins and circumstances who had something in common: escaping through the same place", explains the creator of the game.
Pablo López, creator of the role-playing game 'La Desbandá 1937', poses in the Almunia de Aynadamar Park in Granada.Fermin Rodriguez
That was the only way out that the civilian population had then. And it became a mousetrap in which some 5,000 civilians were massacred by Franco's troops. It was a journey in which restlessness, confusion, hunger and uncertainty reigned. Bethune himself reflected in his memories those "two hundred kilometers of misery" that the protagonists faced. "Imagine four days and four nights hiding by day among the hills, since the fascist barbarians were chasing them with airplanes; they walked at night grouped in a solid torrent men, women, children, mules, donkeys, goats, shouting the names of their disappeared relatives, lost in the crowd, "he wrote. The journalist Arthur Koestler also recounted what happened in his chronicles published in France, which served the Malaga filmmaker José Antonio Hergueta for his project Últimos días de una revolución. The community radio Onda Color was also based on these events for its sound fiction La Desbandá, which earned it a special mention at the 2022 Ondas Awards.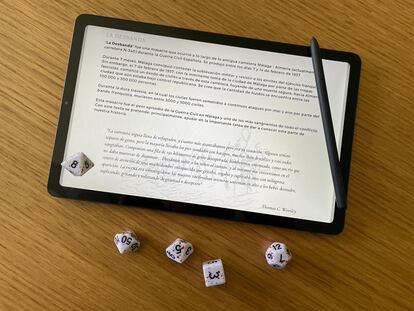 An electronic tablet with the instructions for the role-playing game 'La desbandá 1937'.Pablo López
fictional characters
The first version of La Desbandá 1937 was released on February 28 of last year, coinciding with Andalusia Day. It was free to download and generated interest in the industry, but also questions among those unfamiliar with the role. So López decided to investigate more to obtain better content, "always from the greatest historical rigor." His goal was to make it attractive and understandable to non-regulars of this type of game. Since last June the new version has been available, also free of charge. In addition to Norman Bethune, the directorial script includes other historical figures such as Thomas C. Worsley —driver of the Red Cross ambulance in which the wounded were transported to Almería— or journalists such as the photographer Gerda Taro, in addition to the Francoist general who promoted the bombardment, Gonzalo Queipo de Llano. They are profiles that allow interactions to develop new situations during the game.
Cover of the role-playing game created by Pablo López.Pablo López
Apart from the manual with the rules (available in PDF), all you need to play is dice, paper and a pencil. You don't even need to know this historical fact. The text even proposes four fictionalized profiles in whose skin the participants can get into: the doctor Ricardo Mistral, the militia member Evarista Vela, the civil engineer Vicente Robles and the politician Teresa Vergara. They are characters created by López, who still thinks that the best thing is for each player to create their own. "It's what makes the game even more interesting, it generates more involvement and the stories that unfold have a lot of magic," stresses the creator, who says that the games in which he himself has participated have lasted some 16 hours. . "But it's not a binge. In the end this is like a series, every week you cast a couple of hours, which work as an episode. We always cut when the plot was more interesting, to generate interest for the next meeting", he points out.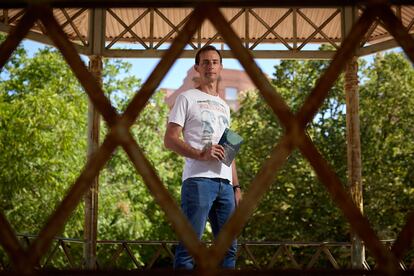 Pablo López holds a copy of his role-playing game.Fermin Rodriguez
"We have reviewed the game from top to bottom and even the smallest details of the tragedy are there. It is a splendid initiative to publicize what happened", emphasizes Víctor Manuel Hernández, one of the teachers of the Malaga association La Desbandá. In charge of the elaboration of didactic materials that are used in schools and institutes, he says that he is always looking for new languages ​​of diffusion: from theater to documentaries or even sports. "Getting away from traditional mechanics is always positive," underlines Hernández, whose organization already plans to give visibility to the role-playing game during the annual march in which, since 2017, the journey between Malaga and Almería is made so that the February massacre of 1937 never forget.
All the culture that goes with you awaits you here.
subscribe
Babelia
The literary novelties analyzed by the best critics in our weekly bulletin
RECEIVE IT
#roleplaying #game #experience #biggest #massacres #Civil #War