There are old songs that acquire mythical category by becoming the soundtrack of the lives of many people. They are songs like Desolation Row, by Bob Dylan; People have the power, by Patti Smith; Suzanne, by Leonard Cohen, or Perfect day, by Lou Reed. And, in Spanish, The Legend of Time, by Camarón de la Isla; Mediterráneo, by Joan Manuel Serrat, or Although it is night, the song by Enrique Morente later covered by Rosalía.
Beyond the noise of the music, the common thread that unites these names is that they were studious readers of the works of Arthur Rimbaud, Paul Verlaine, Walt Whitman, Sylvia Plath, Allen Ginsberg, Federico García Lorca, Alfonsina Storni, Miguel Hernández, Alejandra Pizarnik or San Juan de la Cruz. This connection ―already intuited, nothing new under the sun― acquires almost scientific wickers in books such as Art and radiance in rock songs, by Javier Parrilla Romero (Lenoir Ediciones, 2021); poetic festival. Blues, Jazz & Soul, an anthology assembled and translated by Alberto Manzano (Hiperión, 2022), or Poetics of rock. Lyrical Imaginary of Popular Culture, by Susana Rodríguez Barcia and Bosco Gil de Gárate Hernández (University of Vigo, 2023).
"There are songs with alliteration, oxymoron, palindrome or polysyndeton, which follow the same technique as the poems", explains Susana Rodríguez Barcia, a philologist specializing in Ideology and Society. Both genres share the social function of communicating something inexplicable that penetrates our daily lives, and "transmit complex content in a pleasant way." The two formats are governed by the desire to express expectations, dreams or fears. And they talk about similar things: love, death and the passage of time, "also omnipresent in our daily conversations", she emphasizes.
For Gil de Gárate, co-author of the book, there is no doubt of that brotherhood either. "From Homer to the fifteenth-century romances, poetry began in song. The first poets were singers", he recalls, pointing out that this trip turned around when "in the sixties and seventies songs were transformed into literature".
Beyond the rock totems, the work of Gil de Gárate and Rodríguez Barcia ―more than 700 pages and now in its fourth reprint― follows the trail of the impact of poetry and songs by lesser-known authors, such as Arthur Lee (leader of the band Love), Gene Clark (one of the founders of The Byrds), Marianne Faithfull (who participated in poetry recitals by John Keats, Lord Byron or PB Shelley), the poet Gil Scott-Heron, precursor of rap , or Jim Carroll, the New York punk poet par excellence during the 70s.
In addition to the metric, the rhythm or the repetition that occurs between songs and poems, the book by Rodríguez Barcia and Gil de Gárate also demonstrates the extent to which singers and composers identify with the writer of poems as a free figure, outside the system , which spreads painful, beautiful and invisible truths. It is not for nothing that Smith, Cohen, Dylan or Morrison were poets before they were musicians.
Rimbaud, primer punk
There are no data, but it would not hurt to find out if books like A Season in Hell, by Arthur Rimbaud, increase their sales every time Patti Smith lands in a city. On her tours of Europe, the United States and Latin America, Smith recites some verse from French almost every night, which she classifies as "the first punk boy."
As for the musicians mentioned above, for Smith literature is something similar to a religion: "There is nothing more beautiful than the book," he said in his acceptance speech for the National Book Award for We Were Some Children (Lumen, 2010), in whose pages she explains that in her early youth Rimbaud's poetry saved her from a miserable life working in the factory in her town and encouraged her to flee to New York.
There, sponsored by beat poets such as Gregory Corso or Allen Ginsberg, she began her career in front of the public in February 1971, at a poetry recital held at Saint Mark's Church, a meeting in which Lou Reed also participated.
"All these icons drink from the original sources, and you have to pay attention to their lyrics, because it is the classics that are illuminating us," says Alberto Manzano, also author of the selection and translation of Antología poética del rock (Hiperión, 2015). . For him, much of the best poetry of our days is still expressed through music. "Poetry is a switch that turns on our inner light, and songs also do that," he continues. "My crusade is the defense of the great poetry of rock. I have been in this for more than 40 years, and I have always believed that I was inhabiting a poetic landscape, "he explains in a telephone conversation.
Not everything goes, of course. "Rock is saturated with poor-quality verses," Manzano warns, and these are blown away by the wind, while those that remain fulfill "the holy trinity of rhythm, beauty, and truth." For Manzano, Cohen's translator and friend until his death, poetry, like songs, are popular artifacts, and "we must fight to free the poetic concept from its elitist side."
"Lorca ruined my life"
In Spain, land of poets and musicians, the pairing also occurs, of course. From Joan Manuel Serrat ―who sings Antonio Machado and Miguel Hernández, himself a writer of amazing songs― to Marwán, there are many musicians who write poetry or pay tribute to poets by singing their texts or creating them to keep their voices alive.
The musician Marwán, at his home in Madrid in March. Claudio Alvarez
Marwán, author of several poetry books, considers himself above all "a musician who writes poems." He started composing songs and making poems at the same time in 1997, the first being "a very serious activity", and the second "a mere cathartic activity" that responded to a need to express himself. "The space that a song transports you to is a kinder place, and it's also about connecting with others," he says. The Madrid-born singer-songwriter, of Palestinian roots, recognizes that in recent years there has been a certain movement of musicians who are getting closer to poetry, and he attributes it to the search for something of beauty and truth in everyday life. "We're kind of surrounded by musical burgers. There is an overdose of prose in life, of noise, vulgarity and convulsion in the world in which we live. And an antidote to that is sought, "he reflects. In musical terms, Marwan has been influenced by Ismael Serrano, Pedro Guerra or Joaquín Sabina, and in poetry by Luis García Montero, the Polish Wislawa Szymborska or Benjamín Prado.
That path between song and poetry ―which sometimes occurs separately, but others joins to form a hybrid― is exemplified precisely in the duo made up of Joaquín Sabina and Benjamín Prado, co-authors of songs such as 19 days and 500 nights later or the Blues of the alembic. Beyond music, their common fondness for poetry is real: after the death of the great poet Ángel González, they wrote the song Menos dos alas with two hands, in which they remember the Asturian, who wrote verses such as "for that very reason / because it is as I tell you / let me tell you about yesterday / once more about yesterday / the incomparable day that no one will ever see again on earth".
For Prado, the song and the poem "are family" but maintain certain unbreakable codes of separation. "The song needs a rhyme and a chorus, and it can even be almost cheesy, something that the poem doesn't tolerate," he muses over the phone. Prado, who has also collaborated with Leiva or Rebeca Jiménez, has participated this week in the Sonorama Ribera festival reading poems by the Elefantes group. And he confesses that he enjoys being in front of thousands of people who are going to listen to music and welcome them with poems. In this way, like someone who does not want the thing, a unique equation is given: "You take poetry out of its comfort zone and the public takes new sensations home."
A few years ago, Prado already warned of the strength of this hybrid formula, stating that for some time now there have been many musicians who dream of releasing a book of poetry, while in the past poets like Miguel Hernández, Rafael Alberti or Federico García Lorca dreamed of with someone to put their songs to music.
In this longing, without a doubt Lorca -a musician as well as a poet- gets the best part. His imprint on the Spanish scene is well known thanks to Camarón de la Isla, Estrella Morente, Extremoduro, Pata Negra and Silvia Pérez Cruz. But he has also left his mark on composers such as Nick Cave or Patti Smith, and for Leonard Cohen everything changed after reading the poet from Granada. "Lorca definitely ruined my life," Cohen wrote in the epilogue to Omega. Oral history of the album that united Enrique Morente, Lagartija Nick, Leonard Cohen and Federico García Lorca, by Bruno Galindo (Lengua de Trapo, 2011). "Once I found out about the existence of that landscape that Lorca had established, I wanted to stay in it all my life. There was no longer any possibility of return. Lorca had radically changed my way of being and thinking ", he continues in the same text.
As a philologist, Rodríguez Barcia certifies that both Smith's and Cohen's texts reflect that both are that type of reader who "reads a collection of poems two and three times, from top to bottom". And with enormous respect for linguistic diversity: "You can tell that they make an effort to read in bilingual editions," she says. Gil de Gárate underlines this idea, recalling that it was not for nothing that Cohen ―Prince of Asturias Award for Literature in 2011― baptized his daughter with the name of Lorca.
Dylan's 'beat' style
In 1978, Dylan confessed to his first biographer, Robert Shelton, that he considered himself first and foremost a poet and then a musician. "I live like a poet and I will die like a poet," he told her. Still with the last name Zimmerman, at the age of 18 he had already written a few poems, and it was with the name Bob Dylan ―in homage to the poet Dylan Thomas― that a little later he signed a notebook full of beat-style verses under the name Untitled Poems. .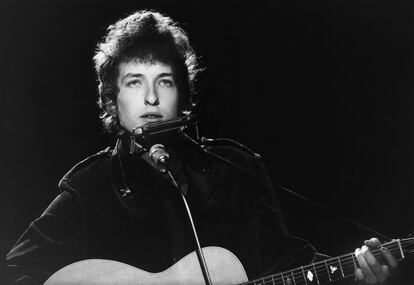 Bob Dylan, in a performance on the BBC.Val Wilmer (Redferns)
Time passed, but poetry never left, only the format changed. In his acceptance speech for the Nobel Prize in Literature, which he received in 2016 for "having created new poetic expressions within the great tradition of American song," according to the Swedish Academy, Dylan confessed that for years he imitated "the artifacts, the techniques , the secrets, the mysteries", of songs and poems. A path that is still present today in songs like I Contain Multitudes, where he continues to recreate verses by authors like Walt Whitman.
For Rodríguez Barcia, the most exciting aspect of the pairing between poetry and song is the invisible thread that sews the skein of time. "From such different places, from centuries ago until now, what interests us is the same. I am sure that if we ran into Rimbaud now we would understand each other perfectly".
There is no doubt that time changes landscapes and tastes, but reality is stubborn. "People are still interested in the poetic world, although let's not kid ourselves, in perspective we are a minority", concedes Gil de Gárate. But it keeps happening. "It is a flame that continues to stir us inside, that is still alive."
All the culture that goes with you awaits you here.
subscribe
Babelia
The literary novelties analyzed by the best critics in our weekly bulletin
RECEIVE IT
Subscribe to continue reading
Read without limits
#Wild #Poets #Club #guitar