Any time of the year is ideal to visit Italy, but if someone wants to experience the authenticity of a people rooted in their traditions, they have to be in the country on August 15. On that day, the towns open their churches, their Madonna is paraded through the streets with her music band setting the beat to the Virgin, the night bursts with fireworks and, throughout the day, families gather around a table full of traditional snacks. This is the national holiday of Ferragosto.
It seems that this tradition was born to celebrate the end of work in the fields. But today, the religious and the pagan join hands in a long-robed celebration.
More information
We go to gastronomy. Every self-respecting Ferragosto menu should have an antipasto, a primo, a second, a side dish (which is what the garnishes are called) and a dessert. In order to get the brightest ideas for this banquet, there are some books that will serve as inspiration.
Photograph of the interior of Pasta Grannies, by Vicky Bennison, provided by Salamandra Editorial. EMMA LEE
In 1950, the first edition of what we could say is the 'bible of Italian cuisine', La Cuchara de Plata, came out. It was born linked to a design magazine and the success was such that it never stopped being published. It arrived in Spain in 2007 thanks to the Phaidon publishing house. Since then, this book with more than two thousand recipes has been one of the best sellers. Who said that in Italy everything is pasta and pizza? This voluminous hardcover book, with more than 400 photographs, invites us to travel through each of the country's provinces through the palate, teaches us, advises us and shows us as a manual for a good host: "We have thought that you can It would be very useful for a housewife to have an average plan prepared, of the dishes required for a buffet for about thirty people (…) The main purpose of said plan is to help those who, due to their extreme youth or inexperience, could find themselves facing unexpected difficulties", La Cuchara de Plata. 1965 Edition: Tips for a Thirty-Person Buffet.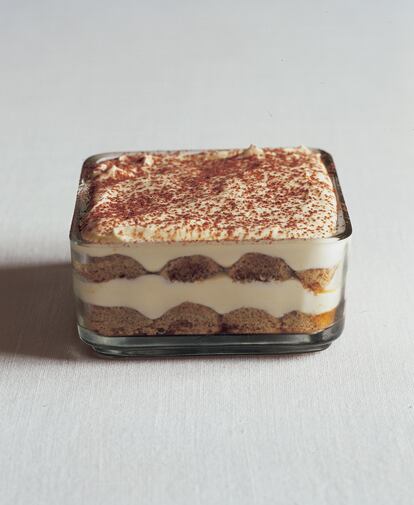 Tiramisù, image of the interior of the book The Silver Spoon, by Editorial Phaidon.Edward Park
There is a version of this book, aimed at the little ones in the house, which is a delight, The Silver Spoon for beginners. Forty illustrated recipes for pasta, breads, desserts, ice cream… very simple and focused on the world of children. The nutritionist Amanda Grant has participated in the creation of this recipe book and to give color and liveliness to the book, Harriet Russell has illustrated it.
Cover of Recipes for an Italian summer (Editorial Phaidon).
"Ferragosto in Italy is planned in detail with an assortment of light and often cold dishes in which the local seasonal ingredients combine wonderfully to form a meal brimming with flavor and colour. The golden rule of serving a buffet is to present the food in the most appetizing way possible so that the delicious seasonal ingredients shine in all their splendor." Thus begins the book Recipes for an Italian Summer (edited by Phaidon). A precious book whose purpose is to offer an assortment of dishes that are perfect for enjoying the summer season in Italy: country and beach picnics; to barbecues, dinners and family parties. Beautiful photographs, a calendar of seasonal ingredients and dozens of recipes full of color and flavor.
I am going to confess a secret to you: in Italy hardly any house makes fresh pasta at home. The pasta is bought, the sauces are made. But it is true that, when you search, you generally find these women, with aprons on their chests, making daily homemade pasta. This is how the writer Vicky Bennison lived it, who in her travels through Italy realized that this ancestral way of working in kitchens was being lost, so she created Pasta Grannies first as a wonderful YouTube channel in which she introduces us, with names and surnames, to those home cooks. And then with her book, where she shows us that making pasta at home is neither a dead tradition nor an act of bravery at home.
Photograph of the interior of Pasta Grannies, by Vicky Bennison, provided by Salamandra Editorial. EMMA LEE
Something similar happens in Tuttui a la tavola, a little book determined to indoctrinate about the terminology and typology of pasta. Opening its pages is a journey through the different Italian provinces, it reveals how pasta from the north has little to do with that from the south, what types of flour to use and, of course, what sauces to make. Yes, there is talk of spaghetti, taliatelle and macaroni, but it also shows other types such as manate, casoncelli or trofie.
Tutti a tavola!, by Teresa Martínez Gil, in an image provided by the publishing house Libros con Miga.
Living the Ferragosto means understanding that, when an Italian sits at a table, while they are always eating, without distinction, they talk about food (something similar to what we Spaniards do). For this reason, there is a wonderful book that anyone who wants to understand Italian culture and way of life should read: Why do Italians like to talk about food?, by Elena Kostiokovitch (Tusquets Editores). This book was born from a trip and a passion for Italy. This is how he traced a tour of the different places in the country where the same language was always spoken, and it was not Italian, but the language of food. The narration is wonderful and the book is worth rereading whenever you think about planning a trip to Italy. It has been translated into seven languages ​​and in 2007 won the Selezione Bancarella della Cucina Award.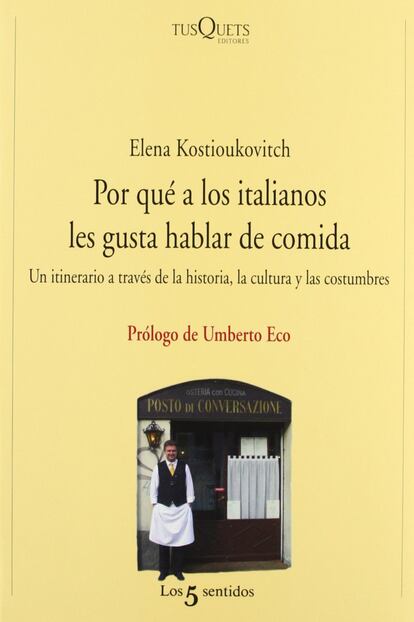 Cover of Why Italians like to talk about food, by Elena Kostioukovitch (Tusquets Editores).
Sara Cucala is a writer, filmmaker and journalist specializing in gastronomy. She is the creator of one of the first gastronomy and travel blogs, she has written numerous books, coordinated the culinary content of TVE's afternoon magazine and directed several films and documentaries. She is the founder and co-owner of the gastronomic bookstore and cooking school A Punto.
#books #celebrate #Ferragosto #true #Italian