Carlos Alcaraz has not had his best week in Toronto, in a tournament in which he gathered negative feelings on the track that he had not developed continuously for a long time. Alcaraz took the ballot ahead against Shelton and survived Hurkacz, but a great Tommy Paul, his 2022 executioner, fired him from the tournament again in a match in which impotence led Carlitos to throw away the racket and even scold himself. himself out loud on a break.
It happened in the second set, after giving up the first with three breaks against and being about to accumulate the fourth, which he saved in extremis. Paul added to the serve again and Alcaraz went to the bench with an impressive level of frustration, which led him to throw the racket to the ground with rage, something we had not seen from him until now since his explosion as a professional.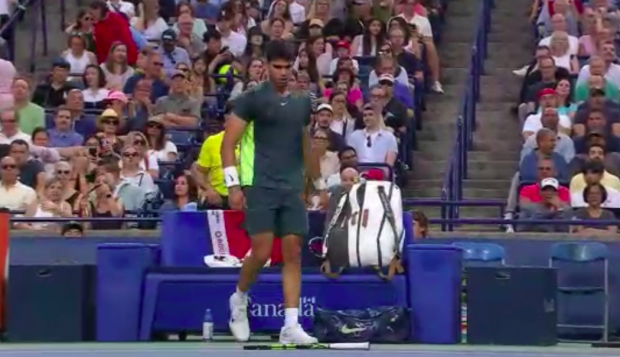 The situation was extreme and Carlos confirmed it on the bench, when he began to speak out loud to himself and reproach himself for not finding the desired sensations to face the game with guarantees of victory. "I can't! I can't! I can't play like this!" Alcaraz began shouting on the bench, with 6-3, 2-1 unfavorable on the scoreboard. "How can you play tennis so badly, it's incredible! How can you have so little feeling!" He added, to the astonishment of those present to see a tennis player who is distinguished by his smile and ability to give show
It is surprising to see Carlos Alcaraz like this. His impotence has led him to throw away his racket first and then to shout impotently and stick to himself all the time during the break, talking to himself like this:
📻 @carousel @ellarguero pic.twitter.com/AbH8xhYMIx
— Pedro Fullana (@PedroFullanaSER) August 12, 2023
From the player's box, his coach in the Toronto tournament, Antonio Martínez Cascales, his physio Juanjo Moreno and his brother Álvaro, checked the scene with a serious face, but at least in the shortest term, this self-talk would have a positive result for Alcaraz . The reaction was seen in a masterful serve game, which would close blank with the match point and possibly the tournament, a great willy turned into a passing shot that was the prelude to the break that would equalize with the second set.
However, the sensations were still not as good as Alcaraz would have wanted, and calmer and assuming that defeat was a possibility, a possibility that would end up becoming a reality due to the superior level of Tommy Paul, who ended up closing the contest by 6 -3, 4-6 and 6-3 and taking the sincere congratulations of an exemplary Carlos Alcaraz, despite his anger.
More articles related to Sports
The latest in Sports
Last News

#Alcarazs #monumental #anger #throwing #racket #play #badly