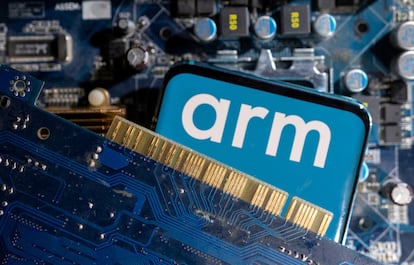 Arm logo on a mobile phone next to printed circuits. DADO RUVIC (REUTERS)
Amazon, Apple, Samsung, Nvidia and Intel could become key investors in the IPO of Arm, the Softbank-owned company whose chip designs are at the heart of most mobile phones sold on the planet. The UK-born company plans to go public in September and is targeting a valuation of up to $70 billion, which would make it one of the biggest IPOs in technology history.
According to The Verge, the chip design company plans to sell stakes to some of its biggest clients, including the aforementioned tech titans, to strengthen its ties with them and increase the appeal of its public debut. The US media echoes information from Nikkei Asia that points out that Apple, Samsung, Nvidia and Intel also plan to buy shares in Arm when it goes public next month.
Reuters and Bloomberg assure, for their part, that Amazon is negotiating to join these other technology companies as another key investor. According to anonymous sources familiar with the negotiations consulted by Bloomberg, the agreement could conclude with a collection of up to 10,000 million dollars. Arm would have also held talks with other technology giants, such as Alphabet, according to Reuters. None of these investors would gain a seat on its Board of Directors or take control of the company.
Nikkei Asia adds that Arm will sell stakes to each of these companies to help stabilize its share price. The chip designer announced plans to go public last year after a deal to sell ARM to Nvidia for $40 billion in 2022 fell through following objections from US, UK, EU and Chinese regulators. , who believed that the operation would give Nvidia excess power in the strategic chip sector.
In an interview with Decoder last September, Arm CEO Rene Haas said he made the decision to go public when the company "began to turn to other markets," such as licensing chip designs for computer products in Cloud. Haas does not want to depend on the business of consumer electronic devices, such as smartphones, but to bet on taking a leading role in cloud computing, automotive and artificial intelligence platforms.
In this context, Amazon's possible participation in Arm fits, since Amazon Web Services, the ecommerce giant's cloud business, manufactures its own processing chips, called Graviton, using Arm's design.
With its IPO, Arm wants to take advantage of investor interest in the chip business linked to artificial intelligence, which demands much more computing power to train AI models. The company plans to sell its shares on the Nasdaq, seeking to raise between $8 billion and $10 billion, people familiar with the deal told Reuters. If fulfilled, it would be the highest number since Facebook raised 16,000 million in 2012.
The company will face new competition in the future. As reported by Bloomberg a few days ago, Qualcomm, NXP Semiconductors and other chipmakers including Nordic Semiconductor, Robert Bosch and Infineon are forming a new company to accelerate development of the RISC-V architecture for chip design, a standard that could challenge Arm's almost ubiquitous technology.
This move threatens to open a new battle in the semiconductor industry. Concerns are growing among chipmakers about overreliance on Arm technology, ubiquitous in smartphones and now rapidly spreading to larger devices, data centers and the automotive industry.
Follow all the information about Cinco Días on Facebook, Twitter and Linkedin, or in our newsletter Agenda de Cinco Días
Five Days agenda
The most important economic appointments of the day, with the keys and the context to understand their scope
receive it
#Amazon #Apple #Samsung #negotiate #entry #Arm #imminent #IPO