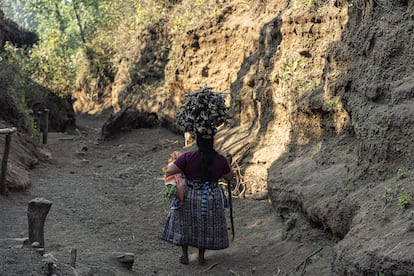 A woman carries firewood on her head in Guatemala.Victor Lochon (Getty Images)
The expression "energy transition" has already caught on in much of the world to refer to the period in which the global economy is expected to shift from relying on fossil fuels to renewable sources. However, according to a new report from the Organization for Economic Co-operation and Development (OECD), women and girls are being left out of this conversation as they are more directly impacted by climate change.
"We found that 60% of long-term low-emission development strategies do not take gender into account. And we wanted to know why," says Hyeshin Park, economist and coordinator of the Gender Program at the OECD Development Center, in a video call with EL PAÍS from Paris. Park and her colleagues presented a report titled Gender Equality in Times of Crisis, drawn from the Gender and Social Institutions Index (SIGI). The findings unearth a difficult reality for women and girls in developing countries, such as those in Latin America.
"The reason is mainly because these strategies don't really take into account the fact that women and girls are disproportionately affected by climate change-induced disasters or even polluting energy sources," Park says. . When a home does not have access to electricity, it is the women and girls who must go out to look for firewood, coal or even natural gas that will be used in the home for cooking and heating the spaces. This exposes them more to polluting emissions and even to accidents that lead to death. "Traditional gender roles still limit women to domestic roles and household responsibilities," Park adds.
Globally, six out of ten premature deaths are due to indoor air pollution, according to the OECD. Women and minors are also 14 times more likely to die in a natural disaster resulting from climate change than men, since the tradition, especially in developing countries, is that men are the best communicated person within the family. "They do not have access to information when an alarm sounds about a possible disaster," explains the multilateral specialist. "If it is only the husbands who have phones, for example, the women and children are the last to know the information. Furthermore, in some countries, women cannot even leave the home without the approval of men."
The report ensures that the gender dimension of energy is dual. On the one hand, explains the report of more than 200 pages, due to traditional gender roles, women are the main users and suppliers of energy within the home. "This disproportionate exposure to dirty energy sources has profound implications for their unpaid care and domestic workload, as well as their health. Furthermore, climate change tends to increase these adverse effects."
On the other hand, "they face a series of barriers that prevent them from getting involved in the sector and fully participating in decisions related to the development and deployment of innovative projects," the report notes. "Women are still largely powerless in the renewable energy sector, which is one of the main ways to reduce global emissions and mitigate the effects of climate change," concludes the OECD.
Subscribe here to the EL PAÍS America newsletter and receive all the latest news from the region
#Women #girls #suffer #impact #polluting #energies #OECD