This Tuesday, in less than four hours, two news stories were produced that show the depth of the wounds of a war that has devastated Colombia, with ups and downs, for decades. On the one hand, a judge from New York City (United States) sentenced Dairo Antonio Úsuga, better known as Otoniel, to 45 years in prison for drug trafficking. On the other hand, the transitional justice created in the negotiation with the paramilitaries in 2005 expelled one of the commanders, Hernán Giraldo, because he continued committing crimes after negotiating with the justice system: he endorsed why it is seen as one of the proofs of the degradation of the armed conflict when he committed gender-based violence against four minors in 2007 and 2008, while he was confined in Colombian prisons.
After 18 years of a massive demobilization of the illegal groups known as paramilitaries – a criminal amalgamation of armies of drug traffickers, land grabbers and peasant self-defense groups, among others – the wounds they left in Colombia remain open. Both Úsuga and Giraldo are proof of this, of decades of life involved in violence, of how rural conflicts have fed each other, in what experts such as Francisco Gutiérrez Sanín have called different waves or cycles of violence. As the journalist María Teresa Ronderos writes, these are recycled wars.
Giraldo, for example, was born in one of the departments most besieged by the fate of the undeclared civil war between liberals and conservatives in the mid-20th century, known as La Violencia (thus, with a capital letter and without a name). He studied until second grade, when his family left the area due to the conflict. A landless peasant, he migrated to the Caribbean, to the foothills of the Sierra Nevada de Santa Marta. He arrived there in 1969 as a day laborer; He had economic success taking advantage of the boom in the production and export of marijuana in the area, and began to buy farms. Then the FARC guerrilla arrived, now extinct, and Giraldo confronted them. In a guerrilla attack in 1986, his son and his son-in-law died, and Giraldo became a full-time paramilitary chief. With drug trafficking as a source of income and the sum of voluntary and forced recruitment, he created an organization, which he later affiliated with the United Self-Defense Forces of Colombia (AUC), with which he demobilized in 2005. That same year he was extradited to the United States, for drug trafficking, along with his brother and his partner, Jesús Antonio.
Precisely, Úsuga is the direct heir of that attempt to unify and lead the entire country to the paramilitary groups that were called the United Self-Defense Forces of Colombia (AUC). He was born in Urabá, a violent area, recently colonized and with many conflicts over land, in a peasant family. At the age of 16 he joined the Maoist guerrilla of the Popular Liberation Army (EPL) with his brother Juan de Dios. Like many other members of the group, after the peace signed in 1991 he ended up joining the paramilitary ranks of the region, organized by the brothers Carlos and Vicente Castaño in the middle of that decade. Úsuga earned Vicente's trust, grew up in the paramilitary ranks and refused to demobilize with the AUC in 2005. With his brother and other bosses, he inherited control of drug trafficking routes, weapons, war-hardened men, and continued her. After the death of his brother in a police operation on January 1, 2012, he was left as the sole head of a group that has been called Los Urabeños, Las Autodefensas Gaitanistas de Colombia or the Clan del Golfo, which expanded by taking advantage of gaps in power of other groups and fighting them directly. He ended up captured on the border with Panama at the end of 2021, in an operation applauded by then-President Iván Duque. Months later, in May 2022, he was extradited by Duque to the United States.
Police escort Dairo Antonio Usuga.AP
The parallel between the two goes further. Both were extradited to the United States by right-wing governments. Giraldo in 2008, when President Álvaro Uribe suddenly sent 15 demobilized AUC leaders to the US power, accusing them of continuing to participate in drug trafficking from their detention centers, where they awaited favorable sentences negotiated with Uribe himself. and that determines a special justice, known as "justice and peace". Úsuga in 2022, when Duque decided that he should face trials in the United States for drug trafficking, rather than serve the 6 sentences and follow the 122 criminal proceedings that he had open in Colombia.
Newsletter
Analysis of current affairs and the best stories from Colombia, every week in your mailbox
RECEIVE THE
Both Giraldo and Úsuga have left behind thousands of victims who continue to demand justice. The first is one of the clearest dehumanization of war. After serving an eight-year prison sentence in the United States, he returned deported in 2021. Two years earlier, the Chamber of Justice and Peace of the Barranquilla Court had sentenced him to 40 years in prison, the longest existing sentence in Colombia, along with other members of their group, for a variety of crimes including forced recruitment, murder, disappearance and forced displacement, illicit financing and, above all, gender-based violence. "The sexual violence exercised by the then commander of the so-called Tayrona Resistance Block, Hernán Giraldo Serna, constituted, in addition to the satisfaction of his sexual desires, a strategy of social control," reads a sentence that totals 9,166 pages.
The injuries caused by Giraldo, who is estimated to have left some 67,000 victims, are particularly severe among dozens or hundreds of women. It is estimated that she had about 35 children, many of them as a result of rape. The Prosecutor's Office has ensured that most of these mothers were abused by Giraldo when they were under 14 years of age. The youngest would have become pregnant at age 12. And this Tuesday he was expelled because the Prosecutor's Office managed to demonstrate that Giraldo committed crimes of gender-based violence against four minors, between 2007 and 2008, when he was in Colombian prisons.
"I was 15 years old, I arrived in Santa Marta and there I met a woman. She asked me to stay with her doing housework and taking care of the boys and girls, and in return she helped me with my studies, gave me a house and bought me the personal things I needed", recounts one of them. their victims. "One day she told me: you are going to go, you are going to accompany me to jail today." Once there, she had El Patrón face to face for the first time. "He began to take off my clothes and had sex with me in that bed there, and I remember that I cried and thought that he was going to die on top of me and I was in tears and I just said: my God, help me because this man is going to die on top of me", says one of the testimonies that the Prosecutor's Office collected.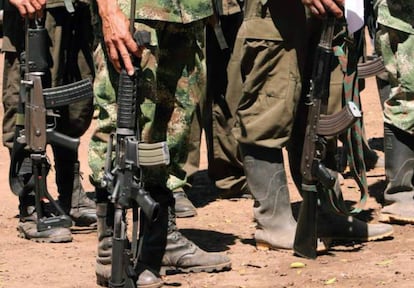 FARC guerrillas in La Guajira, north of Colombia.EFE
In the case of Otoniel, his victims include all kinds of crimes -murders, terrorism, kidnapping, sexual crimes, criminal mining, and so on-, for which they tried to avoid extradition with sit-ins and legal actions. Like Giraldo, among the trail of blood he left are hundreds of women, both victims of his international network of human trafficking and minors raped by him. Among the multiple wounds of the war, those of these women who have not found, until now, truth or reparation, remain open. Wounds that are added to those of the victims of the other crimes committed by Giraldo, by Otoniel and by many other otonieles.
Subscribe here to the EL PAÍS newsletter on Colombia and receive all the latest information on the country.
Subscribe to continue reading
Read without limits
#open #wounds #war