Two of the models in which this ceramic hob protector can be purchased. WEKO.
It is increasingly common to find accessories to maximize space in the kitchen and get the most out of the sink, cabinets or the area where cleaning products are stored.
This is the case of the protective plates for ceramic hobs. An article designed to protect the kitchen surface, when not in use, from scratches or other damage that may contribute to reducing its useful life.
An example is this model that triumphs on Amazon and is offered in a wide variety of designs and colors. It is a proposal from the Wenko brand —specialized in accessories for the bathroom or kitchen— that has become a bestseller due to its versatility and effectiveness in protecting the kitchen, while at the same time achieving a better visual effect or extra counter space.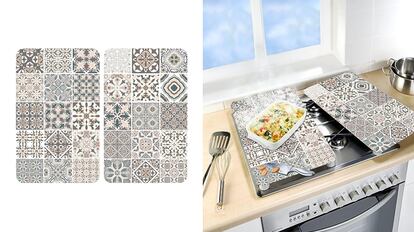 One of the designs, with geometric motifs, in which this ceramic hob protector is available. WENKO.
Scratch and shock resistant
Made of tempered glass, the two covers can also be used as chopping boards, as they are particularly resistant to shocks and scratches. Thanks to the four non-slip and height-adjustable feet that they include, they can be adapted to different types of cookers: ceramic, electric or gas hobs.
Its measurements are 30 x 1.8/5.5 x 52 centimeters, they are very easy to clean and they do not emit odors. In addition, to make it easier to adapt them to the decoration of the kitchen, they are marketed in more than twenty designs with geometric, floral motifs or that imitate materials such as wood or marble.
The ceramic hob protector has a universal design to adapt to different kitchen models. WENKO.
"Perfect to protect and decorate"
In addition to being the best-selling product in its category on Amazon, this ceramic hob protector has more than 26,800 reviews on the platform and achieves an average rating of 4.6 stars out of 5.
This user, for example, defines them as "great" and details the following: "You gain useful space in the kitchen, you make the stove area more aesthetically attractive and, in addition, they are useful. Happy!" Other buyers define the product as "perfect to protect and decorate" or draw attention to the functionality of the adaptable legs: "They are perfect for covering gas stoves and they are also super pretty. The glass is of quality and the legs have three different heights to choose from".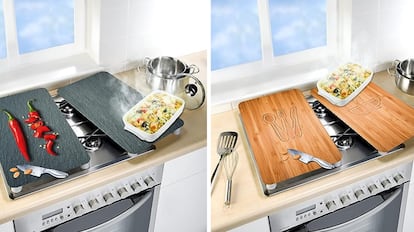 Two other models that can be found on Amazon of this ceramic hob protector. WENKO.
*All purchase prices included in this article are current as of August 9, 2023.
(Remember that if you are an Amazon Prime user, all purchases have free shipping costs. Amazon offers a free and no-obligation trial period for 30 days.)
You can follow EL PAÍS ESCAPARATE on Facebook and Instagram, or subscribe here to our Newsletter.

#bestselling #ceramic #hob #protector #Amazon