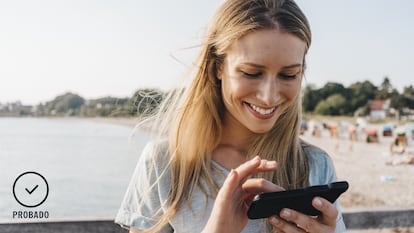 We have included five terminals in the comparison of the best low-end mobiles of 2023. GETTY IMAGES.
Mobile phone manufacturers do not only live on high-end terminals. The models that are part of the entry or low range are also a key niche for them, since not all consumers have the same budget or have the same needs. Thus, the purpose of this comparison is to find the best low-end mobile that has been presented during the first half of 2023 and whose price does not exceed 250 euros.
What low-end mobiles have we chosen?
The selected smartphones are Honor 70 Lite (7.75), Motorola Moto G23 (7.5), Realme C55 (8.25), Samsung Galaxy A14 5G (7.75), Xiaomi Redmi Note 12 5G (8.25) . When analyzing and evaluating them, these are the aspects that have been taken into account:
Design: this criterion is related to the ergonomics, grip and construction quality of the mobile phone. Screen: as with the terminals that belong to the high and medium range, XXL panels have also prevailed in the low range that favor the experience when browsing the Internet, playing games or consuming multimedia content. Although the chosen panels comply, there are differences in terms of brightness, quality or sharpness. Camera: various tests have been carried out to verify its quality in different situations and, although its results cannot be compared to what the cameras of the models offer more advanced, this does not prevent them from demanding a minimum quality. Performance: how the mobile phone responds, if its performance is adequate or, on the contrary, it 'has a hard time' completing tasks, moving between applications… This aspect has also been applied to the duration of their batteries and charging times.Others: operation of their biometric security systems (face unlocking and fingerprint), connectivity options, sound section…
Comparison of the best low-end mobile first half of 2023: this is how we have tested them
A week has been dedicated to each of these smartphones. During the tests, they have become our terminal for daily use: browsing the Internet, checking email and social networks, viewing multimedia content, playing occasionally or listening to music have been some of the tasks that have been carried out. In addition, their cameras have been used in different scenarios and short videos have been recorded. All this has allowed us to compare and check the performance of each of them and the autonomy provided by their batteries.
There has been a tie between the Xiaomi Redmi Note 12 5G and Realme C55 smartphones, which have obtained the highest score in the comparison. The first stands out above all for its AMOLED screen with a 120 Hz refresh rate and high brightness. Meanwhile, the second has the best camera in the comparison.
Best low-end mobile Xiaomi Redmi Note 12 5G: our choice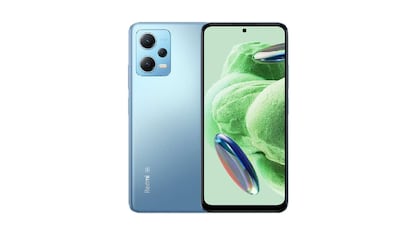 XIAOMI.
It incorporates IP53 certification, thus recognizing its resistance to dust and splashing water. With dimensions (165.88 x 76.21 x 7.98 mm) and a weight (189 grams) that are within the average, it offers a good finish. Its screen is one of the best in the comparison not only in terms of sharpness, detail or brightness; also as far as the reproduction of colors is concerned with some vivid tones. It integrates, in this regard, a 6.67-inch AMOLED panel, a resolution of 2,400 x 1,080 pixels, a 120 Hz refresh rate and a maximum brightness of 1,200 nits. In addition, this panel has a specific mode for reading.
The performance 'leaves' equally positive impressions in daily tasks, even if the terminal is used to play as long as these games do not require very advanced graphics. As it has a microSD card slot, its storage capacity is expandable up to 1TB. And what about the photographic section? Daytime photos are more than acceptable if HDR mode is activated; It uses, for this, the Samsung JN1 sensor that has a resolution of 48 megapixels. Meanwhile, the selfie camera ensures more than correct results. Other data of interest are the following: 5000 mAh battery with 33 W fast charging, 3.5 mm jack and infrared sensor to use it as a universal remote control to control, for example, with the television.
Best low-end mobile Realme C55: the alternative and best value for money
REALME.
Android 13, fingerprint reader located on the power button, 3.5-millimeter headphone jack, a single speaker, microSD card slot, dual SIM… These are some of the features of this entry-level model that, above Everything, we liked it for two reasons. On the one hand, there is its 5000 mAh battery that recharges in 76 minutes with the included 33 W charger. On the other, the 64-megapixel sensor of its main camera: it offers quite good results for a mobile phone that moves in this price range when analyzing, among others, the white balance or the interpretation of colors.
With a profile of 7.89 millimeters and weighing 189.5 grams, it feels comfortable in the hand despite being a large smartphone. In fact, it integrates a 6.72-inch screen; This panel has a resolution of 2,400 x 1,080 pixels and a refresh rate of 90 Hz. Available in two versions (one that combines 6 GB RAM and 128 GB of internal storage, and another 8 GB and 256 GB), ensures adequate performance in typical daily tasks; however, with slightly more demanding applications and games it is more difficult for it to function.
Do you remember the Dynamic Island that Apple introduced last year on its iPhone 14 Pro? Located at the top, this notch changes depending on the content that the user sees: sometimes it is a widget, another an icon… Thus, for example, it can show the duration of the current call, a WhatsApp audio or the music track that is currently playing. Realme has wanted to do something similar: it has called it Mini Capsule and although the idea is fine, it still needs to polish a lot of details.
Best low-end mobile Samsung Galaxy A14 5G
SAMSUNG.

Available in silver, black and lime green, it perfectly covers the needs of those users who do not want or cannot pay a large financial amount. Thus, it shares a 5000 mAh capacity battery with its adversaries (fast charging, however, remains at 15 W and the charger does not come) and its configuration allows it to function comfortably, even in multitasking. In this case, the 4 GB of its RAM memory can be expanded (if the user needs it) through an option called 'RAM Plus': what this feature does is use the internal storage of the smartphone as virtual memory so that 'it goes faster'. Meanwhile, its 128 Gb capacity is expandable with a microSD card of up to 1 TB.
As has happened with the rest of the participating phones, of the triple rear camera module, only the main sensor is worth it. For its part, the one located at the front, has 13 megapixel resolution, provides acceptable quality. The screen fulfills its mission: it is a 6.6-inch Infinity-V LCD panel, with a resolution of 1,920 x 1,080 pixels and a refresh rate of 90 Hz. In addition, the brightness 'responds' much better than expected. The only 'but' is that the margins could have been used much better. Its 205 grams make it the heaviest option.
Best low-end mobile Honor 70 Lite
HONOR.

With a profile of 8.68 mm and a weight of 194 grams, its configuration is led by the Qualcomm Snapdragon 480 Plus processor, a 5G model that offers good performance. It is accompanied by 4 GB RAM (expandable to 7 GB using Honor RAM Turbo technology) and 128 GB internal storage capacity that can be increased with a microSD card. Along with this performance, the other feature to highlight is the autonomy of its battery, since its 5000 mAh allow it to be used throughout the day and part of the next without problems; It supports a 22.5 W charge although the charger is not included.
Meanwhile, the screen has a size of 6.5 inches. It is an LCD panel with a resolution of 1,600 x 720 pixels with somewhat fair quality at times, but it has a 90 Hz refresh rate in its favor. To improve the sound experience, and since it only has one speaker, it is recommended is to use wired headphones since it has a 3.5 mm jack connection.
Being a low-end mobile, the photographic section has behaved as expected. Thus, the best snapshots are obtained as long as there is a sufficient amount of light in the scene. It combines a rear camera module that includes a 50-megapixel main sensor, and another 2-megapixel macro and depth sensor each. The front camera for selfies has an 8-megapixel sensor and f/2.0 aperture.
Best low-end mobile Motorola Moto G23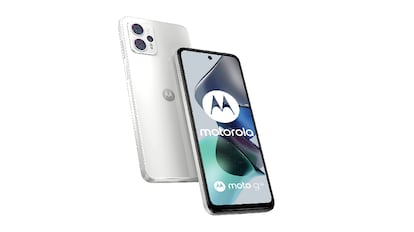 MOTOROLA.
IP52 protection against dust and water for this terminal that comes with Android 13 and the My UX customization layer: not only does it guarantee one of the best experiences in the comparison thanks to its clean design, but there is no lack of the already classic Moto actions of the signature to control it by means of gestures. For example, the user takes a screenshot by holding down three fingers on the screen, while turning the wrist twice launches the camera; instead, shaking it a few times turns on the flashlight.
In general, it balances its characteristics quite well, although some aspects can be improved, such as the screen. It is a 6.5-inch LCD panel that has a refresh rate of 90 Hz, but that 'requests' a greater amount of brightness at certain times outdoors and also its resolution is 1,600 x 720 pixels. On the other hand, at the audio level we have been pleasantly surprised to discover a pair of stereo speakers with support for Dolby Atmos surround audio technology.
It meets basic tasks thanks to the MediaTek Helio G85 processor, but in others that are somewhat more demanding, such as games, the response is not as desired. At the photographic level, as expected, it defends itself within its price range but always with good light conditions; To activate the 50-megapixel sensor of its main camera, you have to go to the 'Ultra Res' mode. It comes with a 30W power charger that powers its 5000 mAh in about 70 minutes.
*All purchase prices included in this article are current as of August 9, 2023.
You can follow EL PAÍS ESCAPARATE on Facebook and Instagram, or subscribe here to our Newsletter.

#lowend #mobiles