One of the blackest holes of the invasion of Ukraine locks up thousands of civilians in secret Russian prisons, with no charges, no rights, almost no identity. In a limbo that contravenes international law from start to finish. One of these inmates is called Igor Steblevski. His story is terrifying. The account is his son, Roman, 38 years old. He does it slowly, seriously, skeptically and incredulous. Steblevski, his father, lived in Hostomel with his wife, about 30 kilometers northwest of kyiv, the Ukrainian capital. That's where the Russian troops entered on February 24, 2022. Almost a month later, on March 22, a mortar wounded Steblevski's wife, Lyudmila Shevchenko, while she was in the kitchen. He was 62 years old then and she was 54. He tried to get the Russian military to help him take her to a hospital in an armored car. That's where Steblevski's confinement began. Just a few weeks ago, Roman saw an image of him again. He appeared with shaved hair on an unofficial Russian website that reported on his captivity.
The Center for Civil Liberties (CLC), awarded last year with the Nobel Peace Prize, has been able to document the imprisonment in Russian jails of 4,000 Ukrainian civilians, imprisoned since the start of the Russian offensive. They estimate that the number may be much higher. The Ukrainian commissioner for human rights, Dmitro Lubinets, puts that number at 20,000.
Igor Steblevski, Ukrainian civilian detained in Russia, before the start of the war and during his captivity
The path to this black hole begins with the arrest of a Ukrainian citizen by the Russian military during the occupation. He is often accused of jeopardizing his operations. He is sent to a "filtration camp", a center where he is searched and interrogated. From there he is transferred to a Russian prison, usually via neighboring Belarus, especially in the case of those who, like Steblevski, were detained in the center of the country. And the key is thrown. They enter a limbo of war.
The first great difficulty for the families of the detainees is knowing if and where they are alive. Roman tried everything since he stopped communicating with his father. This engineer by training, in charge of a glass company in Vishneve, southwest of Kiev, an area that the Russians did not reach, remembers that he spoke once a week with him. "The snipers," he says from his office, "shot at those they saw with cell phones." He now shows on his phone the photos of the damage that the mortar that hit Shevchenko caused in Hostomel's home, a third floor in a residential area.
He contacted the neighbors, with volunteers from the municipality; He searched the networks, reported the disappearance to the search agencies, NGOs, and the police. It took her 10 days to reconstruct what happened, that her father tried to help her partner, that they were separated when she was seriously injured and they never saw each other again. Roman prefers not to continue with Shevchenko's story out of respect for her mother, who is much older than her and who is still waiting to hear from her.
Join EL PAÍS to follow all the news and read without limits.
subscribe
For weeks he went on and on asking. She moved to see if any of the released had seen his father. That's how it went. Up to two people who were released. "One of them gave me details about my father that I could only know if I had shared a cell with him," she adds. She was told that they had met Steblevski in a Russian prison in Bryansk, some 380 kilometers southwest of Moscow. In that same prison is where the CLC believes, according to its data, that Roman's father has been at some point. Now they don't know his whereabouts. That prison was reformed and the prisoners, possibly, transferred.
Mikhailo Savva, a 54-year-old doctor of Political Science of Russian origin, knows what one of those prisons is like. He spent eight months in a Krasnodar prison for defending human rights. And that in Russia has punishment. Today, a refugee in Ukraine since 2015, Savva is a member of the CLC Council of Experts. He affirms that what they do to obtain information about these prisoners and work for their release is to press through their lawyers in Russian territory, squeeze the law, respect that legal framework and its cracks, and enter. "Russia cannot deny the existence of human rights and we took advantage of that gap." He puts it another way: "They have to be afraid of us, afraid of torturing."
A Valencian, arrested for endangering the security of Russia
An example to understand this is that of the Spanish Mariano García Calatayud, 75 years old. "We sent 50 requests, literally, and they only answered one. It was the Crimean Prosecutor's Office (Ukrainian peninsula under occupation), last April". The answer said that García Calatayud was detained for endangering the security of Russia. This Valencian, from the municipality of Carlet, had been working in the province of Kherson for eight years assisting children displaced by the war in the east that began in 2014. In March 2022 he participated in a demonstration against the Russian occupation that cost him the arrest.
As Savva recounts, the Russian tax authority maintains that they continue with the investigations. "International law does not foresee something like this lasting a year and a half," she says. But the same thing happens to the Spanish prisoner as to the rest. "If the investigation was finished and there was an open case," continues Savva, "he would have the right to have a lawyer assist him there." And it's not what happens. Again, limbo: neither are they prisoners of war, nor are they detained under firm accusation. Many believe that they are simply hostages of the Kremlin war.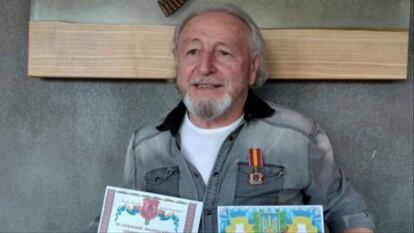 Mariano García calatayud, in an image provided by À Punt NTC
García Calatayud is in a Simferópol prison built last fall. Not because the Russian Prosecutor's Office said so, but because former inmates of that prison have given proof of it. They say that he is someone who speaks Spanish, that he speaks very loudly, he says a lot of swear words… "They have also said," continues Savva, "that he has scars, bruises, that they could have hit him… at 75 years old." The CLC maintains that pressure from Spain would contribute to the cause. The Spanish Foreign Ministry stated after learning of the arrest of García Calatayud that it is following the case and is in contact with the family.
Savva, this expert in the field, has the same feeling that Roman Steblevski expresses after months of searching for his father. "I wouldn't say it's more difficult to find a civilian than a military man", states the CLC expert, "but it is more difficult to set them free" – this center also counts 340 cases of freed civilians. The Ukrainian government is working on the coordination center for the treatment of prisoners of war, under the command of General Kirilo Budanov, head of military intelligence. This Monday, the center announced the release of another 22 Ukrainian citizens. They were military and benefited from an exchange with Russia. Also, always with the zeal of its mission, the Red Cross collaborates in these tasks.
letter from russia
In November 2022, Roman finally received a letter from the Russian Interior Ministry informing him that his father was indeed under arrest. "They tell me," he says while showing the letter through his cell phone, "that my father is detained for resisting the special military operation (in Ukraine), that he is in Russian territory and that his health is satisfactory". Roman is not very convinced of this, because he has had heart problems and they could recur.
-How are you?
―I thought I was a strong and resilient person, but I'm starting to have health problems.
"How do you think your father will be?"
―He is a very strong and intelligent person, I don't think he does anything stupid.
Follow all the international information on Facebook and Twitteror in our weekly newsletter.
Subscribe to continue reading
Read without limits

#Russia #imprisons #thousands #Ukrainian #civilians #limbo