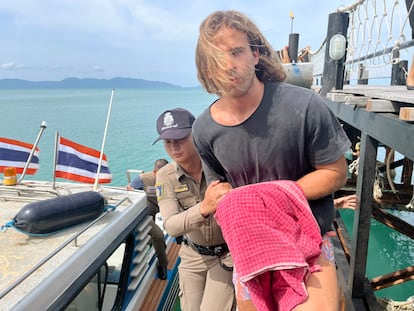 Daniel Sancho, upon his arrival last Monday on the island of Samui, in the Gulf of Thailand, to be brought before the courts. SOMKEAT RUKSAMAN (EFE)
The cook Daniel Sancho Bronchalo, son of the actor Rodolfo Sancho detained in Thailand as the confessed perpetrator of the death of the Colombian doctor Edwin Arrieta, joined the close to a thousand Spaniards imprisoned abroad on Monday. There are 908 (793 men and 114 women) detained in prisons in 69 countries, according to a document dated July 31 by the General Directorate of Spaniards Abroad and Consular Affairs, dependent on the Ministry of Foreign Affairs, which has had access THE COUNTRY. This Tuesday, a spokesperson for the department reduced the number to 907 to this newspaper. In any case, a figure far from the 2,519 that existed in 2011, a record year.
The +34 Foundation, an NGO that assists these inmates to provide them with support, has visited 571 of them this year in prisons in 39 countries. Its director, Javier Casado, assures that the conditions in which they are found are disparate. "In Thailand (where, after Sancho's admission, there are already five Spanish inmates) the main problems are overcrowding, little food, heat and language, but there are other countries where prisons are more dangerous," he points out, and he gives as an example those of Ecuador, where there are 14 Spaniards. "A few days ago I was able to speak with someone from the Guayaquil prison who told me that last month neither he nor his cellmates were able to get out of it in four days because there was a shooting war between gangs," he adds. That confrontation caused 31 deaths, according to an official count of July 26. The Ecuadorian authorities have admitted that, since 2020, more than 450 prisoners have died in the country's prisons as a result of clashes between rival groups.
Ecuadorian soldiers guard a group of inmates in the Guayaquil prison on July 26 after regaining control of the center after several days of clashes between gangs inside. Armed Forces
However, it is not Latin America, as it was a few years ago, the region that now has more Spaniards in prison – in Peru there were more than 300 in 2016 and there are currently 26 – but now it is Europe. Of the five countries with the highest number, four belong to the EU: France (187), Germany (129), Belgium (46) and Portugal (44). The fifth is Morocco, with 99 inmates. Casado points out that this change is the result, first of all, of the start, in 2017, of the repatriation flights that allowed the transfer of many of the prisoners in jails from the American continent. And secondly, due to the mobility restrictions that existed in 2020 and 2021 due to the pandemic, which reduced the number of mules (people who, in exchange for money, travel abroad to bring drugs in their luggage) that went to Latin America. "Now, the predominant profile of the imprisoned Spaniard is that of the hashish transporter arrested when he transports drugs by road in Europe," says Casado.
According to a study by his foundation, 57% of Spanish prisoners abroad are, in fact, accused of a crime related to drug trafficking. Another 12.5% ​​are accused of homicide or murder, like Daniel Sancho. However, Foreign Affairs qualifies that the data on the crimes committed are never exact "because there are detainees who do not want the cause of the arrest to be notified" and, therefore, it is not included in the statistics. What does appear in these is that, of those who have already been tried, the majority have sentences of less than 10 years, although more than a hundred face harsher sentences. In September last year, there were 27 sentenced to life imprisonment and one to death, according to a government parliamentary response.
What affects the most is what happens closer. To not miss anything, subscribe.
subscribe
"77% of Spanish prisoners abroad are primary, that is, it is the first time they have been imprisoned. This circumstance and the distance from their family circle hardens their situation, especially since many are people with few economic resources", points out the director of the +34 Foundation. "During our visits we bring them clothing and personal hygiene products, but also vitamin and protein supplements to try to compensate for the nutritional deficiencies they suffer," he adds.
Foreign also helps them. A ministry spokesman details that, if the inmate requests it, a consular officer visits him at least once every six months, in addition to giving him money — a maximum of 120 euros per month, as stipulated in a 2022 ministerial order — if the prison does not meet minimum conditions similar to those in Spain. He also provides you with a list of local lawyers to handle your case if you request it and, when there is an agreement with the country, he advises you so that you can request a transfer to Spain. "In general, the consular offices monitor each case individually, and can provide other forms of assistance, such as notifying their relatives of the arrest, if the detainee so wishes; deliver and receive messages and correspondence, or help with other paperwork. The casuistry is varied and depends both on each case and on the needs that may exist in each country", details this spokesperson.
"The problem is if there is no agreement," says Casado, who gives the example of Santiago Sánchez, imprisoned in Iran since October 2 when he traveled on foot through this country to attend the World Cup in Qatar and who was arrested after visiting the grave of Masha Amini, the young woman who died when she was arrested for wearing her headscarf incorrectly and whose death sparked a wave of protests in the Asian country. "We have not been able to visit him because the Tehran authorities do not even authorize us to enter the country," denounces the director of the +34 Foundation.
Casado also cites the case of a young man who has been imprisoned in Qatar for eight years for drug trafficking and who was prevented from benefiting from a recent agreement between the emirate and Spain when the courts were dissolved to hold the elections on July 23. "The only thing missing was for it to be authorized by the Senate to enter into force and the electoral advance prevented it," he laments.
Subscribe to continue reading
Read without limits
#Spaniards #prisons