Ana Laura rests her bicycle on a street in Pozoblanco, in Córdoba, around eight twenty in the morning this Wednesday, more or less the same time that, the day before, the wooden door of the adjoining house opened and a shocked neighbor asked for help because she had just found the bodies of Juana C., 32, her friend, and her still-husband Gabriel S., 39, along with a shotgun. "In the end, she killed her," the woman said, says Ana Laura. She was the one who notified the Civil Guard. A day later, the same summer silence reigns on the street as before the agents arrived, the only difference is that this Wednesday, at the door of the house where the victim lived, there is a purple cardboard with a photo of Juana, two Farewell messages without a signature, a bouquet with two roses, one white and one red, and three candles, one of them with a rolled up goodbye letter.
His paternal grandmother, Victoria Cortés, 83, was very close to the victim. "I talked to her almost every day," says the matriarch, who goes out to open the door of her house in Villanueva de Córdoba, where Juana had lived until, in 2014, after marrying Gabriel, she moved to Pozoblanco, 21 kilometres. He always made her grandmother and her sister, also called Victoria, a participant in the mistreatment she suffered. They were aware of the two complaints that Juana filed on April 16, 2017 ―without judicial measures― and on September 28 of that same year, which culminated in a four-month restraining order that she later decided to deactivate. The alleged murderer's aggressive behavior did not stop afterwards, but, as Cortés explains with eyes incapable of shedding more tears, the night before they ended her life she "was happy."
"He was just going to go to Belalcázar in the morning because he had managed to rent a house. He told me: 'Grandma, I'm finally leaving and as soon as I'm settled, let Dad come to spend a few days with the girls. Who would have thought that with how happy he was then what happened would happen ", says Victoria with a small voice. Juana had had a hard time making that decision, she explains, but she had finally started the divorce proceedings and she was moving on her own. She had planned to go live with her mother, who has lived in that Cordoba municipality since she separated from her father, Damián.
Damián, the victim's father, acknowledges that he did not know even half of what his daughter was suffering ― "we hid it from her because she was afraid of how she would react," says grandmother Victoria, ― but assures that her son-in-law " always" gave him a bad feeling. Everything in Damián is lost right now by pain: his lost gaze, his exhausted voice, his body sunk in grief… "I'm broken," she says. "He had the moving van ready for nine and at eight he killed her," she stammers.
Victoria Cortés says that her granddaughter had told her that her husband had stopped working in recent days and that he was constantly hanging around the house: "He does it because he doesn't want me to leave," he told me, explains the grandmother. The friend who was in the house when the events occurred, and who was in charge of taking care of her three girls, ages six, five and three, while the mother was working in a slaughterhouse in the early morning shift, also acknowledged on Tuesday that she he had offered several times to accompany her to report, but that she had refused because he had threatened to kill her. As so many victims do because of this, out of fear. For them or for their sons and daughters.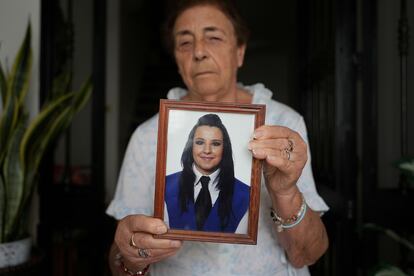 Victoria Cortés, the victim's grandmother, holds a photograph of her granddaughter Juana, murdered by her husband in Pozoblanco, in Córdoba, a victim of sexist violence.Chencho Martínez
The Ministry of Equality has confirmed that Juana was not currently a user of the services offered by the Andalusian Women's Institute. "In a situation of abuse, separation is a particularly dangerous moment and leaving the home must be planned very well, because it is the moment in which control and violence increase," explains Amparo Díaz Ramos, an expert lawyer in violence. macho and treats "You have to coordinate with family, with friends, with the police… To avoid leaving blank spaces that the aggressor can use," she adds. Juana's closest entourage ―including her friend who slept with her on her last night, and a close neighbor of hers― knew of her anguishing situation, but it was not enough.
"It is not enough just to report, victims must also be offered a way out model, because many, after reporting, feel blocked because they do not receive guidelines on how to organize their lives and their protection, even when they have a restraining order" , indicates Díaz who stresses that women or the environment should not be held responsible, but rather the system that sometimes "helps little"; He gives as an example the few occasions that victim assistance offices or women's assistance centers request a protection order, as authorized by law.
For Elena Vega, representative of the Cordoba Platform against Violence against Women, prevention is an essential element to eradicate sexist violence. "The reactions that these women go through is complex, they tend to have full emotional and psychological dependence on their partners and continuous work is needed for them to perceive themselves as victims of sexist violence, it is not enough to tell them that if they hit you and control you are a victim ", he indicates.
Both Vega and Díaz Ramos see the fact that the denialist discourse is permeating society as worrying, and consider that it is an element that can explain the increase in cases in the last year. Vega stresses the importance of influencing equality policies: "Agreements to eliminate equality departments or minutes of silence must be stopped because they are propaganda and that implies allocating economic means to support resources for women."
Juana's youngest daughter, a three-year-old girl, was the one who told the friend who took care of her and slept with her that her mother had been murdered. The two oldest were with her aunt, the father's sister, and the judge has provisionally decided that the youngest also meet with them. "At the moment it's fine, my daughter had a very good relationship with her (with her paternal aunt), then we'll see what we do," says her grandfather, Damián.
In both cases the little ones have received the attention of the Red Cross services. "We went at the first moment to give an immediate response, when the situation is still disastrous, these are the most complicated moments," explains Nerea Casas, head of the entity's Emergency Services in Córdoba, about the work carried out by the Team Immediate Response for Psychosocial Intervention. "Depending on the assessment, we follow up or provide guidance on the options that families can then adopt", she abounds. In the case of the three girls from Pozoblanco, they have been treated by four psychiatrists.
Juana's family has not yet been able to see her daughters. She first has to assimilate the unbearable reality of having lost her just when she was about to regain her freedom.
Telephone 016 attends to victims of sexist violence, their families and those around them 24 hours a day, every day of the year, in 52 different languages. The number is not registered on the telephone bill, but the call must be deleted from the device. They can also be contacted by email at 016-online@igualdad.gob.es and by WhatsApp at number 600 000 016. Minors can call Fundación ANAR at 900 20 20 10. If it is an emergency situation, You can call 112 or the National Police (091) and the Civil Guard (062). And if you cannot call, you can use the ALERTCOPS application, from which an alert signal is sent to the Police with geolocation.
Subscribe to continue reading
Read without limits
#Macho #murder #Pozoblanco #moving #van #ready #oclock #killed