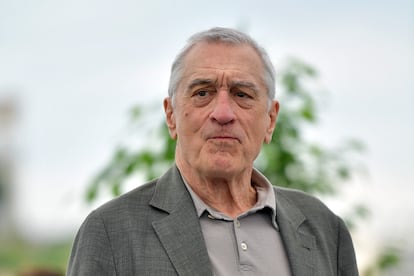 Robert de Niro, in May 2023 at the Cannes festival in France. Dominique Charriau (Getty Images)
The De Niro family has been in mourning for a month. One of the youngest members of the saga, Leandro de Niro-Rodriguez, 19, died unexpectedly on July 2, as announced through statements and social networks by both his parents and his grandfather, the actor Robert deNiro. Now, forensics have revealed the reasons for the young man's death: a lethal combination of drugs but, apparently, ingested accidentally.
The head of the New York medical researchers who have been present at the trial have reported that, according to the tests he has undergone (which have been advanced by TMZ and People), Leandro died from "the toxic effects of fentanyl, bromazolam (whose main compound is triazolobenzodiazepine, a sedative), alprazolam (another sedative), 7-aminoclonazepam (a type of clonazepam, an antiepileptic), ketamine and cocaine". That is, regardless of the amount of them, the young man died of a deadly combination of half a dozen drugs.
More information
The fact that Leandro had used drugs was something that was known from his family's messages, but only fentanyl was known; a substance that, in addition to being lethal, is heavily introduced into American society, which is experiencing a true epidemic because of this opiate. A few days after Leo's death, as he was called in the family, his mother, Drena de Niro, daughter of the well-known actor, stated on her Instagram profile that "someone sold (Leandro) manipulated fentanyl pills, and they knew that They were tampered with, but they were still sold to him." "So, to all those people out there selling that shit, know that my son is gone forever." In mid-July, a 20-year-old named Sofia Marks was arrested in connection with the death, with her trial expected to start in late August.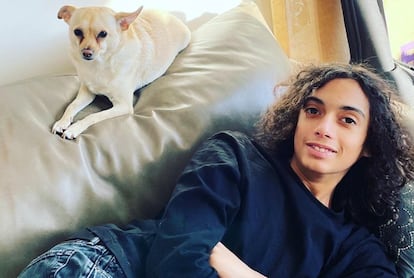 Leandro de Niro-Rodriguez. in an image spread on his social networks.
It was precisely Drena, a supporting actress in series like Mozart in the Jungle and in movies like A Star Is Born, where Leo also made a cameo, playing precisely his son, who reported the young man's death in the first place. She did it through her Instagram profile, then with 21,000 followers and now 32,000. "My beautiful sweet angel, I have loved you beyond words, from the moment I felt you inside me. You have been my joy, my heart and everything that has ever been pure and real in my life. I wish I was with you right now. I wish I was with you. I don't know how I'm going to live without you, but I will try to carry on and spread the love and light that you made me feel just by being your mother. You were deeply loved, appreciated, and I wished that love had saved you. I'm so sorry, my love, I'm so sorry. Rest in peace and in eternal paradise, my dear child," said Drena, 55, who is now spending a few days in Portugal on vacation without, for the moment, commenting on the result of the forensic investigation.
For his part, Robert de Niro also sent a brief statement to the media where he showed his pain. "I am deeply saddened by the passing of my beloved grandson Leo. We are enormously grateful for everyone's condolences. We ask that we be given privacy to mourn the loss of Leo." Just two months before, the 79-year-old actor announced that he had been a father for the seventh time, this time with whom he has been his partner for about seven years, Tiffany Chen.
Drena is De Niro's eldest daughter; in fact, she is the daughter of her first wife, Diahnne Abbott, with whom he was married between 1976 and 1988, and from a previous relationship, but De Niro adopted her in the seventies and Drena took her last name. She along with Abbott she also had Raphael, 46 years old. With model and actress Toukie Smith, he had twins, Julian and Aaron, who are now 27 years old. He and Grace Hightower had two other children, Elliot, 24, and Helen Grace, 11, born via surrogate. And now she has received what is the last offspring of him, for the time being.
Subscribe here to the EL PAÍS America newsletter and receive all the latest news from the region

#Leandro #grandson #Robert #Niro #died #accidental #overdose #drugs