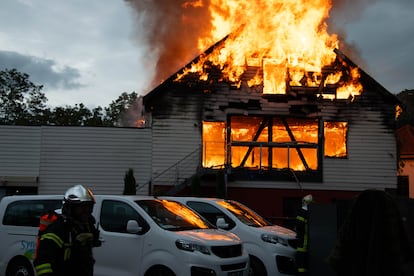 Some firefighters try to extinguish the fire at the summer residence, this Wednesday in Wintzenheim (France). Patrick Kerber (DPA via Europa Press)
At least nine people have died this Wednesday and another two remain missing after a fire in a summer residence for the disabled in the French town of Wintzenheim, in the Alsace region, about 70 kilometers south of Strasbourg. "We are almost sure of the death of the missing persons," said Christophe Marot, general secretary of the Alsace prefecture, at the scene of the fire, according to AFP. "We are prudent until we have located all the bodies," added Marot shortly before the firefighters reported the discovery of nine bodies and when the disappearance of 11 people had already been announced.
The France 3 television channel has reported that 10 adults with disabilities and a staff member were among the missing. The summer residence was rented by a charity that deals with people with learning disabilities, the public television channel added.
The Interior Minister, Gérald Darmanin, noted in the morning, without giving further details, that there were likely to be several fatalities after the fire destroyed 300 square meters of the 500-square-meter building. Rescue operations are still underway and 17 people have been evacuated, one of whom has been transferred to a hospital, the prefecture has reported.
The missing belonged to a group of residents of the city of Nancy, a distance of about two hours by car. The fire broke out at 6:30 a.m. and firefighters put it out quickly, according to the prefecture. French President Emmanuel Macron posted a message on the X social network, formerly known as Twitter: "In Wintzenheim, flames engulfed a rural house that provided accommodation for people with disabilities and their caregivers. In the face of this tragedy, my thoughts are with the victims, the injured and their families. Thanks to our security forces and emergency services ", he declared shortly before the first fatalities were confirmed.
In Wintzenheim, the flames ravaged a lodging which accommodated people with disabilities and their companions. Faced with this tragedy, my thoughts go out to the victims, to the injured, to their loved ones. Thank you to our security forces and our mobilized emergency services.
—Emmanuel Macron (@EmmanuelMacron) August 9, 2023
For her part, the Prime Minister, Élisabeth Borne, went to the scene. "My thoughts are with the victims and their loved ones", she has published on the same social network.
Join EL PAÍS to follow all the news and read without limits.
subscribe
Follow all the international information on Facebook and Twitteror in our weekly newsletter.

#dead #fire #summer #residence #disabled #eastern #France