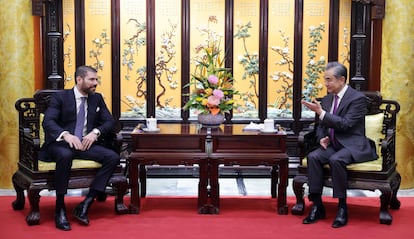 Laureano Ortega, son of Daniel Ortega, accompanied by Wang Yi, State Councilor of China, during a diplomatic visit to the Asian country, on February 9. COURTESY
"Do you want to win computers, cell phones and smart watches? Or even a paid trip to China?" Asks the propaganda of the regime of Daniel Ortega and Rosario Murillo on their social networks, where they are raffling off a trip to the Asian giant. Those interested must "send a video of less than three minutes talking about the friendship of China and Nicaragua." The call has not had much of a response because Nicaraguans have little to do with China, both culturally and commercially. The first days of August pass and the Sandinista government emphatically publicizes its relationship with Beijing, the capital with which Managua resumed diplomatic ties in December 2021. The raffle for the trip with expenses paid takes place days before China and Nicaragua formalize a free trade agreement trade (TLC), whose fine print is little known.
After breaking with Taiwan in December 2021, Managua and Beijing signed a memorandum of understanding to establish a "political consultation mechanism", a "mutual support" agreement, visa exemption and commercial cooperation. The exchange between both countries –separated by more than 14 thousand kilometers– was 760 million dollars in 2022.
The balance is in deficit for Nicaragua. In the first half of 2023, exports to China were $6.7 million. A figure that is tiny compared to Nicaragua's relationship with its main trading partner: Washington. Just to give you an idea, in the same period of time Managua's exports to the United States reached almost 1,000 million dollars. The FTA with China is viewed with great skepticism by Nicaraguan and international analysts. Above all because they do not believe that it will generate significant income for the Nicaraguan economy and, instead, it will further strain relations with the United States.
In fact, the Sandinista presidential couple has strengthened diplomatic relations with dictatorships and authoritarian regimes, such as North Korea, Iran and Syria in recent months. Faced with international isolation, the leaders "seek to legitimize themselves with these alliances" that challenge Washington. This foreign policy leaves almost zero financial and commercial benefits to the Nicaraguan State.
China promises growth
The Chinese Ministry of Commerce defended the FTA with Nicaragua. He said that it "will provide an institutional guarantee for economic and commercial exchanges" between the two countries and "will help to improve the level of economic agreements." Beijing's calculations are that the growth of the Nicaraguan Gross Domestic Product (GDP) could increase by at least two additional points, originally projected at between 3.4% and 3.5% for the period 2023-2026.
Join EL PAÍS to follow all the news and read without limits.
subscribe
Little is known of the details of the deal. In principle, the products that Managua will be able to export without tariffs are divided into seven sectors: beef and edible animal offal; crustaceans; shelled dried leguminous vegetables; peanut; rum and other beverages obtained from the distillation of sugar cane; clothing; and electrical cables and conductors.
On the other hand, for China it is more onerous: it will be able to export to Nicaragua without tariffs, among other products, insecticides, herbicides, plastics and raw materials for the production of textiles, technologies and toys. The list of 78 Chinese products is divided into more than 20 groups that include live plants, fresh or chilled vegetables, prepared and preserved fish, confectionery, malt extract, pasta, cereals, biscuits, mushrooms, sauces, seasonings, and much more.
Margaret Myers, director of the Asia and Latin America Program of the Inter-American Dialogue, participated last week in a forum called China in Latin America: Reality and Trends in Costa Rica and Central America, promoted by Expediente Abierto and the Friedrich Naumann Foundation in the Costa Rican capital. . The expert stressed that the size of the Central American market is miniscule to obtain benefits from China. "Beijing is interested in the region for a geopolitical reason of advancing in the zone of direct influence of the United States, China's true competitor in the world," she said.
Even an ally of the Ortega-Murillos is skeptical of the relationship with China: the president of the Central American Bank for Economic Integration (CABEI), Dante Mossi, said that the Central American countries have not obtained any significant gains from their relationship with China in matter of trade investments after breaking with Taiwan.
China sells more than it buys
Felix Maradiaga, exiled political prisoner and former investment adviser for a private firm in China in 2015, cited the commercial exchange between China and Costa Rica as an example. "San José only places 2.5% of its exports in that market, which last year totaled 17,901 million dollars. However, China supplies 13.2% of its imports, a bill that last year totaled 24,744 million," said the former presidential candidate.
"That is significant," continued Maradiaga, "because Costa Rica is a larger producer of goods and services than Nicaragua and has a stronger economy. How much will Ortega be able to sell to China compared to Costa Rica? I do not think it will exceed 300 million dollars in sales, while trade between the United States and Nicaragua reached a record of 8,304 million dollars in 2022, with which I do not think that Beijing will replace Washington in that balance," he said. Maradiaga.
Therefore, experts agree that Managua will be a "cheap trade" partner for the Chinese, who also seek to annihilate Taiwan's recognition and ensure Nicaragua's vote in international forums such as the United Nations. Hernán Alberro, independent researcher and administrator of the China Index platform, added that the FTAs ​​with China "are not free trade agreements, but trade restrictions on products that China will not allow to enter its territory."
"These are agreements that are generally more favorable to Beijing, which sells cheap and low-quality products that it cannot sell to Europe or the United States due to quality controls in those markets," Alberro explained. "In Latin America and African countries, the FTAs ​​with China generate a contrary flow of trade, it is more what China sells than what it buys."
However, apart from these questions, the raffle for a paid trip to China has occupied the propaganda of the Ortega-Murillo regime. It is an attempt, says former opposition legislator Eliseo Núñez, to fabricate a feeling that Nicaraguans are gaining from this "closeness" to distant China. "It is a manipulation (…) they mean that the United States does not raffle trips, but China does. However, Nicaragua's transactions with China do not solve the country's economic problem. They are infinitely smaller transactions compared to those of the United States", points out Núñez, exiled in Costa Rica.
Subscribe here to the EL PAÍS America newsletter and receive all the latest news in the region.
#expenses #paid #trip #China #trade #agreement #Daniel #Ortegas #international #strategy