William Friedkin, who was one of the most famous and prolific directors of the 1970s and 1980s, died at his home in Bel Air, Los Angeles, California, this Monday. He was 87 years old.
Born in Chicago in 1935, he became known thanks, especially, to his work in front of The Exorcist (1974), one of the cult films of the 20th century, as well as for Against the drug empire (The French Connection, in the original), from 1972, with which he won five Oscars, including Best Picture and Best Director, the only one of his career. His death has been confirmed by the dean of Chapman University, a friend of his wife, producer Sherry Lansing. Friedkin belonged to the generation of Hollywood film modernizers who came to theaters in the 1960s and 1970s, such as Brian de Palma, Martin Scorsese, Francis Ford Coppola and Michael Cimino.
Friedkin's career was based, over four decades, on four dozen films and also on television, which he always appreciated. The golden age of him took place from the early sixties to the late nineties. The dark cinema, with the cities of the United States many times as a setting, was his signature. He started his career in 1962 with TV movies like The People vs. Paul Crump (The people, the prosecution, against Paul Crump) and with chapters for series, and quickly his career was on the rise. That allowed him to direct his first film, Good Times, which would be a jarring note from the rest of his career: it was a musical with Cher and Sonny Bono, in 1967. His first big hit on the big screen came soon after, in 1970. , thanks to the film adaptation of the play from a couple of years earlier The Boys in the Band, one of the first commercial films in the US to openly show homosexuality (in it, a group of gay friends take him as I gift one of them to a young prostitute, but the party begins to become cloudy with alcohol and dangerous games). After her, the doors of American commercial cinema opened for Friedkin and his two great successes came very closely.
From right, William Friedkin, an award winner for his film 'Against the Drug Empire,' with Jane Fonda, Gene Hackman and Philip D'Antoni, during the 1971 Oscars ceremony. AP
Against the Drug Empire, a police thriller set in New York, was the film of the year in 1971, starring Gene Hackman (his role as Jimmy Doyle earned him an Oscar and a Golden Globe), Roy Scheider and Surprisingly, the Spanish Fernando Rey, whom he always had on a pedestal and with whom he maintained an intense friendship; Upon his death in 1994, she said of him that he was a "brave, full of courage" man, as well as "a role model as a person and as a professional." Thanks to his work on the film, Friedkin won the Oscar for best director, beating Peter Bogdanovich for The Last Picture and even Stanley Kubrick for A Clockwork Orange.
The title gave him a free hand to make what would be the masterpiece of his career, The Exorcist, in 1973. It was he who wanted Max Von Sydow as Father Merrin, instead of Marlon Brando, thinking that the then superstar would monopolize too much prominence in a film that he wanted more choral. It came to achieve a dozen Oscar nominations, including best picture, director, screenplay, leading and supporting actress, supporting actor… but it only achieved best adapted screenplay – from William Peter Blatty, who had also written the original novel — and better sound. Friedkin was snatched from The Sting, both in the Best Director and Best Picture categories.
The filmmaker came to tell in several interviews that the idea of ​​making The Exorcist, with the then novel script signed by Blatty, was revolutionary. "It was very difficult to decide to do it (…), it contained profanity, a 12-year-old girl saying and doing profanity, that had never been touched. The idea of ​​the crucifix and the vagina in the same frame of the film implied clear moral decisions, and when you're telling a story you believe in, you don't stop. Moral considerations do not stop you ", he stated in Vulture five years ago. In 2001, after the theatrical release of The Exorcist with previously suppressed scenes (making more than 100 million dollars at the box office), both Friedkin and Blatty sued Warner Bros, accusing them of not having paid them what they were entitled to for that new version. . The director demanded $800,000; the scriptwriter, almost three million. The lawsuit was dismissed a year later. This coming September, for its 50th anniversary, the film will once again release prints in 4K and will have a sequel in October.
Linda Blair listens to instructions from director William Friedkin during the tense filming of 'The Exorcist.'Michael Ochs Archives (Getty Images)
The film placed him in the Olympus of the great horror film directors of all time and brought him a handful of awards and recognitions, including several honorary awards to recognize his career: Palm Beach in 2000, Locarno in 2009, Karlovy Vary, in the Czech Republic, in 2014, or the honorary award in Sitges in 2017. Since August 1997, it has had a star on the Hollywood Walk of Fame. Friedkin opened the Venice Film Festival in August 2013 with a screening of Cursed Burden, a film he directed in 1977. Then, on his 78th birthday, he received the Golden Lion for his entire career as a filmmaker. "He revolutionized popular genres such as police or horror," said Alberto Barbera, director of the festival.
Friedkin was married four times and nearly married twice more. The first in the seventies, with the daughter of director Howard Hawks, although they ended up canceling their wedding; the second, right after, with an Australian choreographer. His first marriage, the most publicized, was with the also actress Jeanne Morreau, between 1977 and 1979. With his second wife, the British actress and writer Lesley-Anne Down (known for starring in the eighties series North and South), he spent three years, from 1982 to 1985, and with her he had his only son, Jack. Between 1987 and 1990, he was married to the writer and reporter Kelly Lange, one of the first female presenters on the West Coast of the US. His last marriage, the longest, has come to date since 1991, when he married the actress, but above all a producer, Sherry Lansing, a producer who became CEO of Paramount in the 1990s and also of Universal Music.
Friedkin also had a strong connection to Italy through the world of opera, which he loved and was very knowledgeable about. So much so that in 2017 the Italian director Federico Salvetti made a documentary called Puccini by William Friedkin, where he narrated his passion for this Italian composer and musician. In 2016, he was recognized with an award for his operatic passion in the Italian town of Lucca.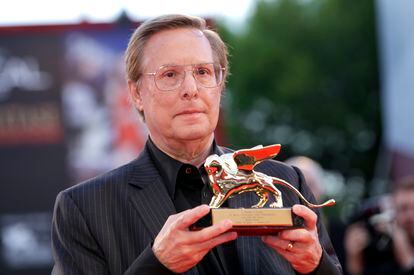 William Friedkin poses with the Golden Lion at the Venice Film Festival in August 2013. Associated Press/LaPresse (APN)
It was precisely during his trip to collect that award that his latest work was conceived. In his last film, The Devil and Father Amorth, from 2017, he tried to film a real exorcism, as he had been waiting for 45 years. In the spring of 2016, while on that trip in Italy and thanks to the intervention of a theologian friend in Rome, he got an appointment with Father Gabriele Amorth, a Vatican exorcist for more than three decades, and who happened to be a big fan of The Exorcist. He allowed her to record, with a small camera, an exorcism of a woman named Cristina, which he later turned into a documentary film with the help of expert testimony, psychologists and doctors. I understand that there are skeptics. I am not, "he told the British newspaper The Guardian in April 2018, in the promotion of what would be his last film. "I don't make movies nor do I move my life as a skeptic. I'm not interested in skepticism, that's something you are born with or acquire in life… You have no fucking idea, and neither do I. No one knows if there is an afterlife, or heaven, or hell. What is our purpose here? Nobody knows. Nobody has a clue."
All the culture that goes with you awaits you here.
subscribe
Babelia
The literary novelties analyzed by the best critics in our weekly bulletin
RECEIVE IT
#William #Friedkin #director #Exorcist #French #Connection #dies