"If it weren't for those of us who came from abroad, there would only be grandparents here. And in the future there would not even be grandparents. This has to be energized, but it has to be done well. You have to turn it into a place where people want to work and live", says Pau Gómez. Born in Mataró, Barcelona, ​​this 39-year-old man today lives with his family in La Pobla de Segur, a municipality located in the Lleida region of Pallars Jussá, in the Pyrenees, which is one of the most unpopulated in Catalonia and the one with the most uninhabited nuclei. There, Gómez works training sports technicians in mountaineering and climbing at the Mountain Sports Center Institute (ICEM), where he himself obtained his degree. Currently, the institute has an enrollment of 800 students per year and more than 3,000 have been trained in the last decade.
This center, which provides training cycles under the special sports regime, is one of the examples given by Rodrigo Plaza, head of Vocational Training (FP) of the Federation of Teaching of Workers' Commissions (CC OO), to demonstrate that FP is " an indispensable tool for socioeconomic transformation in rural areas". In a report published this June, the union claims this teaching as a key instrument to repopulate rural Spain, and also to curb unemployment -25.5%- that characterize it. "The objective of FP is to train current and future workers, either salaried or self-employed, for the qualified performance of the various professions. It is clear that training them in the rural environment and that they can stay there is a way of repopulating it", evidences Plaza.
Although the rural environment represents approximately 85% of the national territory, less than 16% of the Spanish population lives in it, according to data from the 2020 census, since most of the 48 million inhabitants that Spain has are concentrated in urban areas. and coastal, such as Madrid, Barcelona or Valencia. Meanwhile, rural areas continue to empty out and have demographics that are increasingly male and older than urban ones. This depopulation goes beyond the abandonment of towns.
More information
It also affects, among other things, people's quality of life, as Gómez shares. "It is not easy to live here, in Pallars. It is very difficult to find stable jobs. In the end, tourism in the area is very seasonal. In winter, we have skiing. In summer, adventure. Rafting, climbing… But nothing is stable, and also the working conditions are not good. On the other hand, it is difficult to find housing at an affordable price. Many are second homes or dedicated to tourism, and that makes everything more expensive. As for services… we are the last in line. The nearest hospital, for example, is an hour's drive from my house, "he laments.
At the ICEM, celebrates Gómez, students come from all over. "There are Ecuadorians, Argentines, Chileans, French. From Spain come Andalusians, Aragonese, Madrid. Because we are a reference center. Now, do people end up staying? Well, some do and others don't, "he replies, somewhat hopelessly. Despite the difficulties encountered by the students, Plaza, from CC OO, is more optimistic: "The center of Pallars is the mountain school where the most guides from all over the country are trained. Then they stay to live and work there. It is a pole of attraction and a small economic engine, as military schools were in the past".
In order to repopulate rural areas, which is one of the requirements to meet the 2030 Agenda and its Sustainable Development Goals, countless initiatives have been developed, such as promoting employment and rural tourism, improving technologies, diversifying sectors economic, or encourage the entrepreneurial ecosystem, among others. Now it's up to the FP. According to Clara Sanz, General Secretary for Vocational Training of the Ministry of Education, this teaching is "absolutely growing". It has grown 68% since 2012 and 20% only in the last four courses, and today it offers more than 150 training cycles within 26 professional families.
With the aim of responding to the needs of the labor market in the coming years, in which 60% of jobs will require intermediate or higher vocational training, the new Organic Regulation Law came into force in March 2022. and Integration of the new FP. Basically, the new FP is more flexible, has more practices and allows students to take and combine training sessions of a few hours. In this way, each student, depending on their needs, will be able to access one degree or another. "A la carte", summarizes Sanz.
One of the objectives of the regulations, he says, is to make VT a "dynamizing element" in rural areas. "In the end, VT in rural areas keeps young people from the territory in the territory and attracts young people from outside. In addition, it fixes the workers, generates employment, creates innovation and entrepreneurship, and saves companies ", he confirms.
Another option: boost the rural from the cities
Ricardo Fernández is a professor of Cooking and Pastry at the Carlos Oroza Integrated Vocational Training Center (CIFP) in Pontevedra. In his opinion, it is just as important to revitalize rural areas from the towns as from the cities. "Although we are located in an urban environment, we teach our students to work with small producers in rural areas. As with Antonio Cavada, who has an organic garden called El calabacín rojo about 15 kilometers from our center. It's him and four employees. We buy them fruits, vegetables and vegetables. We choose them and when the students leave the training environment and start working, they replicate this policy ", he introduces.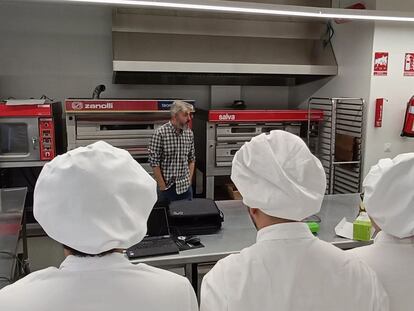 Ramon Rendo, a small producer of ducks and duck derivatives, goes every September to give a class at the Carlos Oroza Integrated Vocational Training Center (CIFP) in Pontevedra.
They do the same as with El Calabacín rojo, continues the chef, with Ánades Galicia, a small Galician agri-food company dedicated to the production of products derived from duck that is in the village of Vilardevós, in the southeast of Ourense, on the border with Zamora. . And also with Pazo de Vilane and Casa Grande de Xanceda, from whom they buy eggs and dairy products, respectively. "This policy helps small producers in rural Galicia, who in the end contribute to the economy and establish a population. By working with their products, we help their initiatives to consolidate and establish themselves", concludes Fernández.
The private, on the rise
The place where people are born and reside, says the CC OO report, determines their education, training and opportunities throughout life. "In Spain there are as many VT models as there are autonomous communities, with different regulations that range from the curriculum to the relationship between students and companies, as well as the center model and its integration or separation from secondary schools", Plaza develops. , from the union, which defends that the new regulations must have as an objective equity in access and training of the population in low-intensity territories and at risk of depopulation.
In this sense, the federation is especially concerned that the percentage of students enrolled in public centers for each stage and modality varies "so much" depending on the autonomous community and province. "The differences are gigantic," says the person in charge of CC OO. In Burgos, only 43.5% of Basic Vocational Training students are enrolled in public centers; in Palencia, 52.1%; and in Salamanca, 56%. In Teruel, Soria, Cáceres and Lugo, 100%. With the face-to-face Intermediate Degree, the same thing happens. In Burgos, only 47.3% of the students are in public centers; in Palencia, 58.6%; and in Salamanca, 65.7%. Teruel and Soria have 100%. And with the Higher Grade, the same. The percentage of students enrolled in public centers is lower in Burgos (61.9%), Palencia (76.1%) and Salamanca (77%). In Teruel, Soria and Zamora, 100% of students are enrolled in public centers. "These figures are a very clear indicator of the privatization of education in some regions", he summarizes.
Furthermore, in the last decade, several provinces have closed VT lines in public centers and have opened lines in private centers, leading this trend in Jaén and Badajoz. "If public and private centers are lost, you say 'it's normal'. But if public ones are lost and private ones open, it is because the Administration is closing public ones and authorizing private ones", reflects Plaza. This is, she argues, because in some places there is an evident public investment deficit. "In urban centers there are so many people that there is a lack of public places and in rural areas there is a lack of public supply, because the administrations do not provide the places according to demand, but rather according to the needs of the companies. Thus, people who cannot access professional training that they want to study in the public sector go to the private one, if they can pay for it, since the private sector is oversupplied and can program at the request of the students", she develops.
Plaza warns that this generates "great inequalities." "Who can, pays; Whoever doesn't ends up in unwanted formations or failing to study ", she denounces, and remembers that we must be "careful "with certain "perverse" speeches, from the administrations. "A kid who wants to study nursing but doesn't get the grade for the public school and can't afford the private one, they'll try to convince him to study welding, which will give him a job as soon as he turns 18. Nobody will try to convince a kid with money of that".
A stable investment
"It is essential to have a stable investment that favors a supply of sufficient public services that allow professional qualification and the activation of the local economy," reads a CC OO press release. In this sense, Plaza explains that opening a FP center is expensive. "It must be a success. To do this, either it must respond to the needs of the productive fabric ―if there is a wine industry, let's think about opening a center related to wine―, or bet on specializing in a sector that does not have the area, thus turning the center into a pole attraction, or try to promote sustainable tourism in the area," he says.
On the other hand, CC OO assures, it is crucial to "strengthen collaboration between the public and private sectors, in addition to starting up the updating of VT qualifications — preferably, those related to digitization, industry 4.0, intelligence artificial, the ecological transition or the circular economy—, as well as strengthening training stays in companies and entities with rights and employment relationship, promoting the permanent accreditation of skills and expanding the public offer through the design of a VET map".
Subscribe to continue reading
Read without limits
#Vocational #Training #depopulation #rural #Spain