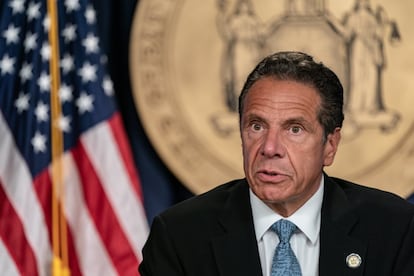 Andrew Cuomo, when he was governor of New York, in an undated image.
Along with the Mamma and the pasta, the Famiglia is one of the pillars of the Italian holy trinity (calcium always comes later). Beyond the cliché and the cliché, or the indelible portraits of masterpieces such as those of Mario Puzo and Francis F. Coppola, the family is a dogma of faith for the majority. And a clan as Italian-American as that of the Cuomo could not disappoint when it came to publicly demonstrating that blood ties are above anything, even decorum in politics. Andrew Cuomo, governor of New York disgraced by accusations of sexual harassment, counted on his defense with two of his brothers, the journalist Chris Cuomo, who literally risked his position – and lost it – at CNN with inside information to help him , and Madeline Cuomo, whose signature has just been discovered in a massive campaign to discredit all the women who demanded justice against the then Democratic governor.
It could be read as a summer snake, with the serious stuff going on in the world right now. But the discovery, revealed this Monday by The New York Times, that Madeline, 59, orchestrated the smear campaign of all the women who once accused her older brother of sexual abuse or, at least, of sexual conduct inadequate, it's a sweet treat for reporters who cover New York politics. Especially if you add the image of Madeline urging behind the scenes a group made up of women between the ages of 50 and 70 to coordinate the attacks against the whistleblowers. Not happy, she got a note, assuring that her brother appreciated that hard work of activism and mobilization called the Cuomo cause. The three of them, Andrew, Chris and Madeline, are together with two other children of Mario Cuomo, who was also the governor of New York for a decade.
The veteran Democrat resigned in August 2021 after several women accused him of sexual harassment. A report by New York State Attorney General Letitia James, also a Democrat, revealed that Andrew Cuomo had sexually harassed nearly a dozen women, including current and former government workers, through unwanted touching and inappropriate comments. Cuomo and his aides have also reportedly retaliated against at least one of them for going public with their allegations.
Many of the women who accused Cuomo began to be ruthlessly harassed online. Behind it was a grassroots group called We Decide New York (We decide New York), and made up mostly of women in their 50s, 60s and 70s. Galvanized by the governor's good management of the pandemic, which made him a hero across the country, the group came out in the spring of 2021 from the first voices against it. For the women of We Decide New York, unconditional in their support for Cuomo, the success of managing the emergency could not be marred by the complaints of a few workers or former collaborators of their idol.
And, famiglia obliges, who better than Madeline to lead the offense. More than 4,000 text messages, emails and voice notes to which the New York newspaper has had access show Madeline Cuomo's predicament on the group and especially her guidelines on her activity on social networks. The little Cuomo helped WDNY plan the Internet posts and provided group members with arguments and answers if she had to speak to the press, but she always did so in secret, behind the scenes.
Matonismo
Join EL PAÍS to follow all the news and read without limits.
subscribe
Until, from so much squeezing – he even went so far as to propose scaring one of his brother's denouncers, to shut her mouth -, the women began to feel uncomfortable. And here another Italian cliché would enter where they exist: the mafia. Because Madeline's behavior bordered on a bullying typical of Cosa Nostra. Not content with describing the women complainants as "despicable, unsophisticated, homebreakers or barbies", among other macho epithets -that other reality, not at all topical, from the south-, a year ago he proposed to "scare" some "so that they shut up right away".
Madeline Cuomo's aggressive, mobster tactics provoked a contrary reaction from her acolytes. Far from closing ranks, they began to collect sails. Last September, one of her brother's whistleblowers, Charlotte Bennett, sued the group and Madeline circulated an image of herself, scantily clad and partying in a bar, to stimulate the foul-mouthed instincts of her allies. . But she went wrong. "Even a fox has the right not to be sexually harassed," the women in the group responded to Madeline, siding partly with Cuomo's victim.
The sister, meanwhile, had developed quite a fondness for leadership, as evidenced by the fact that a year earlier, in the spring of 2021, she also used the group to voice urbi et orbi her brother Chris's arbitration claim against CNN. It didn't do them much good, because the journalist, and host of the late-night prime-time show, was fired from the network for helping the governor get around sexual harassment allegations through insider trading, a flagrant violation of journalistic ethics.
Andrew Cuomo went from hero of the pandemic to villain in a nanosecond -not only because of the abuses, but also for masking the numbers of deaths from covid in residences, much higher than announced- and from time to time he can be seen in an act fundraising, toying with the idea of ​​a return to politics, or letting others cherish it for him. Chris Cuomo was hired by another channel, from whose pulpit he lectures the audience daily as he used to do in his time on CNN. As for Madeline Cuomo, it is unknown what she does in her free time, now that her partners have turned their backs on her. At least she has the Famiglia.
Subscribe here to the EL PAÍS America newsletter and receive all the latest news from the region
Subscribe to continue reading
Read without limits
#famiglia #Cuomo #blood #ties #unleash #online #lynching