In a matter of hours, social networks have been flooded with a name, which is none other than José Luis Perales. Various media have been the ones that have raised the alarm, assuring that the Spanish singer-songwriter had died as a result of a myocardial infarction.
Nothing could be further from the truth. Our beloved José Luis Perales has not died. A fact that has become known thanks to a Spanish media, that he has had the opportunity to speak, personally, with his son Pablo Perales. It was he who, incredulous, assured the following: "We are in London having dinner together," he assured.
It all started when various Latin American media outlets gave the Spanish producer and singer-songwriter for dead. Far from everything stopping there, they even confirmed the supposed cause of death: a myocardial infarction. Since then, many are the journalists and media outlets that have echoed this sad event. An event that has not occurred.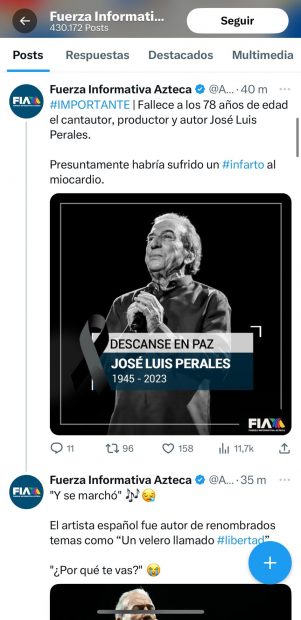 Far from everything remaining there, we have been able to witness how the Wikipedia page has been updated, announcing the presumed death of the Spanish singer-songwriter. Something that, of course, demonstrates the virality of social networks, but that not all the information that is shared is true.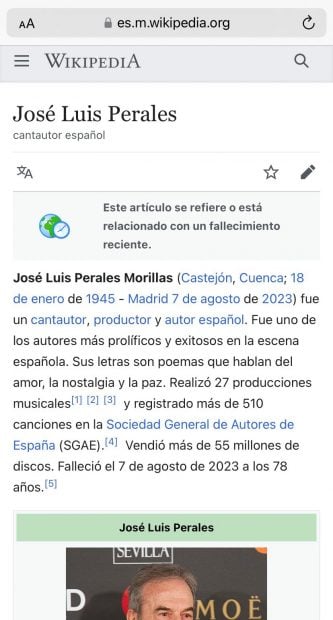 Far from everything stopping there, and beyond Pablo Perales's conversation with the editor of La Razón, the singer-songwriter himself wanted to show his face. He has done it through the publication of a video in which he made it clear that the news was completely false. In addition, he added: "I am more alive than ever."
🚨#NOW | José Luis Perales from London regrets that the false news about his death has spread. pic.twitter.com/rOEExzW1Xj
— Adela Micha (@Adela_Micha) August 7, 2023
More articles related to HappyFM
Latest on HappyFM
Last News

#José #Luis #Perales #died #hoax #media #world #swallowed