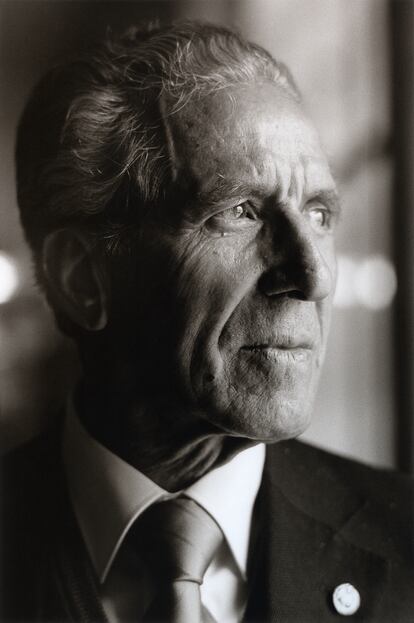 Federico Martín Bahamontes, in an image from an interview conducted in 2008 and provided by the photographer Timm Kolln.Timm Kolln
Federico was a force of nature, like torrents, like volcanoes, like lightning and thunder. His teammates told him, if I had your legs, Federico, Amalio Hortelano told him after playing an American in the velodrome of the Palacio de los Deportes in Madrid, in which neither Poblet nor Bover, the greatest on the track, could take them for a spin They wanted his legs, his quadriceps, an ingot of steel, hard, hard, protruding under the foam of his shorts, they wanted his muscles, they didn't want his head, capricious, he was so stubborn. So here I stay and I don't move, and there was no one who could convince him, such a daughter of hunger and picaresque, of fast business, of black market, of the need to eat cat and believe it hare. But how difficult it is to talk to you, Federico, Julito Jiménez would say to him, how difficult it is to make you see that something that goes well for me doesn't have to go badly for you. He didn't listen to Julito, Federico, he only believed Fausto Coppi and followed him. To Coppi who went to see how the greyhounds ran the hares, and to eat them in the winter of 1959 in the fallow land of La Sagra.
Climbing into an open grave. He obeyed Coppi who told him, don't be simple, Federico, don't be stingy, let your ambition, your great ambition, wake up, forget about trifles like that habit of being only the king of the mountain, you have to be the king of the Tour . You will be the king of the Tour.
When we get old we become chives, we delve into our memory, we search in our lives for events that we would believe to be exceptional, unique, actions that made us believe different from the masses and that once remembered allow us to admit ourselves, to think that we have done something that justifies our passage through the earth. For some, this exercise costs us an infinity, and we settle for a ridiculous anecdote that we repeat and repeat; For others, for geniuses like Federico Martín Bahamontes – Alejandro was born in a road laborer's booth, he remained as Federico for everyone and for history because a funny guy started calling him Fede on a whim and he stayed with Fede – coming up with unique actions was so simple as breathing The exception was his life, and ours of followers and admirers, and his memory was ours. Although remembering his exploits had become his favorite exercise, he didn't even need it: we all remembered his ice cream at La Romeyère, his Puy de Dôme, his lap of honor in the Parc des Princes, his duels with Charly Gaul, his fights with Loroño, the rhythmic swaying of his straight shoulders climbing the Tourmalet, his stubbornness as a rebellious and pampered child sitting in a ditch on the Tour with his arm aching and his pride, his refusal to continue pedaling even though Luis Puig, the coach and federation who became president of the International Cycling Union, demanded that he return to the bicycle and that he do it for Franco, who had turned Spain into a barracks, its citizens into subjects, to order military in the only law, or that he did it for Fermina, which was his life.
Bahamontes began to die the day Fermina died, her Fermina, the Fermina that all of Spain spoke of on July 18, 1959, so elegant she, with her dress made by the best dressmaker in Toledo in the gallery of the Parque de los Príncipes . She, the wife of the first Spaniard to win the Tour de France. He handed her the winner's bouquet of flowers and her, Bahamontes remembered her absence on the day in May 2018 when they inaugurated the monument that took so long to erect their city on the heights of their Toledo. Fermina was already in the hospital, and Federico agreed with her biting irony. "I had to wait longer to have this monument than to be able to marry Fermina, and then I had to wait seven years," he said. "And, on top of that, from when they told me they were making the statue to now, two years have passed…"
Before saying a word to anyone who came to chat with him, Bahamontes would shake his hand, not so much to greet him politely as to measure it. The hand, he explained while squeezing with his huge one, is the mirror of the soul, the hands speak, to be a cyclist you have to have big hands, to be something in life, to succeed with women… He smiled mischievously afterwards -Federico, the Picador, Poulidor called him—and he went on talking about how bad sex was at the races, about how he sewed the fly of his pajamas to escape lonely temptations on Tour nights. Examining the hand, Bahamontes looked into the eyes of his interlocutor, and measured his pupil, his dilation. Oh, the stimulants, he exclaimed, who was doping with carajillos, teas and Maria cookies, how bad. Look at me, how healthy and strong I am, and I was 79 years old then and I was as stiff as a stick, and all my rivals are there, raising hollyhocks, Gaul, Anquetil, Bobet… They all survived.
Fermina, Tourmalet, Puy de Dôme, Parque de los Príncipes, and the Porta Visagra as synonymous with the greatest possible honor… Bahamontes introduced into the everyday language of Spain in the 50s and 60s words that have never left him, nor his epic meaning, lonely, unfathomable feat, suggestive of wondering reverie. And none of the kids born in the 1940s, who mourn and remember him today, and tell everyone who wants to hear them, he, Bahamontes, was my first sports idol, has forgotten those words. Bahamontes nailed them to his memory in a poor and hungry Spain, as many years later he opened the eyes of so many on the true history of Spain when he began to loosen his tongue and recount his hunger, his years in Madrid during the Civil War living all , his parents and his three sisters and he in a car, his father on the wall saved at the last minute – "I have seen when I was nine years old how they caught my father and wanted to kill him against the wall," he recalled. "I still remember that scene, my sisters holding him by the pants while they cried"-, his father, a road laborer building the Ocaña highway with Republican prisoners punished for forced labor, defeated, his black marketeer, his bike loaded with vegetables from the market up the slope of zocodover. Before being forever the Eagle of Toledo.
You can follow EL PAÍS Deportes on Facebook and Twitteror sign up here to receive our weekly newsletter.
Subscribe to continue reading
Read without limits

#Federico