"I would rather dance here with my friends a thousand times than have a slimy straight guy next to me." It's almost four in the afternoon and Raquel leads a lively group of friends from Sitges (Barcelona) in one of the pools of the Illa Fantasía water park (Vilassar de Dalt, Barcelona). "It's my ninth Circuit", adds the captain of the group, as if the invisible stripes of the largest LGTBIQ+ festival in the world hung from her fantasy bikini, which this year celebrates its fourteenth edition and has brought together more than ten thousand people at its party big, Water Park Day. A day to show a lot of muscle (and a lot of work) on tiny swimsuits in favor of sexual and affective diversity.
From left to right: Fran, Itziar, Raquel, Estela, Maria and Roger (in the foreground); a group of friends who come from Sitges. For María it is the first time, the rest are already veterans.Albert Garcia
Not even Raquel, Estela, María or Itziar (all cisgender and heterosexual) care in the slightest that, practically and with the naked eye, 99% of the more than ten souls who walk alongside them in that room are gay men. They come willing to give everything, but in another way. "They don't come here to flirt, they come here because they play the best music and you have the best party," Estela points out before Roger, one of her friends and another festival veteran, adds the finishing touch she needed: "Girl, what a come those who want; I, the heteros, also eat them ", he says, to immediately clink their plastic beers and ask the journalist to write down that phrase and thus record her eloquence. In the background, a young man slides down a slide executing various voguing steps. From the speakers he blasts the bass drum of Pete Tong feat. Cookie's Lola's theme. Let the house not stop, the Circuit is already taking off.
"At a gay party they will not only not sexualize you, they will make you feel like the sexiest woman in the room," says Natasha, who comes from London to dance all week at Circuit.Albert Garcia
The festival brings together more than 10,000 people on its big day: Water Park Day.Albert Garcia
What leads a straight woman to drop into the largest concentration of partying gays in the world? Because the case of the residents of Sitges willing to dance everything is no exception. "There's no better place to have a good party than to go somewhere and be surrounded by gay men," says Natasha, recently landed from London. It is her first time at the festival and she visits it with her friend Christopher of hers. "He is my best friend and his friends are too. Whenever I'm out with her community it's the best: a gay party is the safest space where a woman can be found. Not only will they not sexualize you, they will make you feel like the sexiest person in the room," she says flatly. His group plans to attend the various parties that the festival organized by the Matineé Group and other promoters of the international gay clubbing scene (Forever Tel Aviv from Israel, Megawoof from the United Kingdom or Guapo from Brazil, among others) have organized in different neighborhoods and clubs in Barcelona until August 13. "Isn't it great to spend the holidays dancing?" says the British, as she drains her drink on the way to the big stage.
What affects the most is what happens closer. To not miss anything, subscribe.
subscribe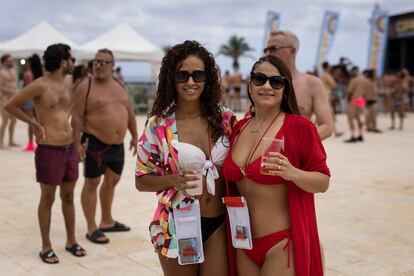 "It's our first time at Circuit, although we've already been to festivals for gay and bisexual women in Barcelona like Bonita," say Faida and Karina, originally from Belgium and Colombia and residents of Barcelona. albert garcia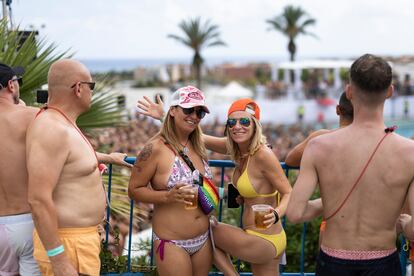 "When someone said 'safe space for women,' they must have thought of this festival," said Lily and Daria, a couple from Tel Aviv. albert garcia
A few meters away, a couple from Tel Aviv, Lily and Daria, observe the few free cubic centimeters left in the pool, the one that is always crowded with inflatables of all kinds and that stars in the iconic photos of the event year after year. They also hope to "dance freely" at a festival where 80% of the audience is international. At the Circuit, visitors from the United States, Brazil or Colombia stand out, but also those who come from countries where homosexuality is punished and persecuted, such as China or the Arab Countries. After four years of relationship, Daria finally goes to the festival after Lily has come up to four times. "It's the best party you can be at, when someone came up with the term 'safe space' for women, they must have thought of this water park," says Lily.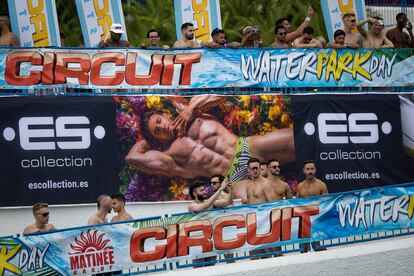 In addition to Water Park Day at Illa Fantasia (in the picture), the Circuit includes 11 parties in clubs in different neighborhoods of the city with international clubbing promoters.Albert Garcia
For Karina (Colombia) and Faida (Belgium), both residents of Barcelona and lesbian and bisexual, respectively, the Circuit is "a party paradise" where only fun and dancing matter. "We need more girls!" Shouts one of his friends, demanding a greater female presence and driving away that ghost, which has occurred in other cities such as Berlin, where the queer community has shown its suspicion that heterosexual women appropriate their safe spaces. to have fun.
"Here there is no problem or dilemma at all, what prevails is good vibes," says Ángela Ballesta, spokesperson for the Matinée Group. Although in the past the festival had a women-only bar ("and we removed it because deep down we didn't find sense in that segregation"), the organization does not have the percentage of women who attend the event, because, it says, they are not Seems like something to keep in mind. Ballesta is clear about it: "If the Circuit has proven anything, it is that heterosexual people will be welcome here… as long as they come with the desire to have a good time and with an open mind."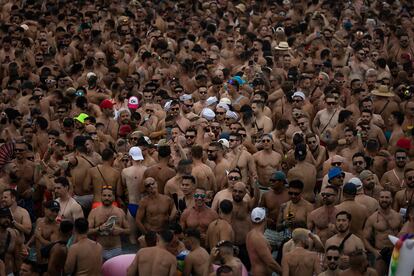 Tiny swimsuits, caps (the sailor ones were triumphant) and a lot of muscle on the main track of the Water Park Day of the Circuit Barcelona 2023.Albert Garcia
You can follow EL PAÍS Catalunya on Facebook and Twitteror sign up here to receive our weekly newsletter
Subscribe to continue reading
Read without limits

#Circuit #Barcelona #straight #woman #biggest #gay #festival #world