The fire does not stop before the desert or before the botanical jewels with musical history. The largest forest fire so far this year in California has burned part of the iconic Joshua trees, a rarity of the Mojave desert that became world famous for the album The Joshua Tree released by the Irish band U2 in 1987.
The York Fire (in the US they give names to fires) has burned around 38,000 hectares near the California-Nevada border and was 34% contained as of Thursday, the California Department of Forestry and Fire Protection has assured. (Calfire).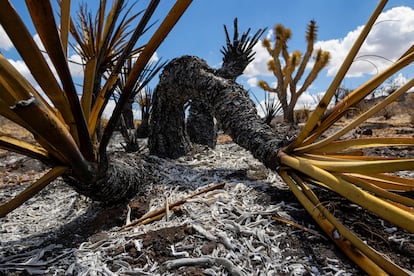 Yuccas and Joshua trees damaged by fire in the Mojave National Preserve on Tuesday.Ty O'Neil (AP)
The fire damaged this peculiar desert ecosystem and wiped out an unknown number of Joshua trees, a cultural symbol in the area that in the past was also of great importance to the indigenous people, who used them to weave baskets and sandals or even to eat. of its flowers and seeds.
The fire has burned through the Mojave National Preserve, but has not entered the better-known Joshua Tree National Park, which is about 100 kilometers away and receives about 3 million visitors a year.
"There's obviously tremendous damage to the landscape… This looks like a burning moonscape," said Mike Gauthier, superintendent of the Mojave National Preserve. "Some of them (Joshua trees) will be completely devastated. The Joshua tree is not the most durable species, so it will die." The US National Park Service has claimed that this York fire was the largest in the area since records began.
Information is the first tool against climate change. Subscribe to her.
subscribe
A yucca burns in the Mojave desert in California. DAVID SWANSON (AFP)
The trees are protected by the state of California and have captured public attention, in part due to their spiky leaves and hairy bark. Many observers have commented on its resemblance to the fictional Truffula trees in Dr. Seuss's 1971 children's book The Lorax. Known scientifically as Yucca brevifolia, they are members of the Agave family, according to the National Park Service.
"Many people connect with them when they see them. They have a very special habitat, so I think it's special when people interact with them," says Sasha Travaglio, spokeswoman for Joshua Tree National Park.
The age of these Joshua trees is a mystery. As the US National Park Service points out, "these 'trees' do not have growth rings like those found in an oak or pine." Some estimates put the average lifespan of a tree at about 150 years, but some larger specimens can be much older.
You can follow CLIMATE AND ENVIRONMENT on Facebook and Twitteror sign up here to receive our weekly newsletter

#huge #fire #California #hits #iconic #Joshua #trees