Pathologists are perhaps the most unfairly unknown physicians. Without them, the rest of the medical disciplines would not be possible, nor would there be reliable diagnoses. Today, a pathologist is that doctor who, in a matter of minutes, takes a tissue sample taken from a patient, analyzes it, determines if there is a tumor, and points out its limits. This allows the surgeon not to cut too much and remove all the affected tissue without leaving malignant cells. Pathologists save lives every day, but hardly anyone knows it because they often don't have direct contact with patients.
Now the figure of what is probably one of the most important and unknown pathologists in the history of Spain comes to light. His name was José Luis Arteta Algíbez and those who knew him describe him as sarcastic, moody and brilliant. Both his life and his death present enigmas that will probably never be solved. The trace of him seemed to have been lost forever until Luis Alfaro and Julio Rodríguez, also pathologists, have rescued the figure from oblivion.
Anyone who has the strange idea of ​​consulting the BOE of June 12, 1948 will find two characters who will be famous in the future on the same page: the rightist Manuel Fraga Iribarne and the leftist Enrique Tierno Galván, who are appointed professors that same day. Right between the two is the name of José Luis Arteta, elected professor of pathological anatomy at the University of Santiago. Arteta never occupied his place; and probably that decision made him become one of the greatest promoters of modern pathology in our country.
More information
"In the 1940s," explains Luis Alfaro, a pathologist at Hospital Vithas 9 de Octubre in Valencia, "Spanish hospitals began to create posts for pathologists who were in charge of diagnosing diseases with small tissue biopsies." "Arteta was one of the best and he was always in the right place," he details.
Dr. Arteta was one of the last disciples of Nobel Prize winner Santiago Ramón y Cajal, in whose laboratory he learned to prepare tissue samples. He was a liberal and was a militiaman on the Republican side during the Civil War. He didn't get his medical degree until 1941 and that allowed him to get rid of the purges. "He was a curmudgeon, foul-mouthed, but if he was interested in the problem that was posed to him, he did not waste his time giving detailed and precise explanations," neurologist Carlos Castilla del Pino, who met Arteta in those years, wrote in his memoirs. Del Pino writes that one day he asked him why he did not take his chair in Santiago.
"Look," he replied, "when I took office, the rector told me: Now you have to go to the archbishop to make yourself available.
"And why?" I said.
"Man, it's the right thing to do, don't you think?"
—Well, I just came (to Madrid) and screw the archbishop and the rector".
José Luis Arteta, first from the left, together with other doctors from the pathological anatomy department of the Provincial Hospital of Madrid.Juan Domingo de Toledo y Ugarte Archive
In those times, the power of pathologists began to consolidate. If the patient died, they did the autopsy and confirmed or denied the chief physician's diagnosis, if they dared to contradict him. Arteta was the pathologist for the two most famous doctors of the time: Carlos Jiménez Díaz, with whom he broke up abruptly due to a diagnostic dispute, and Gregorio Marañón, the humanist doctor to whom the maxim that the greatest invention of medicine is attributed it is the chair, because it allows the doctor to sit down and listen to his patient.
Arteta will be the author of the first article on the institutions linked to the Cajal Institute that is published in the Nature magazine, a benchmark for the best world science, in 1957. Of all his scientific contributions, the one that stands out is taking the analysis techniques of tissues learned in Cajal's laboratory to lay the foundations for intraoperative biopsy, that process of extracting a tissue sample from a living patient, freezing it, analyzing it, and coming back with a rapid diagnosis in a matter of minutes. "Arteta was one of the first to apply it and he probably saved many lives", highlights Alfaro, who has just published the first monographic study on Arteta's contributions in the Spanish Journal of Pathology.
Alfaro says that the only person who knew Arteta and is still alive is his colleague Julio Rodríguez. He is 76 years old, retired and has been one of the greatest exponents in Spain of another fundamental pathological analysis technique: cytology, based on the analysis of cells extracted from the patient. "Arteta was exactly how he appears in the photos," recalls Rodríguez in a telephone conversation with EL PAÍS. "A man with a round face, somewhat short-tempered and quite agnostic," he adds. Rodriguez was then 10 years old. He remembers that Arteta often went by to look for his father, also a pathologist, who had his own laboratory in his house in Puerta de Alcalá. "He was brusque, surly, but very didactic. Over time I have realized that he was a magnificent researcher, but like many others he is a great unknown. People don't know what pathological anatomy is; but no other type of doctor could exist without it; It would be like judging someone without a judge", points out Rodríguez.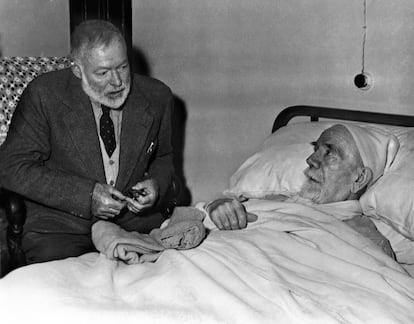 Pío Baroja receives an unexpected visit from the American writer Ernest Hemingway on October 9, 1956. CASTILLO PUCHE ARCHIVE (EFE)
Arteta was not only a brilliant doctor, but he also rubbed shoulders with great cultural figures, especially Pío Baroja, also a doctor, of whose gathering on Ruiz Alarcón street, next to the Retiro park, he was a permanent and highly respected member. .
Alfaro has delved into the memories of the Baroja family and has found testimonies that prove that Arteta was not only his friend, but also his personal doctor, who recommended treatments and even designed the femur surgery that had to be done after a fall, when he was very old.
One day, with Baroja already in bed, very ill, Ernest Hemingway appeared. Baroja, perplexed, said: "Wow, what is this guy coming for?"
The photo of the visit appeared in Blanco y Negro and Time magazines. The move outraged Julio Caro Baroja, the writer's nephew. The important thing about that photograph, Alfaro relates, is that on the other side of the bed, out of shot, were Arteta, like his friend and personal doctor, and Julio Caro Baroja.
The nephew recounted in his memoirs that the day his uncle died it was Arteta who approached him very moved and said: "Yeah." The liberal and foul-mouthed doctor Arteta would also have been the one who suggested to the nephew to remove the crucifix that someone had placed in the writer's coffin. And so it was done.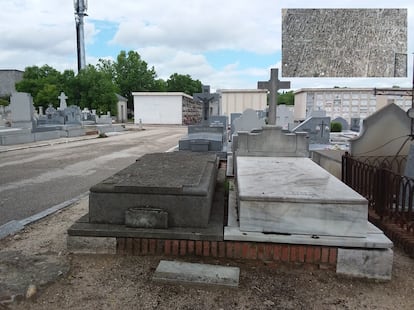 The tomb of José Luis Arteta in the La Almudena cemetery, in Madrid, photographed in 2018. Above left, detail of the tombstone. Author: Luis Alfaro
Arteta died less than a year later, at the age of 45. His disappearance is shrouded in mystery. In the summer of 1957, a piece of news from El Correo states that Dr. Arteta died because he had inoculated himself with the poliomyelitis virus to study the disease and find a cure. But that same year, in his own neighborhood of Madrid, another seven people died from the same infection; it is possible that it was a simple contagion more. "I think we cannot rule out that he accidentally pricked himself in the laboratory, but we cannot prove it," says Alfaro.
Alfaro has spent three years collecting information on Arteta and has tried to find more people who knew him, but has found no one. The doctor was married to Rosa Ayllón, a pathology technician. He had no children and no siblings are known. Alfaro explains that he has come to ask in bars and shops near Arteta's house, on Calle Princesa, trying to find older people who would remember him. The pathologist also did not have a direct disciple to continue his work. What Alfaro has found is Arteta's tomb in the Almudena Cemetery in Madrid, where the inscription can barely be read. The pathologist believes that this is the end of his investigation.
You can write to us at [email protected], follow MATERIA on Facebook, Twitter and Instagram, or sign up here to receive our weekly newsletter.

#enigma #Arteta #genius #pathology #resigned #professor #Fuck #archbishop #rector