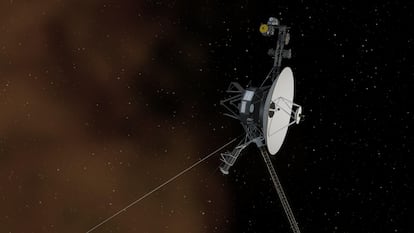 Recreation of 'Voyager 2' in stellar space.NASA/JPL-Caltech
The United States Space Agency (NASA) has reported the complete recovery of communications with the Voyager 2 probe, the only spacecraft to have reached interstellar space and visited Uranus and Neptune. Contact was lost on the 21st, when a series of commands sent caused a deviation of two degrees in the antenna.
Contact with Voyager 2, which is 19.9 billion kilometers from Earth, was interrupted after the incident, and NASA's Deep Space Network (DSN) was unable to receive data or send commands from the spacecraft. ground controllers to the ship.
More information
Last Tuesday, the DSN was able to detect a very weak signal that made it possible to confirm that Voyager 2 was still operating and maintaining its trajectory. Based on this signal, the Australian facilities in Canberra have continued attempts to send orders to reorient the antenna to the veteran probe, launched on August 20, 1977 from Cape Canaveral.
The distance of the probe forces the operations to take more than a day between the sending of the instruction, which takes 18.5 hours to arrive, and the confirmation of the reception and operation of the command, which takes the same time. Finally, the attempts have been successful and communication has been re-established.
The main instrumentation of the spacecraft is its optical elements, located on a scanning platform that protrudes about 2.5 meters from the central structure of the probe. It has cameras (wide angle and telephoto), ultraviolet and infrared spectrometer, radiometer and light detector (photopolarimeter).
The Deep Space Network communications complex is distributed, mainly, in Spain (specifically in Madrid), the United States and Australia because, approximately, the locations are separated by 120 degrees in longitude, which allows space missions to meet They are more than 30,000 kilometers away from our planet, always being watched and observed by at least one of the stations. It currently has 10 stations in seven countries.
It is not the first time that this complex recovers lost communications. In August 2016, NASA reestablished contact with the STEREO-B spacecraft after losing connection with the probe on October 1, 2014.
You can follow MATERIA on Facebook, Twitter and Instagram, or sign up here to receive our weekly newsletter.

#NASA #restores #communications #Voyager #million #kilometers #Earth