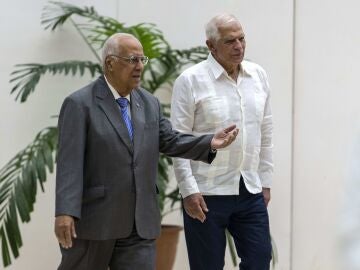 The highest representative of community diplomacy, Josep Borrell, concludes his trip to Cuba this Saturday amid strong criticism for not having met with opponents of the regime and for the little attention paid to respect for human rights. As a way of appeasing this controversy, Borrell announced during this visit that the dialogue forum on human rights headed by the EU special envoy, Eamon Gilmore, will be held in Havana in November.
The high representative's visit aims to promote private initiative that is timidly making its way on the island through small businesses and to counteract the influence of Russia and China both in Cuba and in the rest of Latin America. Precisely this will be one of the priorities of the Spanish presidency of the EU that begins on July 1. In the case of Havana, the harmony with Vladimir Putin seems to have been revitalized with the invasion of Ukraine. Moscow plans to send soldiers to Belarus to train with the armed forces of Russia's ally, and the Kremlin has sent important officials close to Putin to Havana in recent months.
Borrell's visit has been preceded by the demands of various international organizations such as Amnesty International and Human Rights Watch that the EU not turn its back on human rights and in the midst of the hunger strike of 15 opponents among the more than 1,000 dissenters who remain locked up in the prisons of the communist regime after the violent repression following the protests of July 2021. In many cases, some of the detainees have been sentenced to 30 years in prison for having been part of these spontaneous and peaceful protests.
Although this panorama is not very encouraging, the Spanish politician intends with this trip to demonstrate the validity of the Political Dialogue and Cooperation between Havana and the EU that dates back to 2016. This agreement marked the end of an era since it buried the so-called Common Position led by by José María Aznar – with the support of the countries of the East, declared anti-communists – and who made any relationship with Cuba subject to respect for Human Rights. Raúl Castro's slight opening gestures made the EU decide to change its strategy, although since then the regime's attempts to democratize have been brutally crushed.
During his visit to the island, Borrell has assured that the EU wants to "accompany the opening process" and "economic and social reforms" in Cuba, "based on mutual respect" and with the aim of contributing to the "improvement of the life of all Cubans". Brussels is going to allocate 14 million euros in aid to small Cuban businessmen.