It's Friday, but we are only counting the days until this DANA that is affecting Spain leaves and the sun returns. And not only because we can't take it anymore with this gray sky and this rain, but because we need to copy this white Massimo Dutti dress from Sassa de Osma, and for that we need sun and warmth. It hasn't taken long to steal our hearts. If the other day we dedicated an article to the style of Sassa de Osma who had become one of the best dressed at ARCO, now she has just stolen our hearts with the most beautiful and elegant Massimo Dutti dress to start June through the streets of Madrid. If we had to summarize in a few words what the style of the lawyer, designer and former model Sassa de Osma is like, it would be elegant, timeless and somewhat vintage. She married Prince Christian of Hannover, which makes her a member of the royal family, and her presence does not go unnoticed with each look that shines for her sophistication and discretion, being a benchmark for all those lovers of the most classic fashion. and elegant that will never go out of style. She has a style very similar to other celebrities such as María de la Orden, with whom she maintains a good friendship, and even like that of the journalist and founder of a communication agency, Sofía Paramio. But this Massimo Dutti dress is so elegant and for all ages, that we would still see it worn by Queen Letizia or Carmen Lomana with their extreme elegance.
Sassa de Osma is one of our references in terms of style, of aristocratic origin, this Peruvian moved to New York at the age of 16 with the purpose of working as a model and now dazzles in our country as one of the best dressed and She has shown it to us again with this look to start the last week of March. Of course, please let the sun rise again so that I can wear this white dress with a crossed neckline that is so pretty and loose by Massimo Dutti.
Structured dress with crossed straps, by Massimo Dutti (79.95 euros)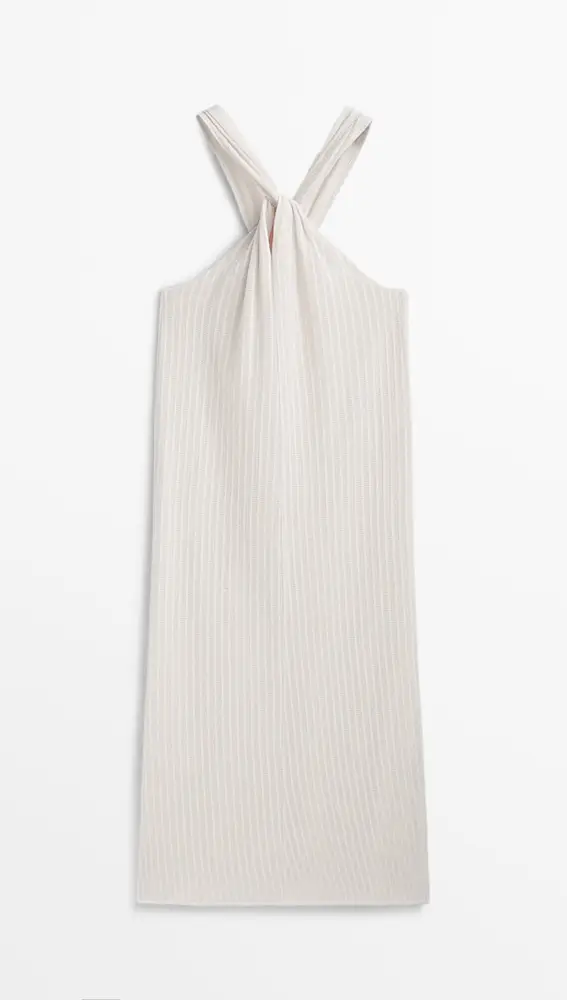 Structure dress. Massimo Dutti
A white dress that Sassa de Osma from Massimo Dutti has debuted in structured fabric and made of 100% cotton fabric.