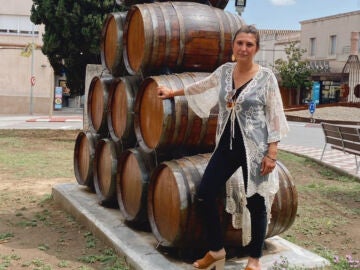 Catalonia has become kilometer zero of "squatting": it concentrates almost half of the squatters in all of Spain and this is becoming a social problem that is gaining more and more dimension. Mar Guirao, PP candidate in Sant Sadurní d'Anoia, has been forced to take the step into politics after being a victim of the "squatting": although she has already overcome the worst of her ordeal, she still suffers the consequences and aspires to change things from politics.
Guirao, who was born and raised in Sant Sadurní and is the daughter of parents very involved in the cava sector (the municipality is in Penedés, iconic for its sparkling wines), had to go to Huesca in 2011 for work reasons. And, a short time ago, she had acquired a home, with which she had taken a mortgage, so she found herself in need of renting it out to cover expenses. At first, she had a couple as tenants who did not cause any problems, but she left after a few years and handed over the management of the apartment to a property manager to rent it out.
At first, they offered him payment guarantees, but the apartment ended up in the hands of a man with an elderly mother, whom he used to claim that they were vulnerable tenants and avoid their eviction. However, the mother soon ended up in a residence and the tenant was left alone. The man stopped paying a few months after living there and registered his daughter to also stop the eviction by any means. The non-payments ended up creating a huge hole for Guirao, who was overwhelmed by the mortgage payment and utility bills (he came to receive gas bills of 600 euros).
Faced with such a desperate situation, Guirao opted for a claim: he chained himself to a bench in front of the town hall and the case began to take off in the media and, faced with so much social pressure, the man was forced to leave the apartment and return the keys. "When the media arrived, my problem began to spread," he says. However, Guirao has had to end up selling off the apartment, overwhelmed by debts: "A company came and offered me to settle a large part of the debt in exchange for the apartment and I had to accept," he explained to this newspaper.
The case has not even reached trial and Guirao is demanding compensation that allows him to pay the debts that have remained pending due to the fault of the tenant. He still has to continue facing debts from that house due to the loans he had to request to survive and now he has had to go live with his parents. He travels every so often to Huesca to go see his daughter, who lives with his father. «I am autonomous and I am separated and I have a daughter. My situation is much worse than precarious. She had to kick them out, because she had no money. My parents are still helping me », she explains.
But his case, however personal it may be, is not the only one he denounces, because recently the town has been on alert due to the pitched battle that originated in a squatter building (owned by the Ministry of the Interior because it is a former Guardia barracks). Civil), where young North Africans walked through the town with machetes.
To put an end to the problem of "squatting" and insecurity, Guirao has made the leap into politics. She is a social worker, she has developed integration projects in Colombia and León, as well as Huesca and in the Red Cross, and she had never shown excessive passion for politics. However, now that she has returned to work in Sant Sadurní d'Anoia, the PP offered her to be a candidate and she accepted her offer after the popular helped her denounce her case.
«My candidacy is arousing interest. What has happened to me can happen to anyone," says Guirao. Sant Sadurní is a town with a lot of support for independence and the popular ones now have only one mayor. Esquerra won in 2019 and JxCat was the second force. However, Guirao hopes to obtain greater representation in the City Council due to the social weariness that the "squatting" and insecurity have generated, which has led to numerous coexistence problems.