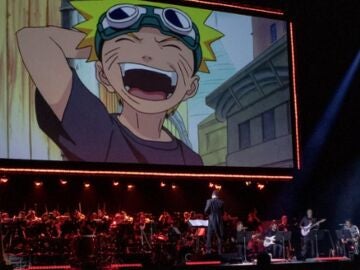 Even the most clueless do not miss the importance of phenomena like "Naruto". The manga, and then spectacular anime, created by Masashi Kishimoto is, perhaps, one of the most important Japanese cultural productions so far this century, on a par with "One Piece" or the recent "Attack on Titan", if we refer to its repercussion throughout the world. Twenty years after its premiere as an animated series, and taking advantage of the fact that its fan base is still more alive than ever and renewing itself every year, the "Naruto Symphonic Experience" will arrive in Madrid on June 3.
The concert, which has just taken France by storm, will put the forty musicians of the On Pour Tous orchestra to play in the imposing Palacio de Vistalegre in Madrid to the delight of fans of the original series and its extraordinary soundtrack and, also, for the curious and lovers in general of contemporary compositions. The event, organized by Fever (powered by) and for which you can already buy tickets on its website and App for a price of 30.50 euros, ensures more than two hours of great spectacle.
The great reception of Naruto began at its birth as a Manga, continued in the anime adaptation and its popularity was reflected in the various adaptations, films, sequels and different collections that have emerged in these 20 years of unprecedented history. In addition, one of the keys to the success of the Japanese series is its memorable soundtrack that brings together the most popular openings and endings of the anime universe, making this experience one of the most exclusive and incomparable of all time. The extraordinary story of the young Ninja apprentice, can be lived for all ages on June 3 in the capital after succeeding in several cities in France.
But this milestone in the interpretation of soundtracks in Spain would not be complete without the music acting as an accompaniment to the most epic scenes of the original anime, which will be projected on a giant screen, subtitled in Spanish and with all the brightness that the hectic scenes of action designed by Hayato Date can offer. Thus, the "Naruto Symphonic Experience" adds to the success of initiatives such as that of the Film Symphonic Orchestra, which has been touring our country for several years delighting fans of soundtracks and interpreting themes from franchises such as "Superman" or " Batman». And it is that this type of plans has more and more followers in our country, a fact that will cause great composers such as Hans Zimmer or Gustavo Santaolalla ("The Last of Us") to offer concerts in Spain in the coming months.