In Illán de Vacas (Toledo), the least populated municipality in Spain, its three registered inhabitants, who are also cousins ​​to each other, will vote on Sunday in a ballot box placed in the house of one of them —the mayor— and then they will go to eat together. In Torremochuela (Guadalajara), with six registered residents, the alderman lives most of the year alone, and divides his time between caring for his own garden and altruistic work for the benefit of the town: hiring work to expand the cemetery, fixing the humidity of the church, rehabilitate the collective oven for those who want to make bread. All destined, in fact, to a declining use. In Spain there are 21 municipalities with less than 10 registered inhabitants, according to the National Institute of Statistics (INE): eight of them (almost 40%) in the province of Guadalajara, five in Soria, four in La Rioja, two in Burgos and one in Toledo and Teruel. In all these towns, the mayor is a mixture of a hardy pharaoh and a last of the Mohicans.
Constantino Martínez decided four years ago to run for mayor of Torremochuela, the third smallest town in Spain: only six registered inhabitants, four less than in 2019. "I took the step because I saw that my town was going to disappear," explains Martínez, who He is presented with the PSOE and aspires to re-election next Sunday. Despite being 78 years old and not charging anything for his public office, he does not want the place where he was born to stop being a City Hall. His only mission is to refloat his town. In front of him he will have the PP candidate, Juan Carlos Sanz.
"To be mayor of a town like this you have to have a true vocation for public service," says Martínez as he bends down to pull up a weed from the corner of a house. This ecstaxi driver, already retired, knows every corner of Torremochuela. Although he has lived and worked for more than 40 years in San Sebastián de los Reyes (Madrid), he never broke his emotional ties with this small town of only 54 houses, and since he is alderman he lives here most of the year. He gets up at seven in the morning to take care of the garden, which he has a twenty-minute walk from his house, and then he throws himself into the tasks of the position.
On the second floor of the Town Hall, he has set up a small recreational space with books, tables and even a movie projector so that the children of the town, if any, have a place to learn and play. But he laments that most of the time there is no one: "I don't know… people don't agree with living here."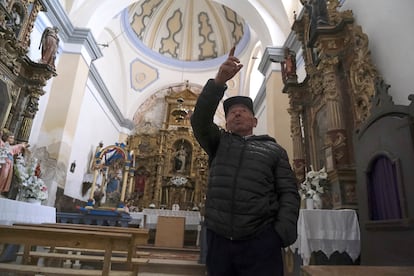 Constantino Martínez, mayor of Torremochuela (Guadalajara), in the town church. Nacho Izquierdo
Still, don't lose hope. He is excited that a few months ago they got the internet, that he has renovated the town's public oven, that he himself, with his own hands, has repaired the damp on the walls of the church, or that he has expanded the cemetery by 700 square meters. All these efforts seem in vain, since Torremochuela has not stopped losing population in these years. No one has lived in the town for a long time, except for some weekends or in the summer months. "Before, I had two friends, but they died in 2020 from covid," laments the mayor. "The good thing is that here it is very calm. Although there is loneliness that is not good either. But I knew where I was getting into, "he adds. And he concludes, without losing his sense of humor: "The problem is that, if there are no people, neither are the animals."
What affects the most is what happens closer. To not miss anything, subscribe.
subscribe
Torremochuela manages an annual budget of 12,000 euros that comes from his only income: the rent of a hunting ground that belongs to the City Council. In addition, the Guadalajara Provincial Council occasionally assumes different expenses: "Now I am fighting to get them to finance the 500,000 euros that it costs to pave a road," says Martínez. The road that he wants to build connects them with Molina de Aragón, the municipality on which the little owls depend to go to the doctor or do administrative work. In addition, for the next term, if he is re-elected, he wants to reform the municipal building that was once the teacher's house, and turn it into a hotel.
The town has three councilors: the mayor and two other councilors, also from the PSOE, who live and work in Madrid. Theoretically they should hold a plenary session every three months; in practice, they celebrate them by mobile. "The only thing I hope is to leave something for the younger ones, so that they can pick up the baton," says Constantino Martínez. When he finishes climbing the stairs that lead to the bell tower of the church, which hardly celebrates mass anymore, he grabs two ropes with his hands and rings the bells: "Let's play so they know we're here."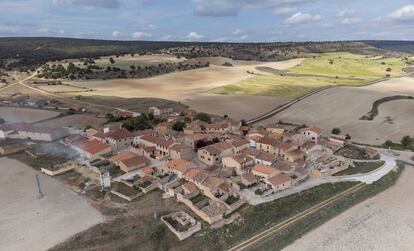 Aerial view of Torremochuela (Guadalajara), with only six registered inhabitants. Nacho Izquierdo
300 kilometers from Torremochuela, in the town of Illán de Vacas (Toledo), the mayor, Javier Bollain, 67, is preparing to revalidate his position this Sunday. The municipality that has governed for eight years barely has three registered inhabitants: Bollain himself and his two cousins, one on his father's side and the other on his mother's. The latter, Julián Renilla, was mayor between 1983 and 2015, when he handed over the baton to Javier. "My cousin asked me and I couldn't say no," sums up the current councilor. Bollain rebels against the demographic decline of his town; he protests because, without a municipal secretary, it is much more complicated to carry out registrations or request subsidies from the Provincial Council. He believes that, with more facilities, the town could have "15 or 20 inhabitants", but the reality is that only he, his cousins ​​and their respective spouses live here (who were born in other towns and did not get to register in Illan).
Next Sunday the polling station will be the mayor's house, "because it has a large hall." Voting will be fast. Illán de Vacas knows of no other party in power other than the PP. The PSOE is running, but Bollain says that he has no chance of success because the candidates are from outside. In fact, the Socialists have been voted for on occasions in regional and general elections —once there was even a vote for Podemos, and another for UPyD—, but never in municipal ones.
The electoral campaign does not exist in these towns. There are no posters, no debates, no big proposals. However, the claims are many. Because there is not, there is not even a proper town hall, and the municipal budget is prepared in a very simple way: "It is half the face of Excel." Javier Bollain remembers that in his childhood there were almost a hundred neighbors in the town. Now, through the three streets that make it up, you can see a dozen people every day, who are engaged in agricultural or livestock work but neither live nor vote here. On weekends there are more people. The smallest municipality in Spain no longer has a train station, although it does have high-speed internet. And the illaneros have an electric car for everyone, provided free of charge by a company.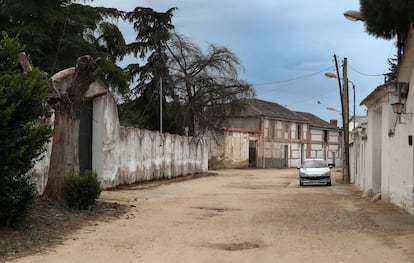 A street of Illán de Vacas (Toledo).Jaime Villanueva
A very similar human landscape is that of Jaramillo Quemado (Burgos), with only five people registered to vote in these elections. His mayor, David Sebastián, is a 47-year-old lawyer who has been in charge of the City Council for more than half of his life. "The first time I showed up to lend a hand. My father was the mayor and he was not going to repeat himself, so I introduced myself, "he says by phone. He was neither born in Jaramillo Quemado nor does he live in the town now, but it was his father's town and he used to spend his vacations there as a child. He was fond of her.
"I go to town once a week. But we have it very well organized because we have a good secretary, "she explains. There is only one other councilor, who does not reside there either. They survive as a City Council, says the mayor, thanks to aid from the Provincial Council, the Junta de Castilla y León and the central government, and the 55,000 euros a year that come in from renting a hunting ground and two farms. "In this type of town you have to be realistic," says Sebastián. "We are going to try to make things better or, at least, not to get worse."
Receive every afternoon the Daily elections bulletin, written by the deputy director of EL PAÍS Claudi Pérez. And here, the x-ray of all the communities that go to the polls.
75% discount
Subscribe to continue reading
Read without limits