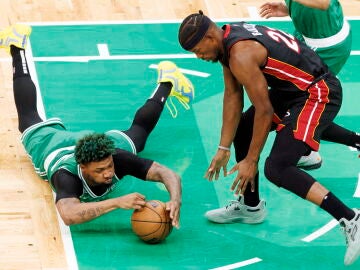 The Celtics are still alive. They prevailed in the fifth game of the Eastern Conference final (110-97) in a series still dominated by the Heat (2-3) and that will play their sixth game early Sunday in Miami. No one in NBA history, in the 150 previous cases, managed to come back from a tie after starting 3-0 and the Celtics are still committed to it.
Joe Mazzulla's team has gotten used to offering their best version in extreme situations. And the best example is what is happening in the playoffs. In the four games that he has played this season in which he had to win so as not to go on vacation, he has ended up doing it. The team is still too irregular and the best proof is its record at home in the playoffs the last two seasons: 10 wins and 11 losses. The key for the Celtics is in their outside success. When they are above 40 percent, the balance is 38 wins and 2 losses. If the percentage is less than 40, 29/31. And last night they scored 16 of 39 attempts, 41 percent.
The Celtics' perimeter was superior to that of the Heat without the need for Jayson Tatum to score one of those impossible games. There were four players who were over 20 points and that quadruple threat was too much for Miami. Derrick White was the best of his team with 24 points (6/8 on triples) and a perfect defense against Jimmy Butler, whom he left at 14. Marcus Smart contributed 23 points, with four triples, Jayson Tatum 21 points, with 8 rebounds and 11 assists and Jaylen Brown added 21. The Celtics, who in the first two games of the series in Boston had wasted leads of more than ten points, did not tremble in the fifth.
"We have to play better. Start the games better, with the starters, make it more difficult for them. They have a good rhythm from the beginning. The last two games are not who we are. It just happened that way, but this is easily correctable. Just you have to go out and play harder from the initial jump", assured Jimmy Butler.