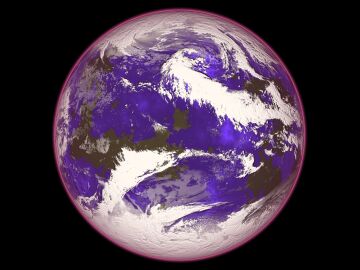 A report from the United Nations Organization (UN) indicated last January that the ozone layer will have fully recovered by 2066 thanks to the ban that exists worldwide for the use of 96 chemical products that caused the appearance from a hole in the ozonosphere over the Antarctic. Of course, as long as the restriction policies that were established in 1989 with the entry into force of the Montreal Protocol are maintained.
The document from these scientific advisers stated that 99% of the prohibited substances had ceased to be used, which would be allowing the recovery of the ozonosphere. However, a new study led by experts from the Higher Center for Scientific Research (CSIC) has discovered that some chemical substances -short-lived halogens- that were not contemplated in this international agreement prevent this positive trend. The results of this work published in the prestigious journal 'Nature Climate Change' reveal that these compounds would be responsible for approximately a quarter of the total ozone loss in the lower stratosphere.
The ozone loss trend in the tropical lower stratosphere has been mainly attributed to the acceleration of atmospheric circulation in response to global warming, and until now, the contribution of short-lived halogens has not been considered relevant. However, the CSIC researchers state that these substances "constitute an important source of chlorine, bromine and iodine that reaches the atmosphere, where they are highly reactive with ozone." Despite their short life span, less than six months, "they can be rapidly transported by strong tropical convection and reach lower layers of the stratosphere."
These compounds are naturally emitted from the surface of the oceans and by anthropogenic sources associated with industrial activity. According to this study, simulations of atmospheric dynamics and chemistry to assess the effects of short-lived halogens have revealed "the importance of the concerted action between species of natural origin and of anthropogenic origin on ozone through cross-reactions." . Julián Villamayor, a researcher at the Blas Carrera Institute of Physical Chemistry (IQF-CSIC) and first author of the research states that "this opens the possibility of mitigating the ozone loss projected towards the end of the century by up to 30% by applying controls only to the emissions of industrial origin
The researchers suggest the need to include dichloromethane and chloroform -the most abundant species considered in this work- in the regulatory treaty of the Montreal Protocol. The coordinator of the study Alfonso Saiz-López (IQF-CSIC) adds that these findings "show the importance of considering a complete scheme of halogen chemistry in conventional climate models to obtain an accurate assessment of the evolution of the ozone layer". .