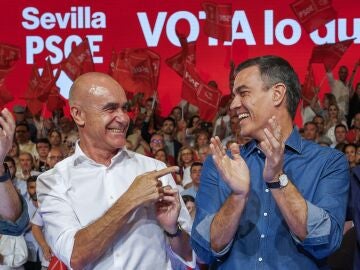 Sunday will be the D-day of the Spanish political future, the die is cast. If Sánchez is able to save the furniture, that is, maintain the fiefdoms that, like Valencia, are in dispute, the PSOE will receive an injection of optimism that will put it back in the race for Moncloa. If, on the contrary, the PP snatches emblematic squares, the sensation of change of cycle will be unstoppable.
The PP has jumped on the bandwagon of a hyperactive Sánchez, who has taken the campaign as if they were the legislative elections, making a national proposal every day, trying to turn them into a plebiscite on the socialist leader.
Feijóo has half achieved the objective. Probably, the most conservative voters will go to vote in that key, but those who are disenchanted with the PSOE or with the row between Díaz and Iglesias will not vote in that frequency.
Neither are the undecided, the object of desire of the parties in the days before the elections. Some studies establish that there are 15% of citizens who decide at the last minute and that can be decisive in the formation of many governments.
The CIS points out that only 58% of the citizens had decided their vote before starting the campaign and that 25% would take a position during the campaign.
When something happens that impacts society, participation increases. For example, in the 2004 elections, three days after the attacks on the Madrid suburban network, attendance at the polls was estimated at almost 80%.
However, it was not the cause of the PSOE victory, during the campaign the sorpasso had already occurred, it was simply shown that the undecided are distributed in the same proportion as the others.
Voter demobilization can also occur. It happens if the political debate gets muddy and Spanish politics has been in this situation for quite some time, ending up getting muddy with the inclusion in the Bildu lists of those convicted of blood crimes and the buying of votes in some places.
But there will be no transfer of votes to the PP, rather it will discourage the socialist electorate from going to vote.
The wear and tear that Sánchez accumulates required a strategy that would make the PSOE give a stretch. However, the mistake of personalizing everything in the socialist leader has been made and he is going to pay for the errors of agreeing in the legislature with whom he did not owe himself.